TRUMPER JOE'S BEER
Brewed by the billionaire friends of Donald Trump & his Republican cronies!
BEERS TO AVOID:

Josephsbrau, Black Toad Ale, and Stockyard Oatmeal Stout are sold at Trader Joe's and are brewed by the Gordon Biersch Brewing Company in San Jose, CA.
The principals in the brewery include major Trump Victory Joint Fundraising Committee funders, which helped propel into power political leaders who attack immigrants, women, the environment, LGBTQIA+ communities, and working families.
Buying these beers means you are lining the pockets of major funders of the Trump Victory Committee.
DON'T HELP THEM DIVIDE & ATTACK OUR COMMUNITIES!
Tell Trader Joe's to stop selling these beers! Call Trader Joe's corporate headquarters at (626) 599-3700 to tell CEO Dan Bane to stop selling beer brewed by the backers of Donald Trump and his Republican cronies!
Read more about the #TrumperJoes campaign: http://www.culinaryunion226.org/news/press/culinary-union-calls-on-trader-joes-to-stop-selling-beer-brewed-by-billionaire-friends-of-trump-and-his-republican-cronies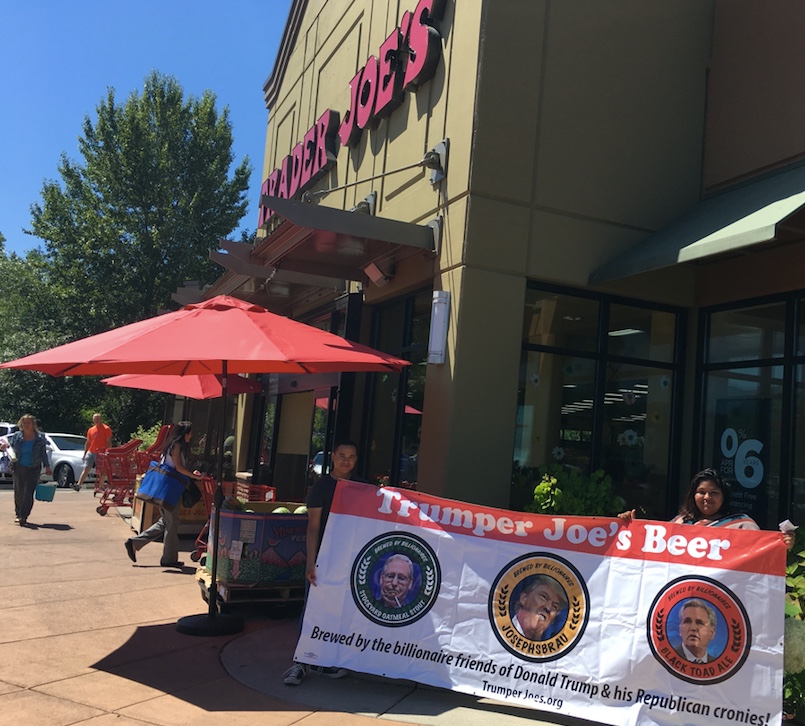 Photos from actions across the country are here: https://unitehere.box.com/s/nml84kr81knpeqbyp5txb36tlr4kr0g7
Share your support by sending a Tweet:
Photo of Congressman Kevin McCarthy by Michael Buholzer. Photos of Donald Trump & Senator Mitch McConnell by Gage Skidmore. Beer label & parrot vector source: FreePik