FOR IMMEDIATE RELEASE
Wednesday, July 20, 2016
MEDIA CONTACT:
Kevin Brown, kbrown@afscme.org
Bethany Khan, bkhan@culinaryunion226.org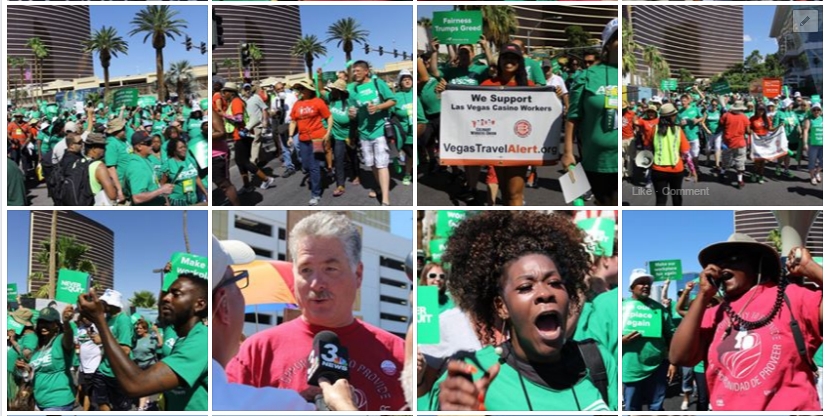 AFSCME and Culinary Union March on Trump Hotel Las Vegas
Las Vegas, NV — Thousands took to the streets on Wednesday, July 20, as members of the American Federation of State, County and Municipal Employees (AFSCME) and Culinary Workers Union Local 226 marched down the Las Vegas Strip to Trump Hotel urging Trump management to negotiate a fair union contract and stop its campaign of intimidation against employees who have chosen to exercise their federally-protected right to unionize.
Donald Trump has made a career out of enriching himself at the expense of working people, and his own employees are no exception. Since they started organizing in 2014, Trump Hotel Las Vegas employees have faced fierce opposition from Trump management as they sought to form a union. Trump's hotel has repeatedly settled unfair labor practice allegations with the government including ones involving discharge and suspensions, interrogations, promises of benefits, and other interference with federal rights. Despite the intimidation campaign, hotel employees voted in a National Labor Relations Board election to unionize through the Culinary Union. Today, Trump Hotel Las Vegas management still refuses to negotiate a contract.
"I work hard everyday, but with the low wages I'm paid, I really struggle to provide for my daughters," said Maria Mendoza, a guest room attendant at the Trump Hotel Las Vegas. "Mr. Trump says that he wants to 'Make America Great Again,' but I work for him and want him to negotiate a union contract so my coworkers and I can have fair wages, job security, and good health benefits.
"As long as Trump continues to undermine basic fairness for working people, the 1.6 million members of AFSCME stands with the Culinary Union to urge Trump to treat his employees with respect and negotiate a fair contract," said AFSCME President Lee Saunders. "Trump may try to portray himself as a friend of the working class now, but public service workers aren't fooled. Throughout his entire career, Trump has profited off the suffering of working people - from outsourcing jobs overseas to manipulating bankruptcy laws, to refusing to pay people fairly for their work. We need a champion for working families in the White House, not a union-buster who is only in it for himself."
# # #
AFSCME's 1.6 million members provide the vital services that make America happen. With members in hundreds of different occupations — from nurses to corrections officers, child care providers to sanitation workers — AFSCME advocates for fairness in the workplace, excellence in public services and prosperity and opportunity for all working families.
Culinary Workers Union Local 226 and Bartenders Union Local 165, Nevada affiliates of UNITE HERE, represent over 57,000 workers in Las Vegas and Reno, including at most of casino resorts on the Las Vegas Strip and in Downtown Las Vegas. UNITE HERE represents 270,000 workers in gaming, hotel, and food service industries in North America.