5/27/14 UPDATE: Tentative agreements have been reached with Fremont and Main Street Station. These properties are no longer on the list of casinos facing a strike on June 1 at 5am. More: http://www.culinaryunion226.org/news/press/tentative-agreements-reached-with-the-fremont-and-main-street-station
5/28/14 UPDATE: A tentative agreement has been reached with the El Cortez. More: http://www.culinaryunion226.org/news/press/unions-reach-tentative-agreement-with-el-cortez
5/30/14 UPDATE: A tentative agreement has been reached with The D. Details: http://www.culinaryunion226.org/news/press/unions-reach-tentative-agreement-with-the-d-las-vegas-casino-hotel
5/31/14 UPDATE: Tentative agreements have been reached with Four Queens and Binion's: http://www.culinaryunion226.org/news/press/unions-reach-tentative-agreements-with-the-four-queens-and-binions
Tentative agremeents have also been reached with the Plaza and Las Vegas Club: http://www.culinaryunion226.org/news/press/unions-reach-tentative-agreements-with-the-plaza-and-the-las-vegas-club
*This press release is in English, Spanish, Tagalog, Chinese, French, and German*
FOR IMMEDIATE RELEASE
May 21, 2014
For more information contact:
bkhan@culinaryunion226.org ▪ (702) 387-7088 ▪ @Bethany Khan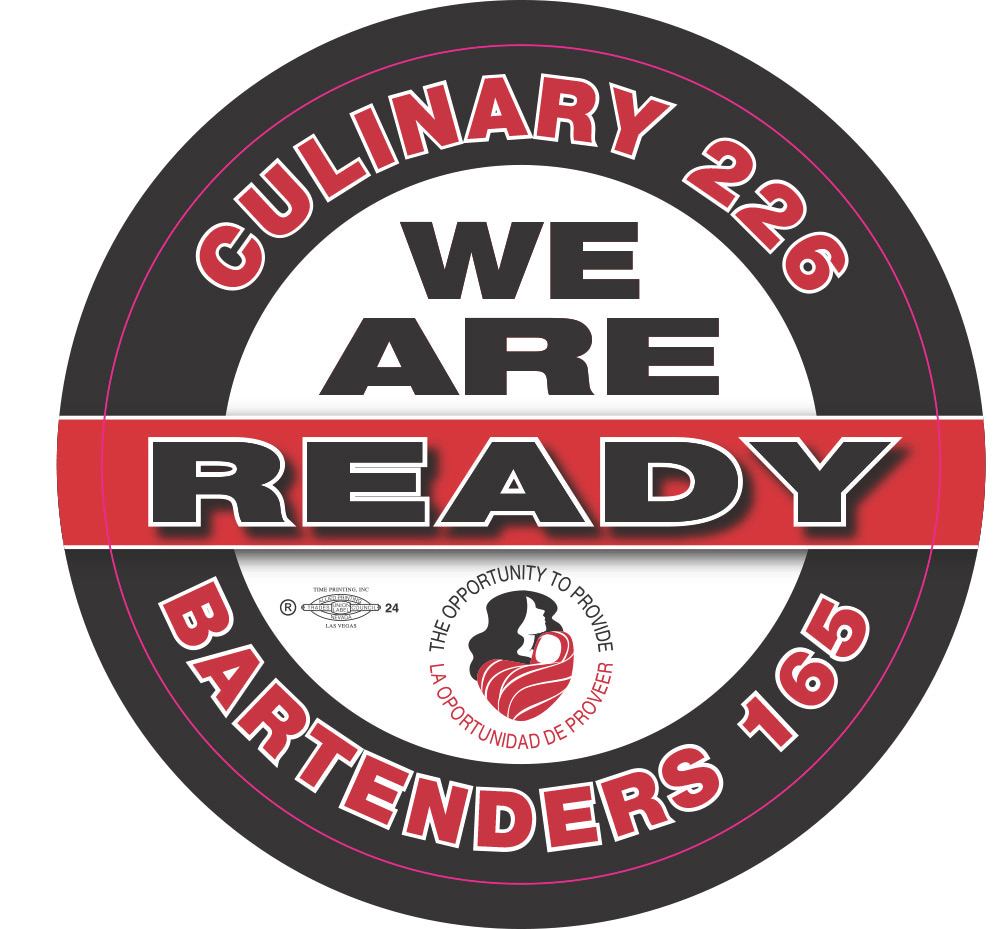 LAS VEGAS ON STRIKE!
LAS VEGAS, NV – The Culinary and Bartenders Unions have called for a strike against nine casinos in Las Vegas Downtown starting on June 1, 2014. The strike will last until a fair contract settlement is reached.
At 5 a.m. on June 1, restaurant workers, hotel housekeepers, cocktail servers, bartenders, and other members of the unions will walk off their jobs and start 24/7 picketing of The D, Four Queens, Binion's, Fremont, Main Street Station, Plaza, Las Vegas Club, El Cortez, and Golden Gate.
"For nearly 80 years, our unions have made casino jobs good jobs in Las Vegas," said Geoconda Arguello-Kline, leader of the Culinary Union. "Our members Downtown deserve to earn a decent living by working hard under a fair contract. They should not be left behind as hundreds of millions of new investments pour in for Downtown revitalization."
"I will strike for the opportunity to provide for my family," said Ron Gladstone, a cook at The D Hotel and Casino. "My coworkers and I will strike to make sure that these jobs continue to be good jobs with affordable benefits, fair wages, and job security."
"We are the people who clean the rooms, cook the food, serve the drinks, and provide the quality service that has made the tourism industry flourish in Las Vegas," said Patricia Montes, a housekeeper at the Four Queens. "We are the backbone of Downtown Las Vegas and we ask that the community support us by not crossing strike lines."
Union members from all nine unsettled properties have been picketing in Downtown Las Vegas after contracts were terminated. They have also been signing up for strike benefits and strike picket shifts since the strike authorization vote on March 27.
Culinary Workers Local 226 and Bartenders Local 165, Nevada affiliates of UNITE HERE, represent over 55,000 workers in Las Vegas and Reno, including at most of casino resorts on the Las Vegas Strip and in Downtown Las Vegas. UNITE HERE represents 270,000 hospitality workers in gaming, hotel, and food service industries in North America.
www.CulinaryUnion226.org / @Culinary226
###
¡LAS VEGAS ESTÁ EN HUELGA!
LAS VEGAS, NV – La Unión Culinaria y la Unión de Cantineros han convocado una huelga en contra de nueve casinos en el Downtown de Las Vegas que comenzará el 1 de junio del 2014. La huelga seguirá hasta que se obtenga un contrato justo.
A las 5 de la mañana del 1º de junio, los trabajadores de los restaurantes, las recamareras del hotel, las meseras de cocteles, los cantineros, y demás miembros de estos sindicatos se saldrán de sus trabajos e iniciarán las líneas de protesta que durarán las 24 horas del día, los 7 días de la semana, frente a los siguientes hoteles: The D, Four Queens, Binion's, Fremont, Main Street Station, Plaza, Las Vegas Club, El Cortez, y Golden Gate.
"Por casi 80 años, nuestros sindicatos han hecho que los trabajos de los casinos sean buenos trabajos en Las Vegas," dijo Geoconda Argüello-Kline, líder de la Unión Culinaria. "Nuestros miembros que trabajan en el downtown merecen ganarse un sueldo digno trabajando duro bajo un contrato justo. Ellos no deberían quedar atrás mientras llueven cientos de millones en nuevas inversiones para la revitalización del Downtown."
"Haré huelga por la oportunidad de proveer a mi familia," dijo Ron Gladstone, un cocinero en The D Hotel and Casino. "Mis compañeros de trabajo y yo vamos ponernos en huelga para asegurarnos de que estos trabajos sigan siendo buenos empleos con beneficios de costo accesible, sueldos justos, y seguridad laboral."
"Somos las personas que limpiamos las habitaciones, preparamos la comida, servimos las bebidas, y brindamos ese servicio de calidad que ha hecho que la industria turística en Las Vegas prospere," dijo Patricia Montes, recamarera del Four Queens. "Somos el eje central del Downtown de Las Vegas y pedimos que la comunidad nos apoye al no cruzar las líneas de la huelga."
Muchos miembros sindicales de las nueve propiedades en el Downtown de Las Vegas han estado protestando después de vencerse sus contratos. Además, desde la votación para autorizar la huelga que se llevó a cabo el 27 de marzo, se han estado registrando para recibir beneficios durante la huelga y para caminar en distintos turnos en la misma.
El Local 226 de Trabajadores Culinarios y el Local 165 de los Cantineros, filiales en Nevada de UNITE HERE, representan a más de 55,000 trabajadores en Las Vegas y Reno, incluyendo la mayoría de los casinos en el Strip de Las Vegas y el Downtown de Las Vegas. UNITE HERE representa a 270,000 trabajadores de hotelería en la industria del juego, de hoteles, y del servicio de comida en norte américa.
www.CulinaryUnion226.org / @Culinary226
###
WELGA ANG LAS VEGAS!
Las Vegas, NV - Ang Unyon ng Culinary at mga Bartender ay tumawag ng isang welga laban sa siyam na casino sa Downtown ng Las Vegas simula sa Hunyo 1, 2014. Ang welga ay tatagal hanggang ang isang makatarunga'ng kasunduan sa kontrata ay marating.
Pagsapit ng ika-5 n.u. sa Hunyo 1, ang mga manggagawa sa mga restawran, mga housekeeper sa otel, tagapag-silbi ng cocktail, mga bartender at iba pang mga kasapi ng mga unyon ay iiwan ang kanilang mga trabaho at sisimulan ang pagpipiket sa loob ng 24/7 sa The D, Four Queens, Binion's, Fremont, Main Street Station, Plaza, Las Vegas Club, El Cortez, at Golden Gate.
"Sa halos 80 taon, nagawa ng aming mga unyon na maging maganda ang mga trabaho sa kasino sa Las Vegas," ang sabi ni Geoconda Arguello-Kline, pinuno ng Unyon ng Culinary. "Ang aming mga miyembro sa Downtown ay karapat-dapat na kumita ng isang disenteng pamumuhay sa pamamagitan ng pagsusumikap sa ilalim ng isang patas na kontrata. Hindi sila maaari'ng iwan sa likod habang ang daan-daang milyo'ng bagong mga pamumuhunan ay ibinubuhos sa muli'ng pagbibigay-buhay sa Downtown. "
"Magwe-welga ako para sa pagkakataon na magbigay para sa aking pamilya," sinabi ni Ron Gladstone, isang tagaluto sa The D Hotel and Casino. "Ako at ang aking mga kasamahan sa trabaho ay magwe-welga upang matiyak na ang mga trabaho ay patuloy na maging mahusay na may abot-kayang mga benepisyo, patas na sahod, at seguridad sa trabaho."
"Kami ang mga tao na naglilinis ng mga kuwarto, nagluluto ng pagkain, naghahatid ang inumin, at nagbibigay ng serbisyo'ng may kalidad na naging dahilan upang umunlad ang industriya ng turismo sa Las Vegas," ang sabi ni Patricia Montes, isang housekeeper sa Four Queens. "Kami ang lakas sa likod ng Downtown sa Las Vegas at hinihiling namin na suportahan kami ng komunidad sa pamamagitan ng hindi pagtawid sa linya ng welga."
Ang mga miyembro ng Unyon mula sa siyam na wala sa ayos na mga pag-aari ay nagpi-piket na sa Downtown ng Las Vegas matapos na magwakas ang kontrata. Sila rin ay nagsisipag-patala para sa benepisyo sa pagwe-welga at rilyebo ng piket simula ng iboto ang awtorisasyon sa welga noong Marso 27.
Ang mga Manggagawa ng Culinary Lokal 226 at mga Bartender Lokal 165, kaanib ng UNITE HERE sa Nevada, ay kumakatawan sa mahigit na 55,000 mga manggagawa sa Las Vegas at Reno, kabilang ang karamihan sa mga bakasyuna'ng kasino sa Las Vegas Strip at sa downtown ng Las Vegas. Ang UNITE HERE ay kumakatawan sa 270,000 mga manggagawa sa mabuting pakikitungo sa sugalan, otel, at mga industriya ng serbisyo ng pagkain sa North America.
www.CulinaryUnion226.org / @Culinary226
###
拉斯維加斯罷工﹗
拉斯維加斯消息﹕廚工工會與酒保工會(Culinary and Bartenders Unions)宣佈六月一日起將對拉斯維加斯市老城區九家賭場進行罷工。這場罷工行動將持續進行﹐直到勞資雙方達成公平協議。
六月一日上午五點﹐餐廳員工、旅館員工、送酒員、酒保、以及其他工會會員將停工並開始日夜不間斷的罷工舉牌抗議。面臨罷工的九家賭場是: D酒店(The D)、金門(Golden Gate)、四后(Four Queens)、庇寧思(Binion's)、費立蒙(Fremont)、主道驛站(Main Street Station)、奧寇蒂斯(El Cortez)、廣場(Plaza)、以及維加斯俱樂部(Vegas Club)。
廚工工會領導紀歐•阿歸爾克嵐(Geoconda Arguello-Kline)說﹕「這八十年來﹐我們工會確保在拉斯維加斯賭場的工作是好的工作。因為有工會合同﹐我們老城區的會員能夠透過努力工作而過上小康生活。現在有千百萬美金投資在老城區﹐可是這不表示這些賭場工人應該被拋棄。」
在D酒店的廚師羅納•葛萊得斯通(Ron Gladstone)說﹕「我願意為了有機會繼續照顧家人而罷工。我的同事和我一起﹐我們願意罷工﹐確保我們的工作繼續是好的工作﹐有好福利、合理工資、以及工作保障。」
四后賭場的酒店房間打掃員派翠斯• 蒙特斯(Patricia Montes)說﹕「我們工人打掃客房、烹煮餐點、送上酒飲、提供一流的顧客服務﹐讓拉斯維加斯的旅遊業繁榮。我們是老城區的骨幹﹐我們懇請大家支持我們﹐不要跨越我們的罷工舉牌抗議線。」
自從工會合同被取消﹐這九家賭場的工會會員就開始在賭場外舉牌抗議。自從在三月27日通過罷工決議後﹐工會會員已經開始註冊準備領罷工救濟金﹐同時準備在賭場外輪班舉牌抗議。
廚工226分會和酒保165分會是UNITE-HERE總工會的內華達州地方分會﹐在拉斯維加斯和雷諾共代表五萬五千名工人﹐包括在絕大多數賭場大道和賭城老城區的賭場酒店的工人。UNITE-HERE總工會共代表27萬工人﹐包括在美國和加拿大的賭場、旅館、以及餐飲業的員工。
www.CulinaryUnion226.org / @Culinary226
###
LAS VEGAS EN GREVE !
LAS VEGAS, NV – Les syndicats de l'alimentation et des barmen ont appelé à une grève contre neuf casinos dans le centre de Las Vegas à compter du 1er juin 2014. Cette grève durera jusqu'à ce que soit atteint un accord équitable sur les contrats.
A 5h du matin le 1er juin, le personnel des restaurants, le personnel d'entretien des hôtels, les serveurs de cocktails, les barmen et les autres membres des syndicats interrompront leur travail et commenceront un piquetage 7/7j et 24/24h des établissements suivants : The D, Four Queens, Binion's, Fremont, Main Street Station, Plaza, Las Vegas Club, El Cortez et Golden Gate.
« Depuis près de 80 ans, les emplois dans les casinos de Las Vegas sont des bons emplois grâce à nos syndicats, » commente Geoconda Arguello-Kline, leader du syndicat alimentaire. « Nos adhérents du centre-ville méritent de gagner un salaire décent en travaillant dur dans le cadre d'un contrat équitable. Ils ne devraient pas être laissés pour compte alors que des centaines de millions sont investis dans la revitalisation du centre-ville. »
« Je ferai la grève pour avoir la possibilité de subvenir aux besoins de ma famille, » confie Ron Gladstone, cuisinier chez The D Hotel and Casino. « Mes collègues et moi allons faire la grève pour nous assurer que nos emplois restent de bonne qualité avec des avantages abordables, des salaires équitables et protégés par la sécurité de l'emploi. »
« Nous sommes ceux qui nettoyons les chambres, cuisinons les repas, servons les boissons et fournissons le service de qualité qui a permis à l'industrie du tourisme de prospérer à Las Vegas, » ajoute Patricia Montes, préposée à l'entretien au Four Queens. Nous sommes l'épine dorsale de Downtown Las Vegas et nous demandons à la communauté de nous soutenir en refusant de traverser les piquets de grève.
Les adhérents des syndicats des neuf établissements en litige ont commencé un piquet de grève dans le centre de Las Vegas après la résiliation de leurs contrats. Ils ont également demandé des indemnités de grève et organisé un roulement aux piquets de grève depuis l'autorisation de grève votée le 27 mars.
La section 226 des travailleurs de l'alimentation et la section 165 des barmen, affiliées à UNITE HERE au Nevada, représentent plus de 55 000 travailleurs à Las Vegas et Reno, qui sont présents dans la plupart des casinos des quartiers de Las Vegas Strip et Downtown Las Vegas. UNITE HERE représente 270 000 travailleurs de l'hospitalité dans les industries du jeu, de l'hôtellerie et des services alimentaires en Amérique du Nord.
www.CulinaryUnion226.org / @Culinary226
###
LAS VEGAS STREIKT!
LAS VEGAS, NEVADA – Die Gewerkschaften für Gastronomiekräfte und Bartender (Culinary und Bartenders Unions) haben für den 1. Juni 2014 zum Streik gegen neun Kasinos in Las Vegas Downtown aufgerufen. Der Streik wird so lange andauern, bis eine Einigung auf einen fairen Vertrag zustande kommt.
Restaurantkräfte, Hotelreinigungskräfte, Cocktail Server, Bartender und andere Gewerkschaftsmitglieder werden am 1. Juni früh um 5.00 Uhr die Arbeit niederlegen und vor den Hotels und Casinos The D, Four Queens, Binion's, Fremont, Main Street Station, Plaza, Las Vegas Club, El Cortez und Golden Gate rund um die Uhr Streikposten aufstellen.
"Seit nahezu 80 Jahre haben unsere Gewerkschaften Arbeitsplätze in den Casinos zu guten Arbeitsplätzen in Las Vegas gemacht", sagte Geoconda Arguello-Kline, Vorsitzender der Culinary Union. "Unsere Mitglieder in Downtown haben ein Anrecht darauf, sich durch harte Arbeit unter fairen Vertragsbedingungen einen angemessenen Lebensunterhalt zu verdienen. Sie dürfen nicht zurückgelassen werden, wenn gleichzeitig Neuinvestitionen im dreistelligen Millionenbereich zur Revitalisierung in das Downtown-Viertel fließen."
"Ich werde für die Möglichkeit streiken, meine Familie zu unterhalten", sagte Ron Gladstone, der als Koch im D Hotel and Casino arbeitet. "Meine Kolleginnen und Kollegen und ich werden streiken, um sicherzustellen, dass diese Arbeitsplätze weiterhin gute Arbeitsplätze mit erschwinglichen Sozialleistungen, fairen Löhnen und Arbeitsplatzsicherheit bleiben."
"Wir sind diejenigen, die die Zimmer reinigen, das Essen zubereiten, die Drinks servieren und den erstklassigen Service bieten, durch den das Tourismusgeschäft in Las Vegas floriert", sagte Patricia Montes, Reinigungskraft im Four Queens. "Wir sind das Rückgrat von Downtown Las Vegas und wir fordern die Gemeinde auf, uns zu unterstützen, indem sie die Streikpostenketten nicht durchbricht."
Gewerkschaftsmitglieder aus allen neun Hotels und Casinos, mit denen noch keine Einigung erzielt wurde, stehen nach Ablauf der Verträge in Downtown Las Vegas Streikposten. Nach der Urabstimmung zugunsten eines Streiks am 17. März haben sie auch Streikgeld beantragt und sich für Streikpostenschichten angemeldet.
Culinary Workers Local 226 und Bartenders Local 165, Mitgliedsgewerkschaften von UNITE HERE in Nevada, vertreten mehr als 55.000 Arbeitnehmerinnen und Arbeitnehmer in Las Vegas und Reno, die unter anderem in den meisten Casino-Resorts auf dem Las Vegas Strip und in Downtown Las Vegas arbeiten. UNITE HERE vertritt 270.000 in Nordamerika im Gastgewerbe Beschäftigte in der Spiele-, Hotel- und Gastronomiebranche.
www.CulinaryUnion226.org / @Culinary226
###