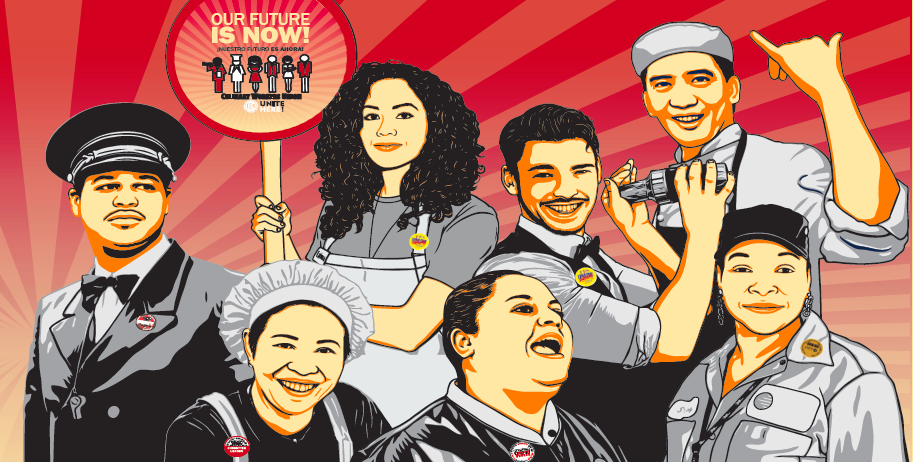 Culinary Union negotiates contracts for 50,000 Las Vegas workers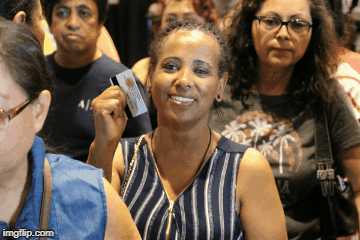 Citywide Strike Vote: 25,000 workers attend. 99% vote YES!
Las Vegas, NV (10/17/2018)–
Union contracts covering 600 union workers expired midnight May 31, 2018 at 2 casino resorts in Downtown Las Vegas.
In a survey conducted by the Culinary and Bartender Unions in the last two months of over 10,000 Las Vegas casino workers: 59% of cocktail servers and 27% of hotel housekeepers said they had been sexually harassed by guests, managers, or others while on the job. 72% of cocktail servers and 53% of hotel housekeepers said a guest had done something to make them feel uncomfortable or unsafe. The results of the survey and worker concerns led the Culinary and Bartenders Unions to propose stronger safety protections in current contract negotiations for workers.
25,000 workers voted by 99% on May 22 to authorize a strike after contracts expired. Workers can walk out anytime the Culinary Union calls for a strike.
Members of the Culinary and Bartenders Unions who work at casinos whose contracts are expired: Bartenders, guest room attendants, cocktail servers, food servers, porters, bellman, cooks, and kitchen workers who are employed at the casino resorts on the Las Vegas Strip and Downtown Las Vegas.
The Culinary and Bartenders Unions have proposed new contract language to provide greater measure of security for members including workplace safety, sexual harassment, subcontracting, technology, and immigration. In addition, the Union's economic proposal seeks to provide workers a fair share of the employers' enormous anticipated cash flows and Trump tax windfalls.
In 1984, thousands of Culinary Union members went on a citywide strike across the Las Vegas Strip and in Downtown Las Vegas for 67 days which crippled in the Las Vegas hospitality industry until contracts were settled. The last Culinary Union citywide strike vote was in 2002 when 25,000 workers packed the Thomas and Mack and an overwhelming majority voted yes to authorize a strike.
The Culinary and Bartenders Unions are encouraging Nevada locals, elected officials, political candidates, and tourists to support workers by not patronizing hotels and casinos under a labor dispute. In an event of a strike, please do not cross picket lines.

CONTRACT NEGOTIATIONS UPDATES: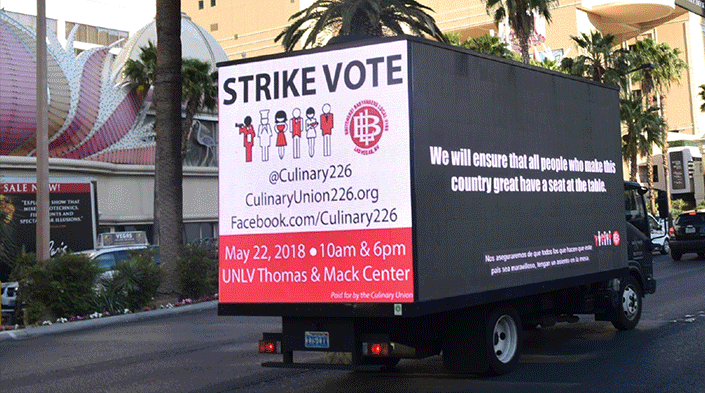 Labor contracts for the following casinos expired June 1, 2018.




A labor dispute is possible.

Las Vegas properties with an active labor dispute:

Downtown Las Vegas: 2 TO GO!

Golden Gate Casino
The D Las Vegas

The following properties' collective bargaining agreements are NOT expired as of June 1:

Elara Las Vegas, a Hilton Grand Vacations Club
Hilton Grand Vacations Club on Paradise (455 Karen Ave)
Hilton Grand Vacations Club on the Boulevard (2650 South Las Vegas Blvd)
Hilton Grand Vacations Club at the Flamingo (3575 South Las Vegas Blvd)
The Cosmopolitan of Las Vegas
Trump International Hotel Las Vegas
Wynn Las Vegas
Encore at Wynn Las Vegas
Vdara Hotel & Spa at ARIA Las Vegas
The Signature at MGM Grand
Homewood Suites (6801 Placid Street)