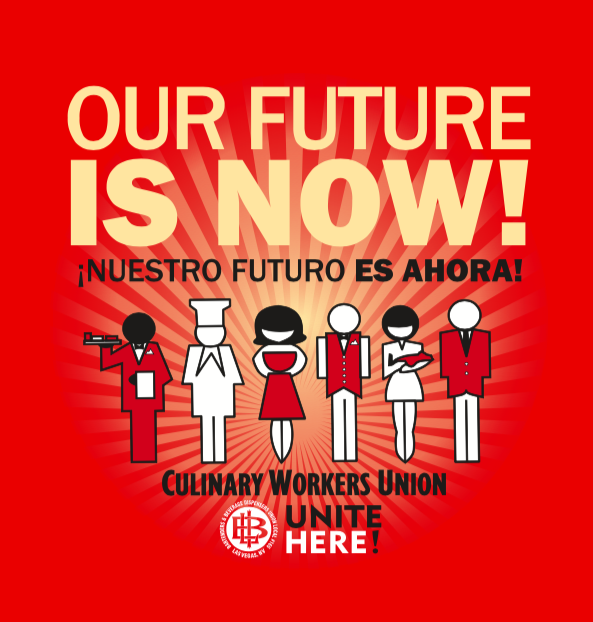 This week, the Culinary and Bartenders Unions began contract negotiations for 50,000 workers on the Las Vegas Strip and Downtown Las Vegas. The Unions will be negotiating a host of proposals including:
Protecting pension and health benefits
Good wage increase that reflect increased industry profits
Language regarding increased technology & the effects automation has on jobs and workers
Strong protections for worker safety, including safety buttons
Language protecting against sexual harassment and gender discrimination
Proposals for non-union restaurant and arena workers to become union
The deadline to complete negotiations is midnight on Friday, June 1, 2018.
After that date, labor disputes, including strikes, are possible.
If you are a Culinary or Bartenders Union member, sign up for text messages with your organizer or shop steward to stay up-to-date on your contract negotiations!
If you are non-union worker or community member, patronize hotels and casinos not under a labor dispute. Visit www.VegasTravelAlert.org to learn more.
Our Future Is Now!
--
Esta semana, la Unión Culinaria y la Unión de Cantineros iniciaron la negociación de los contratos de 50,000 trabajadores en el Strip de Las Vegas y Downtown Las Vegas. Los sindicatos negociarán sobre una multitud de propuestas, entre las cuales se incluye:
Proteger los beneficios de pensión y de salud
Buenos aumentos salariales que reflejan las ganancias elevadas de la industria
Cláusulas referentes al aumento de tecnología y los efectos que tiene la automatización sobre los empleos y los trabajadores
Fuertes protecciones para la seguridad del trabajador, que incluye botones de seguridad
Cláusulas que protegen contra el acoso sexual y la discriminación de genero
Propuestas para que los trabajadores de los restaurantes sin unión y el estadio tengan unión
La fecha límite para terminar las negociaciones es la medianoche del Viernes, 1º de junio del 2018.
Después de esa fecha, las disputas laborales, incluso las huelgas, son posibles.
Si usted es miembro de la Unión Culinaria o la Unión de Cantineros, ¡regístrese con su organizador o shop steward para recibir mensajes de texto y mantenerse al día sobre la negociación de sus contratos!
Si usted es trabajador no sindicalizado o un miembro de la comunidad, elija hoteles y casinos que no están en disputa laboral. Visite www.VegasTravelAlert.org para informarse más.
¡Nuestro futuro es ahora!