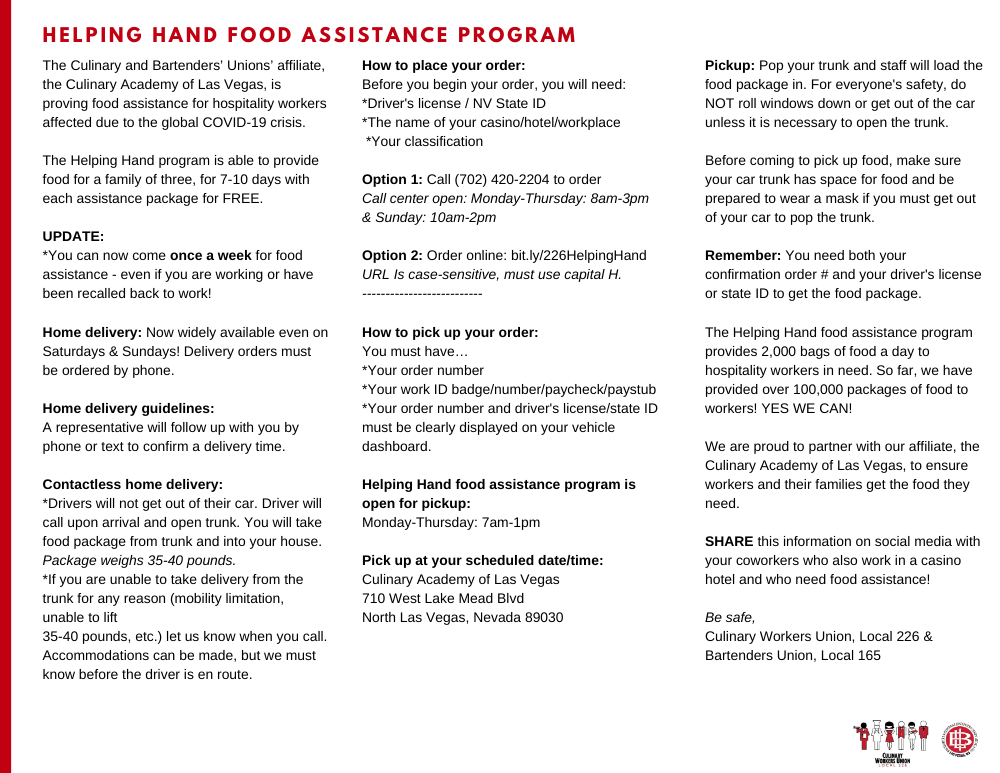 Scroll down to read this message in Spanish. Vaya hacia abajo para leer este mensaje en español.
➡You can now come once a week for food assistance - even if you are working / recalled back to work!
*Order for delivery! 🏡 Home delivery is now widely available. Delivery orders must be ordered by phone. Call: (702) 420-2204.

⛔ Pop your trunk and staff will load the food package in. Do NOT roll windows down or get out of the car unless it is necessary to open the trunk.
✅ You need your confirmation order #, your work badge, and your Driver's license or NV State ID to get the food package.
---
➡Ahora puede venir una vez por semana para la ayuda con la comida - ¡aunque esté trabajando/le hayan reincorporado al trabajo!
*¡Pida una entrega a domicilio! 🏡 Ahora están disponibles las entregas a casa. Los pedidos de entrega deben hacerse por teléfono. Llame al (702) 420-2204.
Para llenar el formulario en español, por favor seleccione "Español" en la esquina derecha superior.


⛔ Abra la cajuela/el baúl de su auto para que un miembro del equipo ponga la despensa dentro. NO baje su ventana ni salga del auto al menos que sea absolutamente necesario para abrir la cajuela/el baúl.
✅ Necesita tanto su número de pedido de confirmación, su tarjeta de identificación de empleado, como su licencia de conducir, o la identificación estatal de NV para obtener el paquete de alimentos.