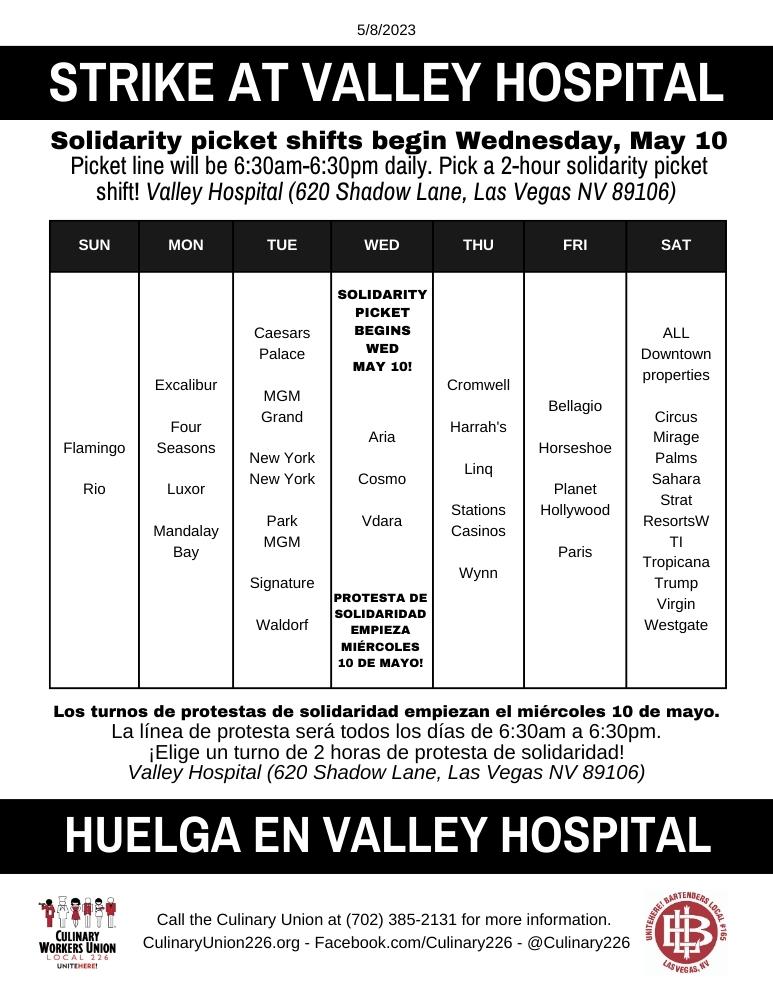 Scroll down to read this message in Spanish. Vaya hacia abajo para leer este mensaje en español.
Valley Hospital is union busting and it is disgusting!
Valley Hospital is operated by UHS (Universal Health Services). UHS has had significant issues in the past several years. Here is one:
*Valley Hospital's union-busting actions have led to 32 currently open unfair labor charges against the employer by the Culinary Union at the National Labor Relations Board.
These workers have had enough and they are going to go on strike on Tuesday, May 9th.
Each day, different union properties will adopt the strike line in solidarity. Attached is a graphic showing when you should join the picket line in solidarity for 2-hours (based on where you work).
Valley Hospital strike deadline is Tuesday, May 9th at 6:00am and a SOLIDARITY RALLY is scheduled for 5:30pm on the day of the strike. Culinary Union members from across the city are in solidarity and will join workers on the picket line. See you there!
Valley Hospital workers deserve first-class jobs and the Culinary Union is sending a message to all employers in Las Vegas that we deserve first-class jobs!
---
El Valley Hospital está reprimiendo a los sindicatos ¡y es vergonzoso!
El Valley Hospital es operado por UHS (Universal Health Services). UHS ha tenido problemas significativos en los últimos años. Aquí hay uno:
*Las acciones antisindicales del Valley Hospital han dado lugar a 32 denuncias injustas contra el empleador por parte de La Unión Culinaria en la Junta Nacional de Relaciones Laborales.
Estos trabajadores están hartos y van a ir a la huelga el martes 9 de mayo.
Cada día, diferentes propiedades del sindicato adoptarán la línea de huelga en solidaridad. Se adjunta un gráfico que muestra cuándo debes unirte a la línea de piquete en solidaridad durante 2 horas (en función de dónde trabajes).
La fecha límite para la huelga en el Valley Hospital es el martes 9 de mayo a las 6:00am y está programada una MANIFESTACIÓN DE SOLIDARIDAD a las 5:30pm el día de la huelga. Miembros de La Unión Culinaria de toda la ciudad son solidarios y se unirán a los trabajadores en la línea de protesta. ¡Nos vemos allí!
¡Los trabajadores del Valley Hospital merecen puestos de trabajo de primera clase y La Unión Culinaria está enviando un mensaje a todos los empleadores en Las Vegas que merecemos puestos de trabajo de primera clase!