FOR IMMEDIATE RELEASE
Friday, September 23, 2016
Media Contact:
Bethany Khan ▪ BKhan@culinaryunion226.org ▪ (702) 387-7088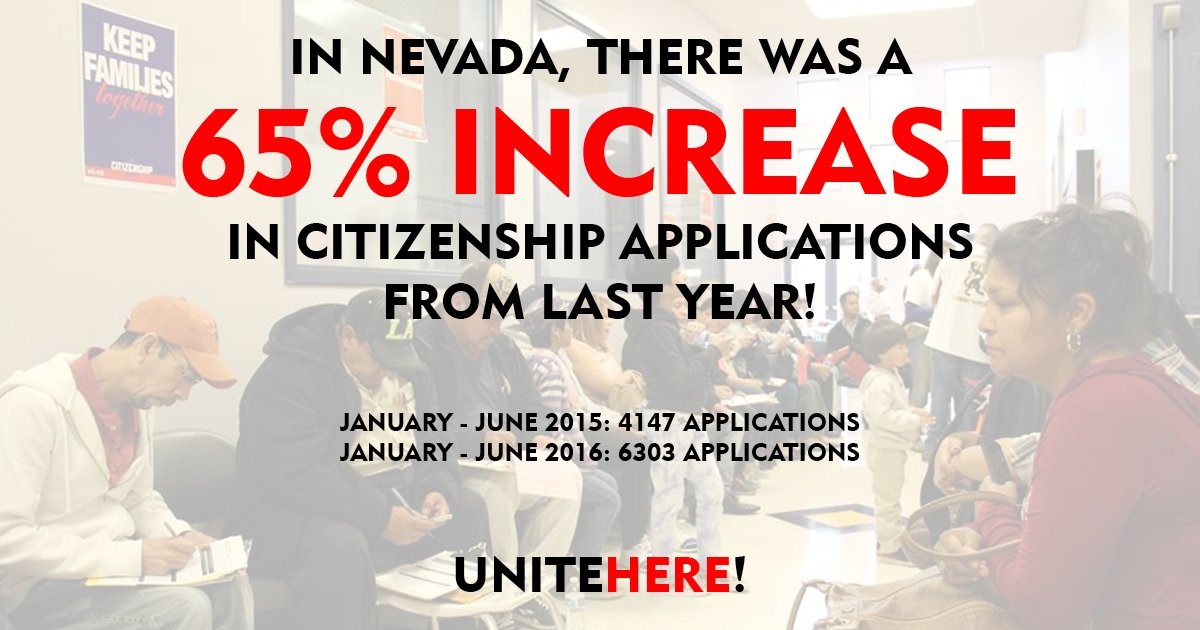 Culinary Union Standing Up To Hate Helps U.S. Citizenship Applications Jump 65 Percent in Nevada
LAS VEGAS, NV— United States Citizenship and Immigration Services (USCIS) recently reported that 6,303 permanent residents across Nevada have applied to become U.S. citizens between January and June of this year, marking a 65 percent increase from the same timeframe last year. UNITE HERE's Culinary Union helped up to one-third of those individuals apply.
Last year, 4,147 permanent residents in Nevada applied to naturalize.
"When we win citizenship for immigrants, we're winning for all working people in this country," said María Elena Durazo, UNITE HERE General Vice President for Immigration, Civil Rights, and Diversity. "We need a stronger democracy here and that means we need to make sure everyone votes."
The Culinary Union, in collaboration with the Progressive Leadership Alliance of Nevada and the National Partnership for New Americans (NPNA), hosted four citizenship fairs and dozens of one-on-one appointments from January to June in Nevada as part of a nationwide "Stand Up To Hate" campaign. Together, they assisted over 2,000 permanent residents in the Las Vegas area to apply for U.S. citizenship.
"The work we're doing to empower immigrants in Nevada will have a tremendous impact on the future of this country," said Culinary Union Secretary-Treasurer Geoconda Arguello Kline. "Thousands of immigrants are gearing up to vote against racism and hate and will elect candidates who will fight hard for workers and their families."
The citizenship drive was organized to help immigrant communities in Nevada, one of seven key swing states, achieve greater voting power ahead of the 2016 presidential election. This effort was made possible by hundreds of volunteers —housekeepers, cooks and servers — who recruited people day and night in their workplaces and neighborhoods to attend to the fairs.
"I want to vote for a pro-immigrant candidate who will help all of us: Mexicans, Latinos and immigrants," said Jorge Aguilar, a Las Vegas resident and citizenship applicant who attended the third fair of the series. "There have been too many injustices committed against us, including candidates who are talking very badly about us—voting is the best way to combat them."
Culinary Workers Union Local 226 and Bartenders Union Local 165, Nevada affiliates of UNITE HERE, represent over 57,000 workers in Las Vegas and Reno, including at most of casino resorts on the Las Vegas Strip and in Downtown Las Vegas. UNITE HERE represents 270,000 workers in gaming, hotel, and food service industries in North America.
The Culinary Union is Nevada's largest immigrant organization with over 57,000 members - a diverse membership that is approximately 55% women and 56% Latino. Members -who work as guest room attendants, bartenders, cocktail and food servers, porters, bellmen, cooks, and kitchen workers- come from 167 countries and speak over 40 different languages. The Culinary Union has been fighting for fair wages, job security, and good health benefits for working men and women in Nevada for over 80 years.
CulinaryUnion226.org / @Culinary226
###