MEDIA ADVISORY FOR:
Wednesday, October 17, 2018
MEDIA CONTACT:
Bethany Khan ▪ BKhan@culinaryunion226.org ▪ (702) 387-7088
Emmelle Israel ▪ eisrael@aflcio.org ▪ (702) 302-3189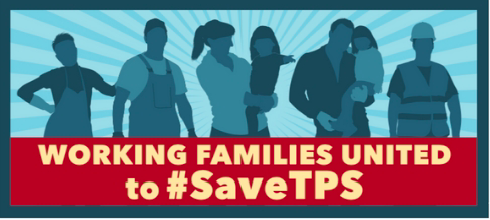 Culinary Union to host forum with AFL-CIO VP Tefere Gebre and union members who will ask elected officials and congressional candidates to #SaveTPS
Union members call on candidates to pledge to defend Temporary Protected Status for workers who come from countries suffering from disasters, violence, and upheaval
What: Forum with union members, elected officials, and congressional candidates on TPS
Where: Culinary Union, 1630 S Commerce Street Las Vegas, Nevada 89102
When: Wednesday, October 17 at 10:00 am
*Media should RSVP to Bethany & Emmelle and arrive at 9:30am to setup.
Who: AFL-CIO Executive Vice President Tefere Gebre, Culinary Union Secretary-Treasurer Geoconda Arguello-Kline, Senator Catherine Cortez Masto, Congresswoman Jacky Rosen, Congresswoman Dina Titus, NV-4 candidate Steven Horsford, NV-3 candidate Susie Lee (invited) and Nevada union members
Visuals: Over 200 union members (Culinary Union, Painters, Ironworkers, IATSE and others) with signs, colorful shirts, and banners
On Wednesday, October 17, AFL-CIO Executive Vice President Tefere Gebre — a national labor leader of refugee and immigrant backgrounds — will join together with Culinary Union Secretary-Treasurer Geoconda Arguello-Kline and Nevada union members to raise the importance of saving Temporary Protected Status (TPS) as an issue in this year's election. US Senate and House candidates including Jacky Rosen, Dina Titus, Steven Horsford, and Susie Lee have been invited to participate in a forum with union leaders and members to discuss protecting workers impacted by TPS. Sitting US Senator Catherine Cortez Masto (D-NV) will also attend.
For decades, the TPS program maintained broad bipartisan support for its benefits to the economy, as well as to people from countries suffering from disasters, violence and upheaval. The Trump Administration has cancelled TPS for 300,000 workers and their families, weakening all working people's power to join together in unions and negotiate for a fair return on their work. Recently, a federal judge granted a preliminary injunction to prevent the Administration from terminating TPS for workers from Sudan, El Salvador, Haiti, and Nicaragua. However, this reprieve is only temporary and working people are still calling on elected leaders to find a permanent solution that impacts all workers from TPS countries.
Attendees, including workers with TPS (who could lose their status) will speak out about what's at stake for them in this election cycle. Affected workers will call on candidates to pledge to protect them from the threats they face if they lose their status and will push Congress, the courts, and the President to act to #saveTPS and prevent stripping hundreds of thousands of working people of their rights on the job and their freedom to stand up to abusive employers.
###
ABOUT THE CULINARY UNION:
Culinary Workers Union Local 226 and Bartenders Union Local 165, Nevada affiliates of UNITE HERE, represent over 57,000 workers in Las Vegas and Reno, including at most of the casino resorts on the Las Vegas Strip and in Downtown Las Vegas. UNITE HERE represents 270,000 workers in gaming, hotel, and food service industries in North America.
The Culinary Union, through the Culinary Health Fund, is one of the largest healthcare consumers in the state. The Culinary Health Fund is sponsored by the Culinary Union and Las Vegas-area employers. It provides health insurance coverage for over 143,000 Nevadans, the Culinary Union's members and their dependents.
The Culinary Union is Nevada's largest immigrant organization with over 57,000 members - a diverse membership that is approximately 55% women and 54% Latino. Members - who work as guest room attendants, bartenders, cocktail and food servers, porters, bellmen, cooks, and kitchen workers - come from 173 countries and speak over 40 different languages. The Culinary Union has been fighting for fair wages, job security, and good health benefits for working men and women in Nevada for 83 years.
CulinaryUnion226.org / @Culinary226
ABOUT WORKING FAMILIES UNITED:
This event is part of a national effort by Working Families United, a coalition of six unions representing more than three and a half million workers in the US. More information can be found at WorkingFamiliesUnited.org