FOR IMMEDIATE RELEASE
August 17, 2015
MEDIA CONTACT:
Bethany Khan: bkhan@culinaryunion226.org ▪ (702) 387-7088
Trump: "Make America Great Again."
Hotel Workers in Las Vegas: "Mr. Trump, Start Here."
Las Vegas, NV – "Donald Trump says he wants to make America great again,'" said Geoconda Arguello-Kline, Secretary-Treasurer for the Culinary Union. "Mr. Trump should start right here in Las Vegas with workers at his hotel. Many of them are immigrants who work hard to provide for their families. They deserve equal treatment and should be respected for their contributions to this great city."
On Friday, August 21, 2015 at 5 p.m., employees from Trump International Hotel Las Vegas will march from Las Vegas Boulevard to their hotel to demand equality. They will be joined by clergy leaders, community organizations, elected officials, and union workers throughout the city. Over 500 Trump Las Vegas employees are seeking to unionize so that they can have the American Dream and have a better life for themselves and their families.
"I came from Mexico many years ago and became an American citizen to have a better opportunity for me and my family," said Maria Jaramillo, a housekeeper at the Trump Las Vegas. "This country is a nation of immigrants, and we all work hard and deserve to be treated fairly."
"I was born in America, and, with my union job, I have the opportunity to provide for my family. That's why I support Trump workers who want to unionize," said Pamela Parre, a banquet server at the Monte Carlo Resort and Casino, an MGM Resorts International property in Las Vegas. "Mr. Trump can make America better by treating his employees with dignity and respect, and make their jobs great jobs just like mine."
In June 2014, five Trump Las Vegas employees were unfairly suspended for exercising their legal right to wear a union button and organize their coworkers. After the Culinary Union filed unfair labor practice charges with the National Labor Relations Board (NLRB) against the Trump Las Vegas, these workers were returned to work with back pay. In June 2015, the Culinary Union filed additional charges with the NLRB asserting that the Trump Las Vegas violated the federally protected rights of workers to participate in union activities. Some of the new charges include incidents of alleged physical assault, verbal abuse, intimidation, and threats by management.
The Culinary Union is the largest labor union as well as the largest immigrant organization in Nevada, representing hospitality workers who come from 167 countries and speak over 40 languages. The Culinary Union and the national organization UNITE HERE have long campaigned for immigration reform and the rights of immigrant workers, including the Immigrant Workers' Freedom Ride in 2003, and continues the fight to achieve comprehensive, worker-centered immigration reform.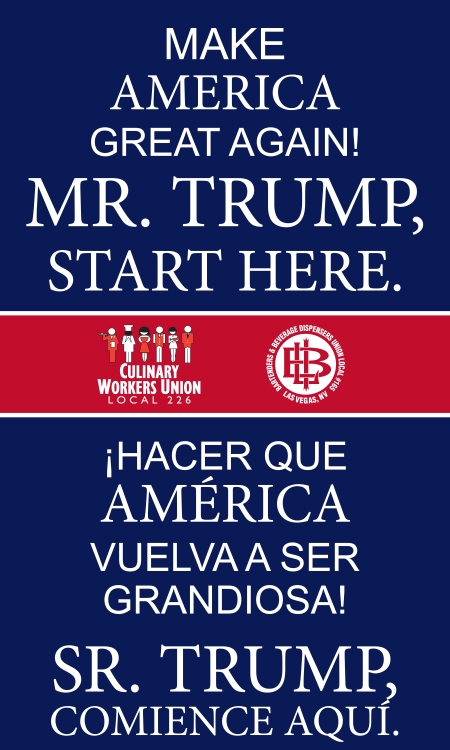 ###
Culinary Workers Union Local 226 and Bartenders Union Local 165, Nevada affiliates of UNITE HERE, represent over 55,000 workers in Las Vegas and Reno, including at most of casino resorts on the Las Vegas Strip and in Downtown Las Vegas. UNITE HERE represents 270,000 workers in gaming, hotel, and food service industries in North America.
www.CulinaryUnion226.org / @Culinary226
http://www.prnewswire.com/news-releases/trump-make-america-great-again-hotel-workers-in-las-vegas-mr-trump-start-here-300129455.html?tc=eml_cleartime
http://www.democraticunderground.com/10027085881