FOR IMMEDIATE RELEASE
Thursday, July 19, 2018
Media Contact:
Tim Trumble ▪ Ttrumble@naca.com ▪ (617) 947-2632
Bethany Khan ▪ BKhan@culinaryunion226.org ▪ (702) 387-7088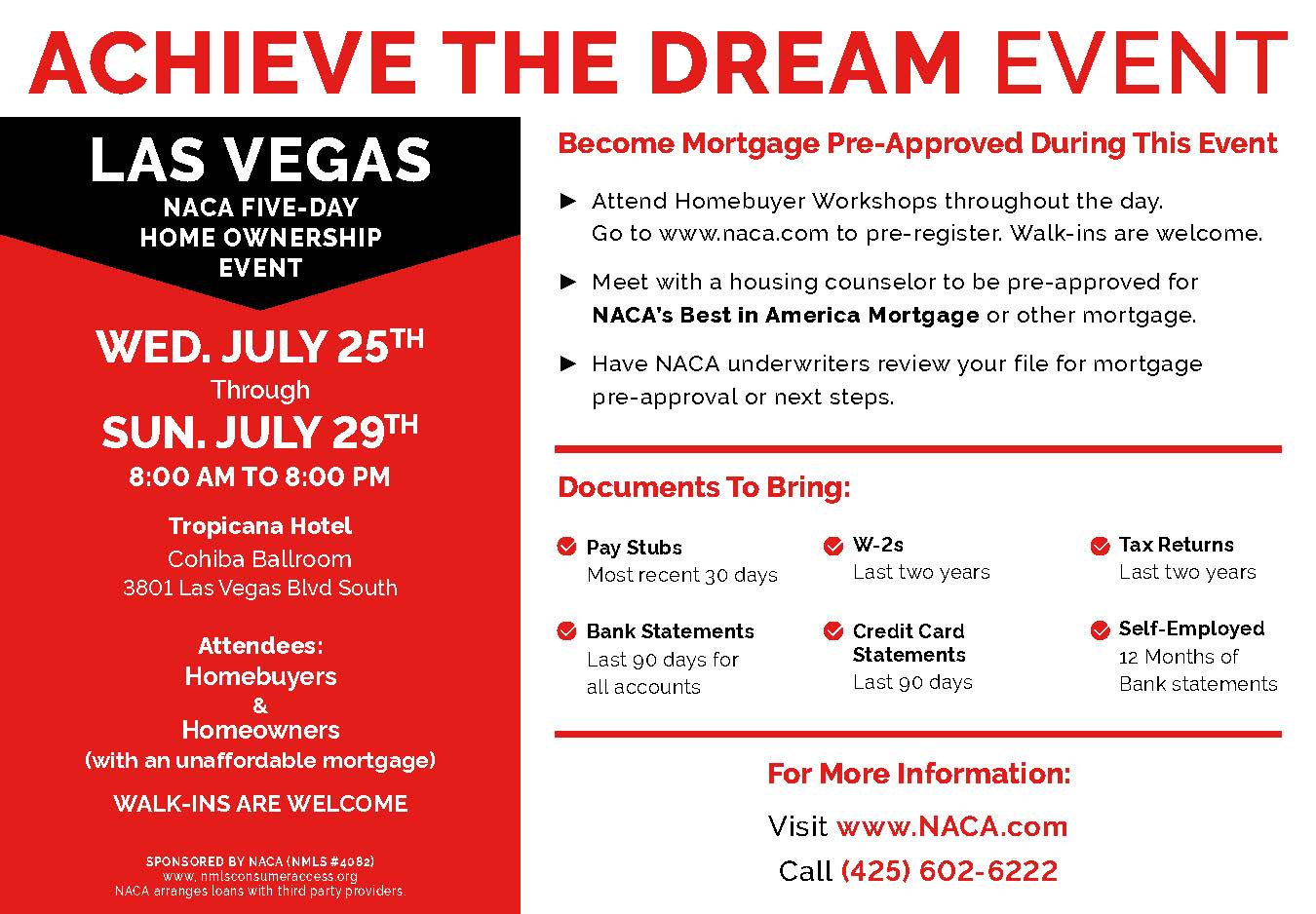 LAS VEGAS HOMEBUYERS ACCESS NACA'S BEST IN AMERICA MORTGAGE
MAJOR EVENT JULY 25 – JULY 29 TO HELP LOW-TO-MODERATE INCOME EARNERS PURCHASE HOMES
LAS VEGAS, NV - On Wednesday, July 25th through Sunday, July 29th in the Cohiba Ballroom at the Tropicana Hotel, NACA, the largest HUD certified non-profit counseling organization, will be holding a five-day homeownership event providing all homebuyers with access to NACA's Best in America Mortgage. Everyone is able to access the NACA Mortgage with the following incredible terms: No down payment, no closing costs, no fees, no PMI, at a below market fixed rate without the need for perfect credit. More than $13 billion has been committed by Bank of America and CitiMortgage to this extraordinary mortgage that is only available through NACA. This free event is open to anyone interested in purchasing a home. (Event flyer here)

NACA is teaming up with the Culinary Union in Las Vegas for this event, which is a continuation of NACA's nationwide Achieve the Dream tour. These events provide low-to-moderate income and people of color with the unprecedented opportunity for truly affordable homeownership. NACA housing counselors will work with homebuyers to be pre-approved for the NACA mortgage. Attendees can complete NACA's four-step pre-qualification process in as little as one day! Previous Achieve the Dream events have been enormously successful with over 5,000 participants at each one and thousands of pre-approvals from previous events in Charlotte, Miami, Cleveland, Baltimore, Newark, and Honolulu.

"NACA's homeownership program may sound too good to be true, but it is the reality for many thousands of NACA homeowners nationwide, including many in Las Vegas," said Bruce Marks, CEO and Founder of NACA. "NACA did so much to help Las Vegas homeowners save their homes during the recession and now, we are very excited to partner with the Culinary Union for the five-day Achieve the Dream homebuyer event."
"It's great that NACA is bringing this home buying event to Las Vegas," said Geoconda Argüello-Kline, Secretary-Treasurer for the Culinary Union. "In addition to accessing NACA's mortgage, eligible union workers will be able to use up to $20,000 from the Culinary and Bartenders Housing Fund to assist with this excellent mortgage opportunity."

NACA's "Best in America Mortgage" offers these exclusive terms:
No down payment required
No closing costs (lender paid)
No fees
Loan-to-value: 100% for purchase and 110% for purchases with a rehab
No consideration of credit score
Below market fixed interest rate
Term of 15 or 30 years fully amortizing
Buy-down to permanently reduce the interest rate to virtually zero percent
Purchase and renovation funds available
Current homeowners who are struggling with an unaffordable mortgage should come for assistance in obtaining an affordable mortgage modification. For documents needed and to register, go to www.NACA.com or call (425) 602-6222. Walk-ins are welcome.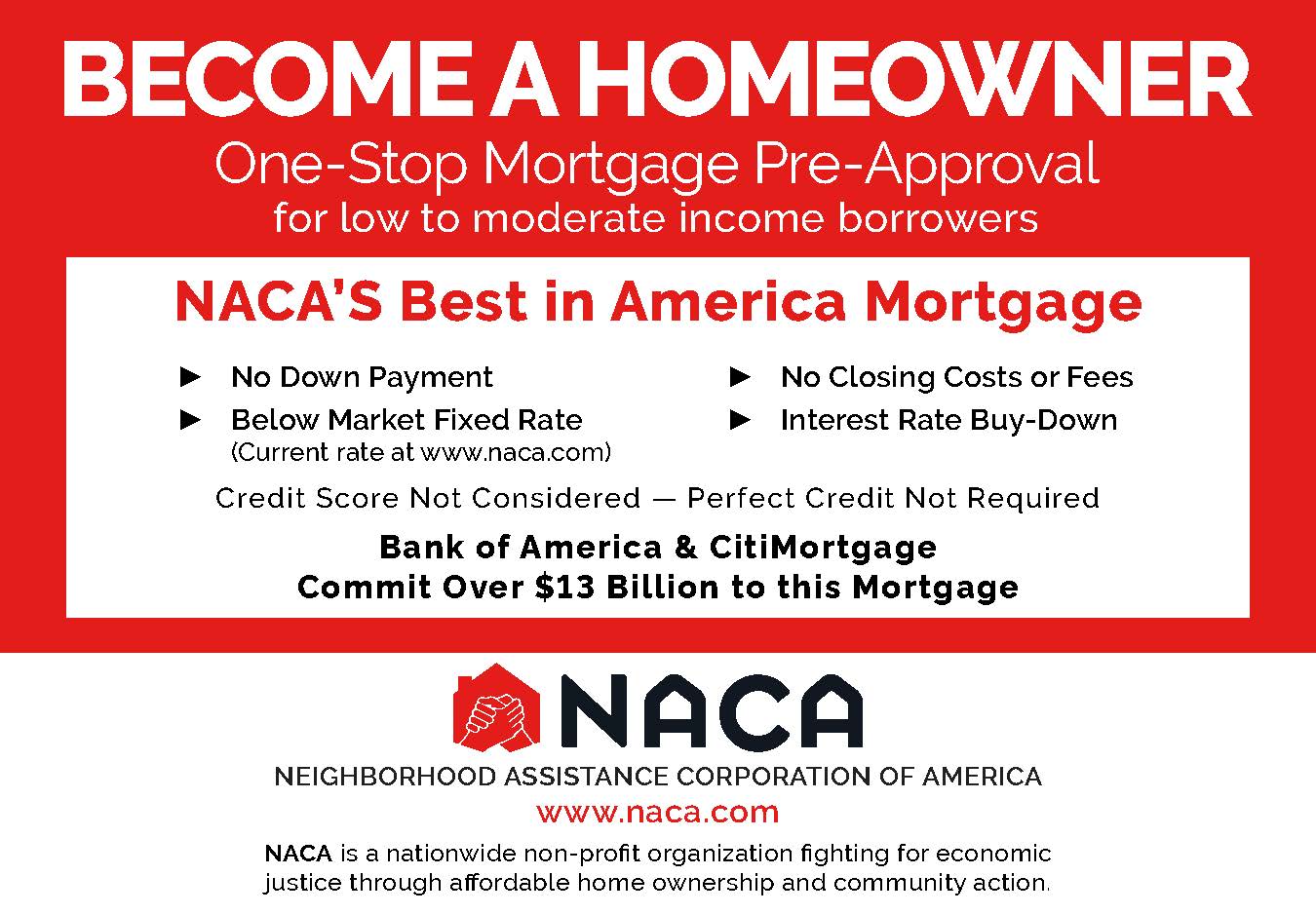 Media Links:
NACA Video
Hawaii Public Radio
Local 10 Miami
Spectrum News Charlotte
About NACA (www.NACA.com):
The Neighborhood Assistance Corporation of America (NACA) is a non-profit organization dedicated to economic justice through home ownership and community action. Founded by economic advocate Bruce Marks over thirty years ago, NACA is the largest HUD certified counseling agency with more than two million members nationwide. Through programs such as the Best in America Mortgage and HomeSave, NACA has helped thousands of consumers modify an unaffordable existing home loan or secure a mortgage to purchase a new home. With 50 offices nationwide, NACA pledges a character-based, no fee, no down payment and no closing fee home loan. NACA's proven process allows low to modest income consumers to realize the American dream of homeownership. Bank of America and CitiMortgage have committed $13 billion to NACA pre-approved mortgage loans. www.NACA.com. #AchieveTheDreamNACA
ABOUT THE CULINARY UNION:
Culinary Workers Union Local 226 and Bartenders Union Local 165, Nevada affiliates of UNITE HERE, represent over 57,000 workers in Las Vegas and Reno, including at most of the casino resorts on the Las Vegas Strip and in Downtown Las Vegas. The Culinary Union has been fighting for fair wages, job security, and good health benefits for working men and women in Nevada for 83 years. CulinaryUnion226.org @Culinary226