MEDIA ADVISORY FOR:
Tuesday, May 22, 2018
Media Contact:
Bethany Khan ▪ BKhan@culinaryunion226.org ▪ (702) 387-7088
Tens of thousands of Las Vegas hospitality workers to vote May 22 on whether to authorize a citywide strike
WHAT: Citywide strike authorization vote for 50,000 Las Vegas hospitality workers
WHO: Tens of thousands of Culinary and Bartenders Unions members. Secretary-Treasurer for the Culinary Union, Geoconda Argüello-Kline, and President for the Culinary Union, Ted Pappageorge. President of UNITE HERE, D. Taylor and UNITE HERE Director of Immigration, Policy, Clete Kiley.
WHEN & WHERE: Tuesday, May 22, 2018 at 10am and 6pm at the Thomas and Mack Center of the University of Nevada – Las Vegas (4505 South Maryland Parkway, Las Vegas, NV 89154).
The citywide strike vote is closed to public and media, but members of the press are invited at 9am and 5pm to the Thomas and Mack for interviews and pre-vote session b-roll opportunities. The result of the vote will be released by 10pm.
The public is advised to avoid Las Vegas Boulevard and Tropicana Avenue near the McCarran Airport that as tens of thousands of union members are expected to attend the two sessions and cast their votes.
WHY:
Union contracts covering 50,000 union workers expire on June 1, 2018 at 34 casino resorts on the Las Vegas Strip and Downtown Las Vegas, including properties operated by MGM Resorts International, Caesars Entertainment Corporation, Penn National, Golden Entertainment, Boyd Gaming, and other companies.
If a majority of workers vote yes on May 22, the union negotiating committee will be authorized to call for a strike at any time after the contract expires and workers can walk out on strike starting as soon as the morning of June 1, 2018.
Members of the Culinary and Bartenders Unions who will be participating in the May 22 strike vote include: Bartenders, guest room attendants, cocktail servers, food servers, porters, bellman, cooks, and kitchen workers who are employed at the casino resorts on the Las Vegas Strip and Downtown Las Vegas.
The Culinary and Bartenders Unions have proposed new contract language to provide greater measure of security for members including workplace safety, sexual harassment, subcontracting, technology, and immigration. In addition, the Union's economic proposal seeks to provide workers a fair share of the employers' enormous anticipated cash flows and Trump tax windfalls.
In 1984, thousands of Culinary Union members went on a citywide strike across the Las Vegas Strip and in Downtown Las Vegas for 67 days which crippled in the Las Vegas hospitality industry until contracts were settled. The last Culinary Union citywide strike vote was in 2002 when 25,000 workers packed the Thomas and Mack and an overwhelming majority voted yes to authorize a strike.
The Culinary and Bartenders Unions are encouraging Nevada locals, elected officials, political candidates, and tourists to support workers by not patronizing hotels and casinos under a labor dispute on or after June 1, 2018. In an event of a strike, please do not cross picket lines.
Labor contracts for the below 34 casino resorts expire midnight May 31, 2018: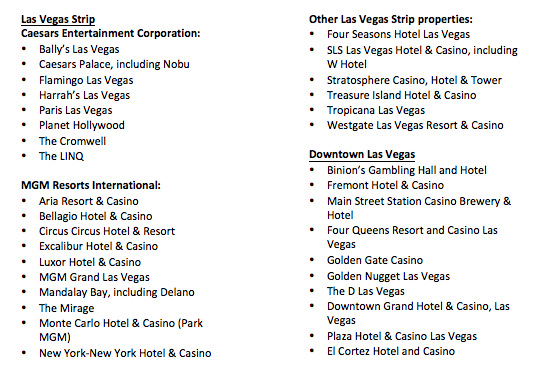 --
ABOUT THE CULINARY UNION:
Culinary Workers Union Local 226 and Bartenders Union Local 165, Nevada affiliates of UNITE HERE, represent over 57,000 workers in Las Vegas and Reno, including at most of the casino resorts on the Las Vegas Strip and in Downtown Las Vegas. UNITE HERE represents 270,000 workers in gaming, hotel, and food service industries in North America.
The Culinary Union, through the Culinary Health Fund, is one of the largest healthcare consumers in the state. The Culinary Health Fund is sponsored by the Culinary Union and Las Vegas-area employers. It provides health insurance coverage for over 143,000 Nevadans, the Culinary Union's members and their dependents.
The Culinary Union is Nevada's largest immigrant organization with over 57,000 members - a diverse membership that is approximately 55% women and 54% Latino. Members - who work as guest room attendants, bartenders, cocktail and food servers, porters, bellmen, cooks, and kitchen workers - come from 173 countries and speak over 40 different languages. The Culinary Union has been fighting for fair wages, job security, and good health benefits for working men and women in Nevada for 83 years.