FOR IMMEDIATE RELEASE:
Saturday, September 8, 2018
MEDIA CONTACT:
Bethany Khan ▪ BKhan@culinaryunion226.org ▪ (702) 387-7088
Emmelle Israel ▪ (702) 302-3189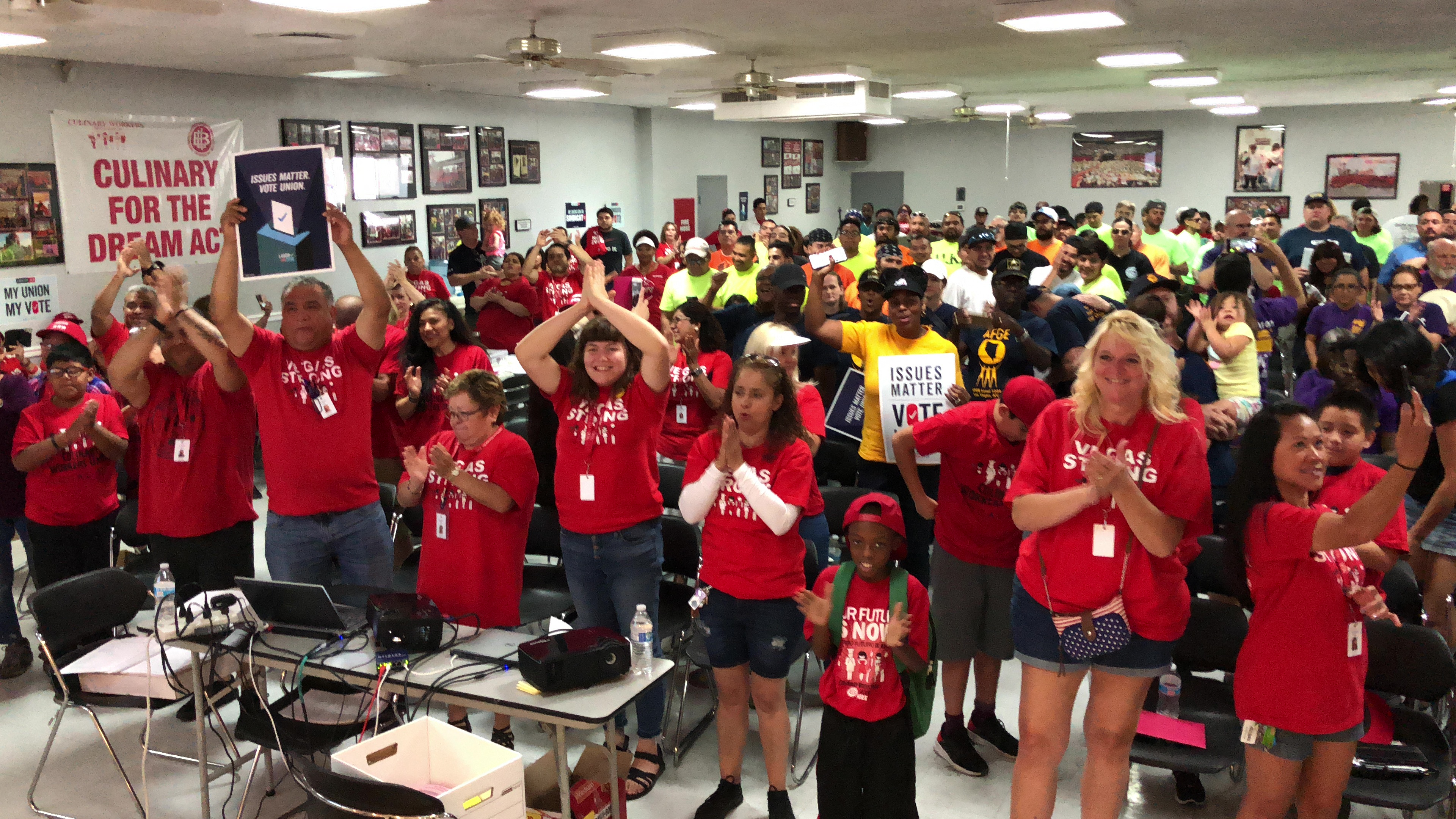 Over 200 Union Members Join Together to Launch Nevada Labor 2018 Election Superwalk
** PHOTOS & B-ROLL VIDEO: https://unitehere.box.com/s/9vp3h97hr7xvrue9c7knypa0y9k6vxlm
Las Vegas, NV - On Saturday, September 8, over 200 union members gathered at the Culinary Union hall to rally together before leaving to canvass Las Vegas neighborhoods. Union members are talking to voters at their homes as part of the Nevada Labor 2018 program, a campaign dedicated to supporting pro-worker candidates in this year's election.
Nevada State AFL-CIO Executive Secretary Treasurer Rusty McAllister opened the rally by listing off the achievements of the labor political program in the last election, including helping to elect the first Latina to the U.S. Senate sweeping in pro-worker majorities into the Nevada legislature. Said McAllister: "This is day one. This is when we start going out there to do what we do best...The work to improve working conditions, health care, retirement, and all the things we need to make our lives better, this is how we get it and it starts here today.
Culinary Union Secretary-Treasurer, Geoconda Argüello-Kline said: "Union members have the power to educate and mobilize coworkers and their families. Everyday, we are talking about the issues that affect us at work and in our daily lives. Working people are organizing, raising wages, and making the case for an economy that works for all of us."
Nevada assemblyman William McCurdy II, asserted the strength and effectiveness of labor's political organizing: "Labor will secure victories up and down the ballot in Nevada. We have the blueprint. We did it in 2016 and we'll do it in 2018."
George McCubbin, a National Vice President with the American Federation of Government Employees (AFGE), concluded the rally: "We are going to take care of business. There is too much at stake in this election, so we are going to put it all out there for the next 60 days."
In 2016, Nevada unions joined together to run their largest and most unified political program ever. The Nevada Labor 2018 program is continuing that infrastructure and grassroots momentum into the 2018 election. Since May, union members have been knocking on doors, making phone calls, and holding worksite actions across the state in support of labor's endorsed candidates.
###
ABOUT THE CULINARY UNION:
Culinary Workers Union Local 226 and Bartenders Union Local 165, Nevada affiliates of UNITE HERE, represent over 57,000 workers in Las Vegas and Reno, including at most of the casino resorts on the Las Vegas Strip and in Downtown Las Vegas. UNITE HERE represents 270,000 workers in gaming, hotel, and food service industries in North America.
The Culinary Union, through the Culinary Health Fund, is one of the largest healthcare consumers in the state. The Culinary Health Fund is sponsored by the Culinary Union and Las Vegas-area employers. It provides health insurance coverage for over 143,000 Nevadans, the Culinary Union's members and their dependents.
The Culinary Union is Nevada's largest immigrant organization with over 57,000 members - a diverse membership that is approximately 55% women and 54% Latino. Members - who work as guest room attendants, bartenders, cocktail and food servers, porters, bellmen, cooks, and kitchen workers - come from 173 countries and speak over 40 different languages. The Culinary Union has been fighting for fair wages, job security, and good health benefits for working men and women in Nevada for 83 years.
CulinaryUnion226.org / @Culinary226
ABOUT THE NEVADA AFL-CIO:
Through political advocacy and leadership, the Nevada State AFL-CIO works to improve the lives, opportunities, and working conditions of Nevada's working men and women. We represent more than 150,000 union members and their families across the state. Visit our website at http://nv.aflcio.org.