FOR IMMEDIATE RELEASE
Tuesday, December 17, 2019
MEDIA CONTACT: BKhan@culinaryunion226.org ▪ (702) 387-7088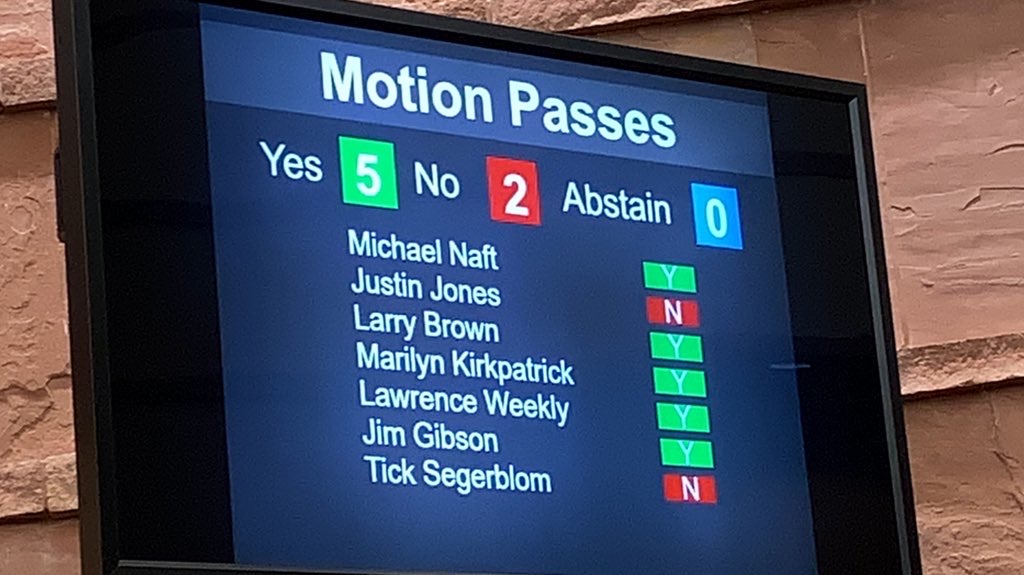 STATEMENT by Geoconda Argüello-Kline regarding Clark County Commission appointment to the Stadium Authority Board of Directors:
We deserve better representation on the Stadium Authority Board. The Clark County Commission let Nevadans down today with their refusal to appoint to the board a qualified candidate who understands hospitality jobs and workforce development.
The Allegiant Stadium will bring our community many job opportunities, and these jobs should be open to all - not just those who know someone.
UNITE HERE represents 30,000 workers at 51 stadiums across the United States. This is what we do. From big conventions to New Year's Eve - we are the experts. We want the stadium to be successful and now that the construction is nearly over, the next phase is now: Job training, equal opportunity hiring, and workforce development.
Clearly this decision today shows that the Clark County Commission does not care about the conduct and reputation of their members on the Stadium Authority board. If they wanted to affirm that board members can be racist, sexist, and threaten violence on Twitter (like Donald Trump does) and get away with it - they have succeeded.
Representation matters. The Clark County Commission missed an opportunity to show their commitment to equity and diversity today. Some commissioners are wrong to say that they "don't see color" or that the largest organization of immigrants in Nevada is "playing the race card," but the fact is there is not one woman of color on the Stadium Authority Board and the Clark County Commission's decision is disheartening as we end this decade and head into 2020.
--
ABOUT THE CULINARY UNION:
Culinary Workers Union Local 226 and Bartenders Union Local 165, Nevada affiliates of UNITE HERE, represent 60,000 workers in Las Vegas and Reno, including at most of the casino resorts on the Las Vegas Strip and in Downtown Las Vegas. UNITE HERE represents 300,000 workers in gaming, hotel, and food service industries in North America.
The Culinary Union, through the Culinary Health Fund, is one of the largest healthcare consumers in the state. The Culinary Health Fund is sponsored by the Culinary Union and Las Vegas-area employers. It provides health insurance coverage for over 130,000 Nevadans, the Culinary Union's members and their dependents.
The Culinary Union is Nevada's largest immigrant organization with members who come from 178 countries and speak over 40 different languages. We are proud to have helped over 18,000 immigrants become American citizens and new voters since 2001 through our affiliate, The Citizenship Project.
The Culinary Union has a diverse membership -- approximately 55% women, 54% Latinx, 19% White, 15% Asian, 10% Black, and less than 1% Indigenous Peoples — and consists of guest room attendants, cocktail and food servers, porters, bellmen, cooks, bartenders, laundry and kitchen workers. The Culinary Union has been fighting for fair wages, job security, and good health benefits for workers in Nevada for 84 years.
###
COMUNICADO de Geoconda Argüello-Kline con respecto al nombramiento de la Comisión del Condado de Clark para la Mesa de Directores de las Autoridades del Estadio:
Merecemos tener mejor representación en la Mesa de las Autoridades del Estadio. Hoy la Comisión del Condado de Clark decepcionó a los residentes de Nevada al negarse a nombrar para la mesa de directores a un candidato idóneo que entiende de los empleos de hospitalidad y el desarrollo de la mano de obra.
El estadio Allegiant le brindará a nuestra comunidad muchas oportunidades de empleo, y esos trabajos deberían estar abiertos para todos - no solo para aquellos que tienen un conocido.
UNITE HERE representa a 30,000 trabajadores en 51 estadios por todo Estados Unidos. A eso nos dedicamos. Desde las grandes convenciones hasta la víspera de Año Nuevo - nosotros somos los expertos. Nosotros queremos que el estadio sea un éxito y ahora que casi ha terminado su construcción, la próxima fase ahora es: capacitación laboral, contrataciones con igualdad de oportunidades, y el desarrollo de su mano de obra.
Claramente la decisión de hoy muestra que a la Comisión del Condado de Clark no le importa la conducta y reputación de los miembros de la Mesa de las Autoridades del Estadio. Si lo que querían era confirmar que los miembros de la junta pueden ser racistas, sexistas, y amenazar con violencia por Twitter (como lo hace Donald Trump), y que se pueden salir con la suya - lo han logrado.
La representación sí importa. Hoy la Comisión del Condado de Clark dejó escapar la oportunidad de mostrar su compromiso con la justicia y con la diversidad. Algunos comisionados están equivocados al decir que "no ven el color" o que la organización más grande de inmigrantes en Nevada esta "usando la carta del racismo," pero el hecho es que no hay ni una sola mujer de color en la Mesa de las Autoridades del Estadio y es desalentadora la decisión de la Comisión del Condado de Clark aproximándose el final de esta década y entrando al año 2020.
--
ACERCA DE LA UNIÓN CULINARIA:
La Unión de Trabajadores Culinarios, Local 226, y la Unión de Cantineros, Local 165, que son filiales de UNITE HERE en Nevada, representan a 60 mil trabajadores en Las Vegas y Reno, incluso en la mayoría de los casinos resorts en el Strip de Las Vegas y Downtown Las Vegas. UNITE HERE representa 300 mil trabajadores en las industrias del juego, hotelería, y el servicio de alimentos en Norte América.
La Unión Culinaria, a través de su Fondo de Salud de la Culinaria, es uno de los más grandes consumidores de atención médica en el estado. El Fondo de Salud de la Culinaria es auspiciado por el Sindicato Culinario y los empleadores del área de Las Vegas. Este seguro médico les brinda cobertura a más de 130 mil nevadenses, que son los afiliados del sindicato y sus dependientes.
La Unión Culinaria es la organización de inmigrantes más grade de Nevada con personas provenientes de 178 países que hablan más de 40 diferentes idiomas. Estamos orgullosos de haber ayudado a más de 18 mil inmigrantes a convertirse en ciudadanos americanos y nuevos votantes desde el 2001 a través de nuestro filial que es el Proyecto de Ciudadanía.
La Unión Culinaria tiene una membrecía diversa -- aproximadamente el 55% son mujeres, 54% son Latinx, 19% blancos, 15% asiáticos, 10% de raza negra, y menos de 1% de personas indígenas. Está compuesta por recamareras, meseros y meseras de cocteles y de alimentos, empleados de limpieza de los casinos, botones, cocineros, cantineros, empleados de lavandería y de cocina. La Unión Culinaria ha estado luchando por 84 años por sueldos justos, seguridad laboral, y buenos beneficios médicos para los trabajadores en Nevada.
###