FOR IMMEDIATE RELEASE
Tuesday, October 9, 2018
Media Contact:
Bethany Khan ▪ BKhan@culinaryunion226.org ▪ (702) 387-7088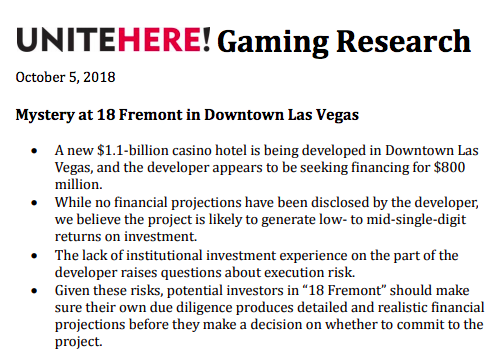 UNITE HERE Gaming releases report about the mystery financial prospects of 18 Fremont project in Downtown Las Vegas
Las Vegas, NV – UNITE HERE Gaming has released a new report to aid in potential investors' due diligence of the "highly anticipated property development" at 18 Fremont in Downtown Las Vegas. The project reportedly has a $1.1 billion budget, and the developer appears to be seeking financing for $800 million. While the developer has not publicly disclosed any financial projections, we believe the project is likely to generate low- to mid-single-digit returns on investment.
"We project the '18 Fremont' casino hotel to generate approximately $40 million of annual EBITDA if it can perform on par with other large casino properties in Downtown Las Vegas," said Ken Liu of UNITE HERE Gaming Research. "Potential investors in this new opportunity in the Las Vegas gaming industry should make sure they have detailed and realistic financial projections before they commit."
The new report also raises concerns about execution risk given the lack of institutional investment experience on the part of the developer, 18 Fremont Street Acquisition, LLC. The CFO of the company's two affiliated casino hotels in Downtown Las Vegas does not have Wall Street experience, nor does the CFO of another affiliate, the Cold Heading Company, which is an auto parts manufacturer in Warren, Michigan.
UNITE HERE represents 270,000 hospitality workers in gaming, hotel, and food service industries in North America and provides analysis from the perspective of those who work in these industries.
###