FOR IMMEDIATE RELEASE
Saturday, April 28th, 2018
Media Contact:
Bethany Khan ▪ BKhan@culinaryunion226.org ▪ (702) 387-7088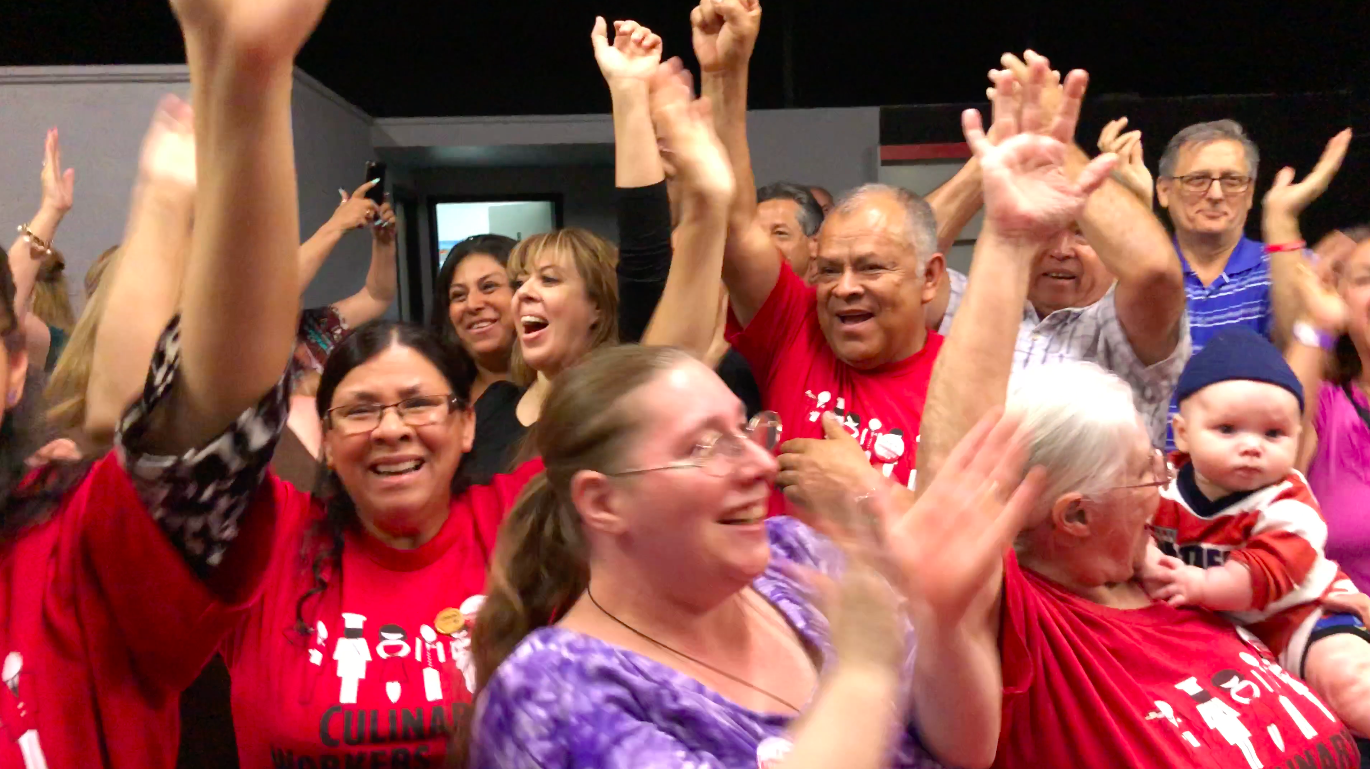 Workers at Station Casinos' Palms Casino Resort Vote to Unionize
LAS VEGAS, NV – Workers at the Palms, an off-Strip casino hotel owned and operated by Station Casinos, voted to unionize on April 27 and 28, through a secret-ballot election supervised by the National Labor Relations Board (NLRB). Palms is the fifth Station Casinos-operated property to unionize since 2015. Station Casinos, the third-largest private-sector employer in Southern Nevada, is the operating subsidiary of Red Rock Resorts, Inc. (NASDAQ: RRR).
During the two-day NLRB election, 614 workers voted and 84% voted "YES" for the union. Approximately 900 Palms workers will be represented by the Culinary Workers Union Local 226 and Bartenders Union Local 165, Nevada affiliates of UNITE HERE. Workers at a Station Casinos-managed tribal casino in California ratified a first union contract in October, 2015. Workers at three Station Casinos' Las Vegas properties are unionized: Boulder Station (September 2016), Palace Station (March 2017), and Green Valley Ranch (November 2017).
"We want to get the Culinary Union benefits for myself and my family!" said Juan Sanchez, a bar porter at the Palms for 8 years. "The Union's health benefits are the best in Las Vegas. There's no monthly premium, virtually no co-pays and no deductible, and there is even a health center! There is no reason we shouldn't have the same benefits like 57,000 other casino workers in the city.
"Once again, Station Casinos workers have spoken loud and clear, at Palms this time. The company's decision-makers should listen to what their workers are telling them. One casino after another, workers are saying that they want fair wages and good benefits like at other union casinos in Las Vegas and that they want to be treated fairly on the job," said Geoconda Argüello-Kline, Secretary-Treasurer and leader of the Culinary Union. "We call on Station Casinos to immediately to negotiate and settle a fair contract for the workers at Palms, Green Valley Ranch, Palace Station, and Boulder Station, just like they did at their tribal casino in California."
"I am so happy to become part of the union," said Sonia Garcia, a guest room attendant at the Palms for 12 years. "Station Casinos always told us that they would respect a secret-ballot vote and so a majority of us voted YES! Yes, we can! Yes, we did! It's time for Station Casinos to stop treating us like second-class workers!"
"I'm thrilled! This is everything that we have been fighting for over the last four years," said Melissa Zamarron, a food server who has worked at the Palms for 17 years. "I'm excited to join negotiations with the workers from Boulder, Palace, and Green Valley Ranch. I voted YES because I want to be able to take care of my family with the Union health plan."
Palms Casino Resort, acquired by Station Casinos in 2016 for approximately $320 million, is located west of the Las Vegas Strip past Interstate 15. The property is undergoing a major renovation with an expected budget of $620 million. Palms Place, further west and connected to the Palms casino through a walkway, has 599 AAA Four-Diamond condominium hotel units, the majority of which are in a rental pool managed by Palms. The famous recording studio inside Palms has been used by many artists, including Jay-Z, Céline Dion, Beyoncé, Madonna, Lady Gaga, Britney Spears, Ellie Goulding, Katy Perry, Carlos Santana, T-Pain, Imagine Dragons, The Killers, Dr. Dre, Eminem, 50 Cent, and Maroon 5.
In 2010, workers at Station Casinos started a public organizing drive. A super majority of workers in the classifications that Culinary and Bartenders' traditionally represents (which includes most of the hotel and food and beverage workers in a casino hotel) signed a public petition to demand a fair process to exercise their right to choose whether to unionize. Changes to NLRB rules in 2014 created new opportunities for workers to choose whether to unionize through NLRB-supervised secret-ballot elections despite Station Casinos' management interference, intimidation, bullying, and litigation.
ABOUT THE CULINARY UNION:
Culinary Workers Union Local 226 and Bartenders Union Local 165, Nevada affiliates of UNITE HERE, represent over 57,000 workers in Las Vegas and Reno, including at most of the casino resorts on the Las Vegas Strip and in Downtown Las Vegas. UNITE HERE represents 270,000 workers in gaming, hotel, and food service industries in North America.
The Culinary Union, through the Culinary Health Fund, is one of the largest healthcare consumers in the state. The Culinary Health Fund is sponsored by the Union and Las Vegas-area employers. It provides health insurance coverage for over 143,000 Nevadans, the Culinary Union's members and their dependents.
The Culinary Union is Nevada's largest immigrant organization with over 57,000 members - a diverse membership that is approximately 55% women and 54% Latino. Members - who work as guest room attendants, bartenders, cocktail and food servers, porters, bellmen, cooks, and kitchen workers - come from 173 countries and speak over 40 different languages. The Culinary Union has been fighting for fair wages, job security, and good health benefits for working men and women in Nevada for over 82 years.
CulinaryUnion226.org / @Culinary226
###