FOR IMMEDIATE RELEASE:
Wednesday, August 10, 2022
MEDIA CONTACT:
Bethany Khan: bkhan@culinaryunion226.org ▪ (702) 387-7088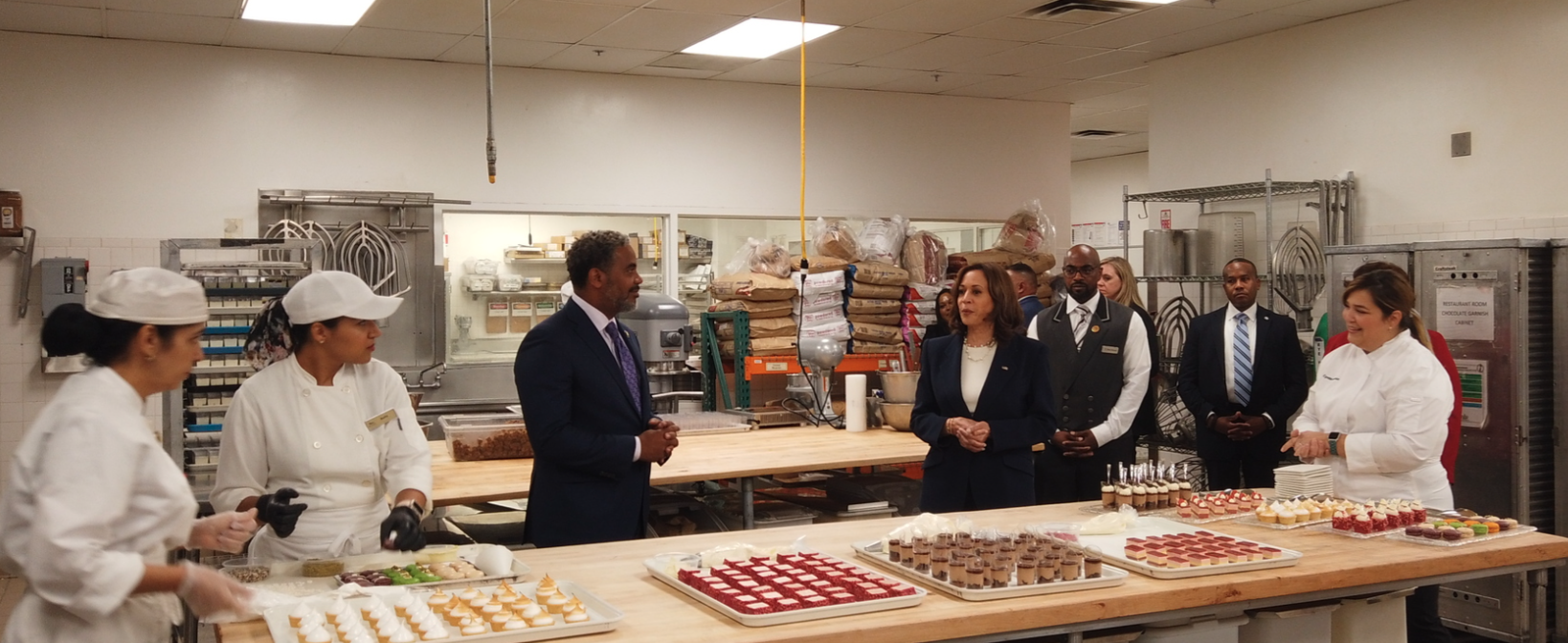 Culinary Union hosted a back-of-the-house tour with Vice President Kamala Harris at MGM Grand
Las Vegas, NV – Today, the Culinary Union was pleased to host a back-of-the-house tour with Vice President Kamala Harris at the unionized MGM Grand Las Vegas Hotel and Casino. Pictures from the tour are available here.
Vice President Harris met with Ted Pappageorge, Secretary-Treasurer for the Culinary Union and Diana Valles, President of the Culinary Union before touring the bakery shop at the MGM Grand with Congressman Steven Horsford and Culinary Union members Angelica Santana and Dion Savage.
"We were pleased to welcome the Vice President of the United States. We invited her to meet with hospitality workers and we are so glad that she came," said Ted Pappageorge, Secretary-Treasurer for the Culinary Union. "We also had a good conversation about the high IRS Tip Allocation Rate and the taxes they are imposing on working families and about the massive housing and rent profiteering that is happening throughout the country, especially here in Nevada. We asked the Vice President Kamala Harris to stand with us and take on these issues that working families are facing."
"It was a dream come true to meet Vice President Kamala Harris!" said Angelica Santana, a guest room attendant at MGM Grand and Culinary Union member for 25 years. "I was able to share my story with the Vice President and I'm so thankful to have her fighting for our families everyday. I am originally from the Dominican Republic and moved to Las Vegas in the early 90s looking for a better life for my family. I was unjustly fired in 2015, but my union helped me get my job back, so I promised myself that when I got my job back I would volunteer and help my coworkers fight for their rights and today I am a proud shop steward."
"I'm honored to have the opportunity to show Vice President Harris where I have a good union job," said Dion Savage, a bellman at MGM Grand and Culinary Union member for 32 years. "This pandemic has been tough but we got through it together. I'm glad that the Vice President and the Biden Administration have our backs as we continue to comeback stronger."
—
ABOUT CULINARY UNION:
Culinary Workers Union Local 226 and Bartenders Union Local 165, Nevada affiliates of UNITE HERE, represent 60,000 workers in Las Vegas and Reno, including at most of the casino resorts on the Las Vegas Strip and in Downtown Las Vegas. UNITE HERE represents 300,000 workers in gaming, hotel, and food service industries in North America.
The Culinary Union, through the Culinary Health Fund, is one of the largest healthcare consumers in the state. The Culinary Health Fund is sponsored by the Culinary Union and Las Vegas-area employers. It provides health insurance coverage for over 145,000 Nevadans, the Culinary Union's members and their dependents.
The Culinary Union is Nevada's largest Latinx/Black/AAPI/immigrant organization with members who come from 178 countries and speak over 40 different languages. We are proud to have helped over 18,000 immigrants become American citizens and new voters since 2001 through our affiliate, The Citizenship Project.
The Culinary Union has a diverse membership which is 55% women and 45% immigrants. The demographics of Culinary Union members are approximately: 54% Latinx, 18% white, 15% Asian, 12% Black, and less than 1% Indigenous Peoples.
Culinary Union members work as: Guest room attendants, cocktail and food servers, porters, bellmen, cooks, bartenders, laundry and kitchen workers. The Culinary Union has been fighting and winning for working families in Nevada for 87 years.
CulinaryUnion226.org / @Culinary226
###