FOR IMMEDIATE RELEASE:
Wednesday, June 3rd, 2020
MEDIA CONTACT:
Bethany Khan: bkhan@culinaryunion226.org ▪ (702) 387-7088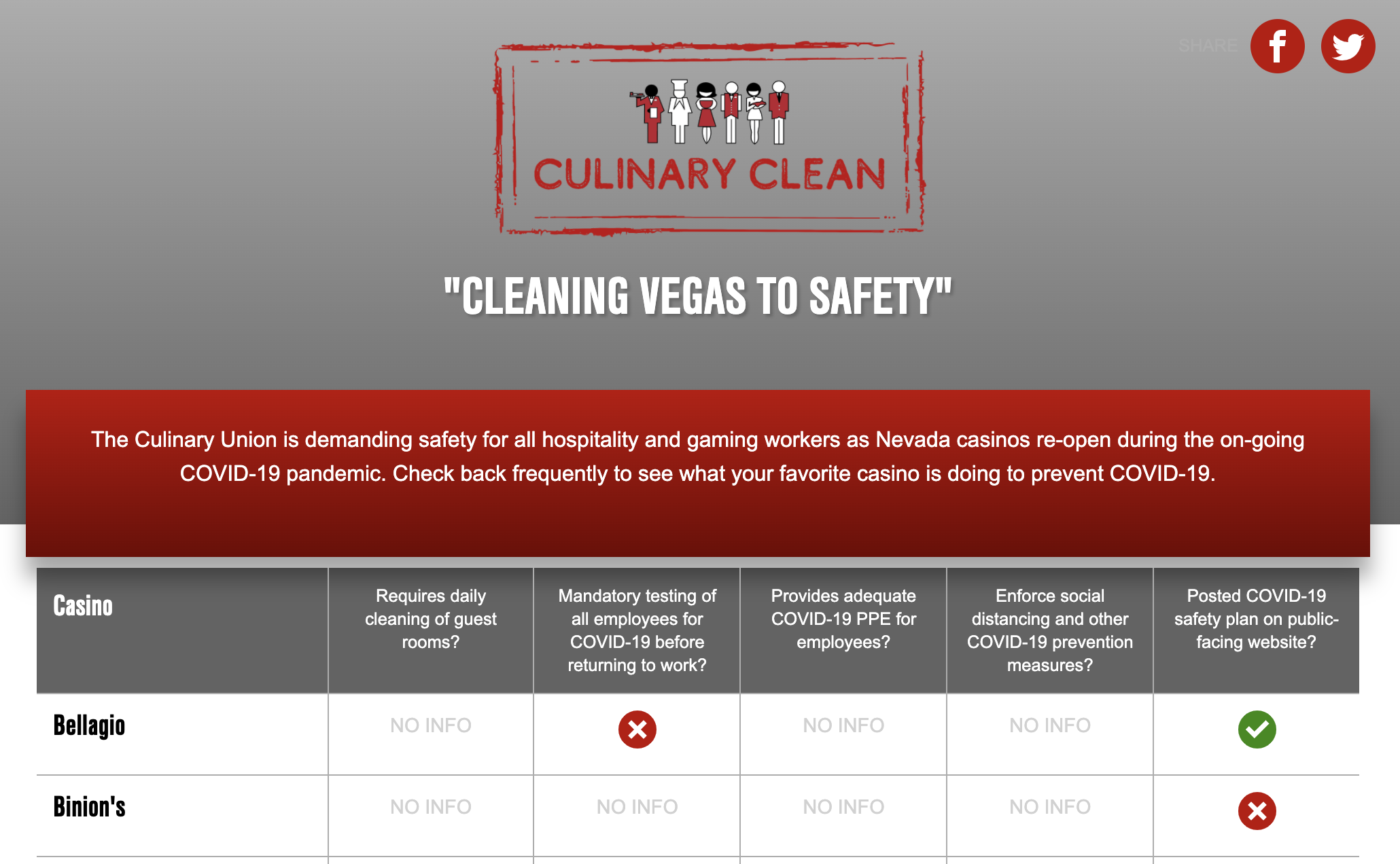 Culinary Union launches CulinaryClean.org as a one-stop safety resource as casinos in Las Vegas reopen
Las Vegas, NV – The Culinary Union has launched a new website (CulinaryClean.org) today ahead of the anticipated re-opening of Nevada casinos tomorrow on June 4th, 2020. After months of advocating for increased transparency, the Culinary Union is pleased that most major gaming companies have posted their COVID-19 safety plans on their public-facing websites.
"From dealers to bellmen, cooks to guest room attendants, all casinos workers deserve to be safe and protected," said Geoconda Argüello-Kline, Secretary-Treasurer for the Culinary Union. "The Culinary Union demands that the Nevada Gaming Commission, the Nevada Gaming Control Board, and the Clark County Commission mandate all casinos follow the updated guidance from SNHD regarding COVID-19 testing of 100% of front-line workers."
The Culinary Union will continue to add information about casinos as they re-open, and the CulinaryClean.org site will be updated frequently to document each property's progress.
Culinary Union is demanding safety for all hospitality and gaming workers in Nevada. The Culinary Union will be tracking what casino employers are doing to prevent COVID-19 in the following areas:
Requiring daily cleaning of guest rooms
Mandatory testing of all employees for COVID-19 before returning to work
Providing adequate COVID-19 PPE for employees
Enforcing social distancing and other COVID-19 prevention measures
Posting a COVID-19 safety plan on public-facing website
The Culinary Union will be communicating with and collecting reports directly from workers on any hazardous working conditions. Workers will be able to report to their union and local/state authorities, including SNHD, Nevada OSHA, and the Nevada Gaming Control Board about any hazardous working conditions and any health and safety violations.
"Safety is my top concern when we reopen our city. Employees like me need to be tested regularly when casinos reopen," said Nery Martinez, a bartender at Caesars Palace and father of two children. "Casinos need to make sure they are doing everything they can to make sure workers and our families are safe and healthy."
"For safety and cleanliness, guest rooms should be checked and serviced every day," said Gladis Blanco, a guest room attendant at the Bellagio, a mother with two kids, who has not gotten a single unemployment check since being laid off mid-March.
As casinos move to reopen, the Culinary Union will not allow workers to be experimented with. So far, 16 Culinary Union workers and family members have passed away due to COVID-19.
"I am at high risk for contracting COVID-19," said Guadalupe Lucero, a guest room attendant at Bally's for 29 years. "I am 61-years-old. I have asthma, high blood pressure, and I am a type 2 diabetic. We deserve to be protected as much as possible."
The Culinary Union has proposed comprehensive public health guidelines to prevent COVID-19 in Las Vegas casinos:
*Prevention: Testing of workers for COVID-19 and screening both workers and guests on entry (temperature checks), as well as reducing the number of surfaces that are touched by multiple people.
*Protection: PPE should be provided to workers and guests alike. Appropriate distancing should be enforced among guests and workers alike.
*Enhanced cleaning: More frequent and more intensive cleaning of all areas and surfaces, including daily of guest rooms, training, and providing workers with ample time to follow new cleaning protocols.
*Implementation and enforcement: Culinary Union guidelines require that workers have a voice in ongoing implementation and enforcement of COVID-19 prevention measures - joint labor-management health and safety committees should be created.
Here are the guidelines from the Southern Nevada Health District on how best to prevent COVID-19 in casino hotels: http://media.southernnevadahealthdistrict.org/download/COVID-19/reopening/what-hotels-resorts-can-do-to-prevent-covid-19-transmission.pdf
"Culinary Union's Public Health Guidelines for Gaming Facilities During the COVID-19 Pandemic"
English: https://www.culinaryunion226.org/news/press/body/2020-05-05-Culinary-Union-public-health-guidelinesFINAL.pdf
—
La Unión Culinaria se estará comunicando con y reunirá informes directamente de los trabajadores sobre cualquier condición de trabajo peligrosa. Los trabajadores podrán denunciar esas condiciones laborales riesgosas y cualquier violación de salud y sanidad ante su sindicato y las autoridades locales/estatales, lo cual incluye a SNHD, OSHA de Nevada, y la Junta Reguladora del Juego en Nevada.
"La Seguridad es mi primera preocupación cuando reabramos nuestra ciudad. Necesitan hacerles pruebas regularmente a los empleados como yo cuando los casinos vuelvan a abrir," dijo Nery Martinez, un cantinero de Caesars Palace. "Los casinos necesitan hacer todo lo que puedan para cerciorarse de que los trabajadores y nuestras familias estemos seguros y sanos."
"Por seguridad y limpieza, las habitaciones de los huéspedes deberían revisarse y limpiarse todos los días," expresó Gladis Blanco, una recamarera del Bellagio, que es madre soltera de dos hijos, y que no ha recibido ni un solo cheque de desempleo desde que fue descansada a mediados de marzo.
A medida que los casinos se mueven para volver a abrir, la Unión Culinaria no permitirá que se realicen experimentos con los trabajadores. Hasta ahora, 16 trabajadores que son miembros de la Unión Culinaria y sus parientes han fallecido debido al COVID-19.
"Yo tengo un alto riesgo de contraer el COVID-19," dijo Guadalupe Lucero, una recamarera del Bally's por 29 años. "Tengo 61 años de edad. Tengo asma, alta presión arterial, y diabetes tipo 2. Nosotros merecemos que nos protejan tanto como sea posible."
La Unión Culinaria ha propuesto pautas completas de seguridad pública para prevenir el COVID-19 en los casinos de Las Vegas:
*Prevención: La realización de pruebas de COVID-19 en los trabajadores, y la revisión de trabajadores y de clientes al entrar (revisiones de temperatura), como también la reducción del número de superficies que tocan múltiples personas.
*Protección: Se debería proporcionar EPP a los trabajadores y a los clientes por igual. Se debería hacer cumplir una distancia apropiada entre los clientes y trabajadores por igual.
*Mejor limpieza: Una limpieza más frecuente y más intensiva de todas las áreas y superficies, lo cual incluye la limpieza diaria de las habitaciones de los huéspedes, capacitación, y suficiente tiempo para que los trabajadores sigan los nuevos protocolos de limpieza.
*Implementación y Cumplimiento: Las pautas de la Unión Culinaria requieren que los trabajadores tengan voz y voto en la continua implementación y ejecución de las medidas preventivas de COVID-19 - se deben crear comités de salud y seguridad colectivos compuestos por trabajadores y gerentes.
Aquí aparecen las guías de Southern Nevada Health District acerca de la mejor manera para prevenir el COVID-19 en los hoteles casinos: http://media.southernnevadahealthdistrict.org/download/COVID-19/reopening/what-hotels-resorts-can-do-to-prevent-covid-19-transmission.pdf
"Guías de la Unión Culinaria en Seguridad Pública para los Establecimientos del Juego Durante la Pandemia del COVID-19"
Spanish: https://www.culinaryunion226.org/news/press/body/2020-05-05-Culinary-Union-public-health-guidelines-SpanishFINAL.pdf
—
ABOUT CULINARY UNION:
Culinary Workers Union Local 226 and Bartenders Union Local 165, Nevada affiliates of UNITE HERE, represent 60,000 workers in Las Vegas and Reno, including at most of the casino resorts on the Las Vegas Strip and in Downtown Las Vegas. UNITE HERE represents 300,000 workers in gaming, hotel, and food service industries in North America.
The Culinary Union, through the Culinary Health Fund, is one of the largest healthcare consumers in the state. The Culinary Health Fund is sponsored by the Culinary Union and Las Vegas-area employers. It provides health insurance coverage for over 145,000 Nevadans, the Culinary Union's members and their dependents.
The Culinary Union is Nevada's largest immigrant organization with members who come from 178 countries and speak over 40 different languages. We are proud to have helped over 18,000 immigrants become American citizens and new voters since 2001 through our affiliate, The Citizenship Project.
The Culinary Union has a diverse membership -- approximately 55% women, 54% Latinx, 19% White, 15% Asian, 10% Black, and less than 1% Indigenous Peoples — and consists of guest room attendants, cocktail and food servers, porters, bellmen, cooks, bartenders, laundry and kitchen workers. The Culinary Union has been fighting for fair wages, job security, and good health benefits for workers in Nevada for 85 years.
CulinaryUnion226.org / @Culinary226
###