FOR IMMEDIATE RELEASE:
Friday, May 12, 2023
MEDIA CONTACT:
Bethany Khan: bkhan@culinaryunion226.org ▪ (702) 387-7088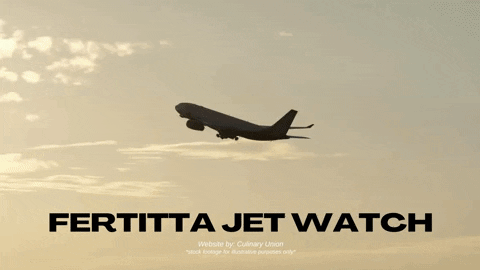 Culinary Union launches "Fertitta Jet Watch" comparing flights of Station Casinos controlling owners' jets to average American -
Las Vegas, NV – The Culinary Union has launched a new website comparing Station Casinos controlling owners' jets to the average American in terms of travel and fuel: FertittaJetWatch.org.
The average American takes fewer than 2 round-trip flights a year and spent $179 per month on gas, motor oil, and other fuels in 2021. Station Casinos controlling owners' private jets made an average 307 flights per year and used an estimated $134,000 average per month on fuel between 2019 and 2022.
"There's public interest in facts showing contrasts between the owners of a locals' casino company and the average American," said Bethany Khan, spokeswoman for the Culinary Union. "Station Casinos should be held accountable for the damage it does to our community. Culinary Union calls on the community to take action against the Station Casinos mentality."
Station Casinos Chief Legal Officer Jeffrey Welch said on September 14, 2022, he considered the company to "have been a very solid citizen throughout the pandemic." Federal Aviation records show a Fertitta private jet flew out of the country the days before a closure announcement and demolitions in the community.
A Fertitta private jet flew to Canada the day before Station Casinos told employees about the permanent closure of three neighborhood casinos on July 15, 2022, and a Fertitta private jet flew to England the day before demolition of Texas Station and Fiesta Henderson started on September 12, 2022.
—
ABOUT CULINARY UNION:
Culinary Workers Union Local 226 and Bartenders Union Local 165, Nevada affiliates of UxNITE HERE, represent 60,000 workers in Las Vegas and Reno, including at most of the casino resorts on the Las Vegas Strip and in Downtown Las Vegas. UNITE HERE represents 300,000 workers in gaming, hotel, and food service industries in North America.
The Culinary Union, through the Culinary Health Fund, is one of the largest healthcare consumers in the state. The Culinary Health Fund is sponsored by the Culinary Union and Las Vegas-area employers. It provides health insurance coverage for over 145,000 Nevadans, the Culinary Union's members and their dependents.
The Culinary Union is Nevada's largest Latinx/Black/AAPI/immigrant organization with members who come from 178 countries and speak over 40 different languages. We are proud to have helped over 18,000 immigrants become American citizens and new voters since 2001 through our affiliate, The Citizenship Project.
The Culinary Union has a diverse membership which is 55% women and 45% immigrants. The demographics of Culinary Union members are approximately: 54% Latinx, 18% white, 15% Asian, 12% Black, and less than 1% Indigenous Peoples.
Culinary Union members work as: Guest room attendants, cocktail and food servers, porters, bellmen, cooks, bartenders, laundry and kitchen workers. The Culinary Union has been fighting and winning for working families in Nevada for 88 years.
CulinaryUnion226.org / @Culinary226
###