FOR IMMEDIATE RELEASE:
Wednesday, August 2, 2023
MEDIA CONTACT:
Bethany Khan: bkhan@culinaryunion226.org ▪ (702) 387-7088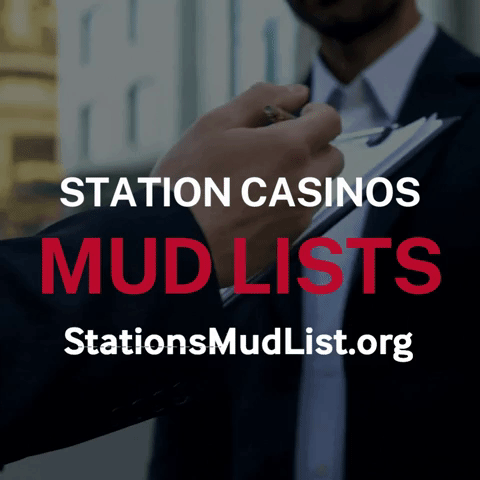 Culinary Union launches new website about Station Casinos M.U.D. Lists of 2,261 Station employees featuring internal company emails and texts
Las Vegas, NV – The Culinary Union has launched a new website (StationsMudList.org) exposing Station Casinos' use of M.U.D. Lists during the pandemic to offer work according to which employees were pro-management (M), pro-union (U), or don't know (D). Culinary Union has counted 2,261 names of employees that appear on MUD Lists from Station properties.
"It is illegal for an employer to discriminate based on union preference when hiring workers," said Bethany Khan, spokeswoman for the Culinary Union. "For what legitimate reason did Station Casinos executives order supervisors to create MUD Lists and why would the company need to review their MUD Lists before rehiring employees if not to discriminate based on union preference?"
The Culinary Union website features internal emails and texts messages from company executives and management, including a June 2020 email from Red Rock Resorts, Inc. Chief Operating Officer Robert Finch titled "MUD Lists and Open Positions" requesting MUD Lists from four closed properties and a July 2020 email from the Director of Hotel Operations at Palms Place to the Corporate Vice President of Hotel & Revenue Management that states: "Looking at the MUD list we have 13 GRA's we would bring back, the remaining we would prefer external. 2 Housemen we would bring back, the remaining we would prefer external. 1 Status we would bring back, (the remaining if any, would be external)."
"I have seen a document called 'MUD List' for Fiesta Henderson with my name on it," said Norma Flores, 20-year Station Casinos employee and leader in the campaign to unionize the now demolished Henderson property. "In the row with my name there is an X and a number which meant 'Must GO.' During the pandemic I went to three Station Casinos job fairs but was never rehired. Why?"
Station Casinos MUD Lists were produced in response to a subpoena in a pending proceeding before the National Labor Relations Board where government attorneys accuse the company of unlawful discrimination and engaging in a scheme to use employee layoffs during the pandemic to undermine unions representing or seeking to represent their employees. If the NLRB sustains the allegations, Station Casinos and its affiliates will be required to make the victims of the discrimination financially whole.
—
ABOUT CULINARY UNION:
Culinary Workers Union Local 226 and Bartenders Union Local 165, Nevada affiliates of UxNITE HERE, represent 60,000 workers in Las Vegas and Reno, including at most of the casino resorts on the Las Vegas Strip and in Downtown Las Vegas. UNITE HERE represents 300,000 workers in gaming, hotel, and food service industries in North America.
The Culinary Union, through the Culinary Health Fund, is one of the largest healthcare consumers in the state. The Culinary Health Fund is sponsored by the Culinary Union and Las Vegas-area employers. It provides health insurance coverage for over 145,000 Nevadans, the Culinary Union's members and their dependents.
The Culinary Union is Nevada's largest Latinx/Black/AAPI/immigrant organization with members who come from 178 countries and speak over 40 different languages. We are proud to have helped over 18,000 immigrants become American citizens and new voters since 2001 through our affiliate, The Citizenship Project.
The Culinary Union has a diverse membership which is 55% women and 45% immigrants. The demographics of Culinary Union members are approximately: 54% Latinx, 18% white, 15% Asian, 12% Black, and less than 1% Indigenous Peoples.
Culinary Union members work as: Guest room attendants, cocktail and food servers, porters, bellmen, cooks, bartenders, laundry and kitchen workers. The Culinary Union has been fighting and winning for working families in Nevada for 88 years.
CulinaryUnion226.org / @Culinary226
###