FOR IMMEDIATE RELEASE:
January 5, 2023
MEDIA CONTACT:
Bethany Khan: bkhan@culinaryunion226.org ▪ (702) 387-7088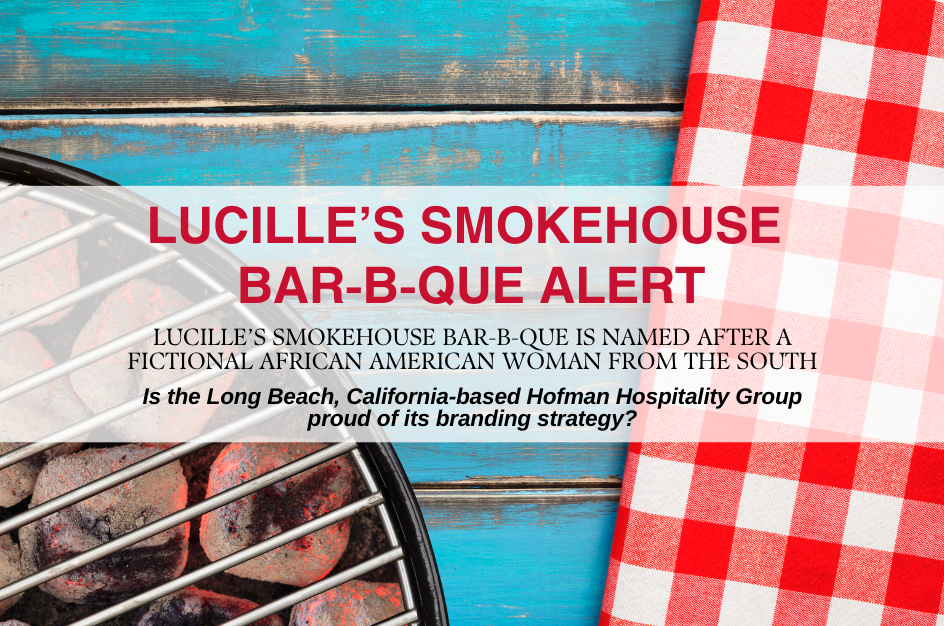 Culinary Union launches website about Lucille's Smokehouse BBQ being named after a fictional Black woman
Las Vegas, NV – The Culinary Union has launched a new website to explore the fictional namesake behind Lucille's Smokehouse Bar-B-Que: LucillesBBQRiskAlert.org
Aimed at pressing Long Beach, California-based Hofman Hospitality Group for answers, the Culinary Union's new website revisits the restaurant's use of a fictional African American woman named Lucille Buchanan, and questions why the owners stopped explaining their namesake in 2020.
"Who is Lucille Buchanan? Are Lucille's Smokehouse Barb-B-Que and its owners proud of their branding strategy?" asked Bethany Khan, spokeswoman for the Culinary Union. "Lucille's Smokehouse invented a fictional Black woman from the South as the main persona for their brand and they have never explained why."
The fictional Lucille Buchanan had a bio on LucillesBBQ.com going far back as July 2004 and as recent as May 2020, but it was removed in June 2020. The Culinary Union has found no explanation. In the month following the murder of George Floyd in May 2020, Santa Barbara restaurant, Sambos (now Chad's), announced they would change their name in an effort to stand in solidarity with those seeking racial equality.
Fictional Lucille Buchanan's bio from May 2020:
"That's what folks said about the bar-b-que Lucille buchanan grew up eating in her grandma's lunch shack, a tiny little nothing of a place on a back road, outside of a small town. But lucille didn't know any different. It was just granny's cooking, and she loved it.
She loved the special spice rubs and savory wet 'mops' and sauces that Granny had perfected over the years. She loved all the fixin's, like buttermilk biscuits, cheese grits, and slaw. Most of all, she loved the Bar-B-Que—cooked nice and slow in the gentle smoke of hickory wood, until the meat became sweet and succulent and so tender it would fall off of the bone if you so much as looked at it.
But a few years down the road, Lucille began to wonder if there might be something more to life—and food—that what she knew from hanging on her Granny's apron strings. So she packed up her suitcase and set out to taste-test her way through the South. Countless pit stops later, though, Lucille figured that the folks back home had been right all along: Granny's cooking was the best. And there was nothing like it this side of Dixie.
So when she finally decided to take off her wandering shoes and settle down, what did Lucille do but open up a lunch counter of her own, bringing the best of Southern Bar-B-Que to Southern California. And just as you'd expect, folks started talkin'…"
The U.S. Government is prosecuting Lucille Smokehouse's co-owner at Station Casinos' Red Rock Resort Casino for allegedly engaging in a scheme to use layoffs during the COVID-19 pandemic to undermine worker support for unionization. Lucille's co-owner at Red Rock Resorts Casino is a subsidiary of Red Rock Resorts Inc. (NASDAQ: RRR), remains the only Nevada gaming company with an all-white and all-male board.
—
ABOUT CULINARY UNION:
Culinary Workers Union Local 226 and Bartenders Union Local 165, Nevada affiliates of UNITE HERE, represent 60,000 workers in Las Vegas and Reno, including at most of the casino resorts on the Las Vegas Strip and in Downtown Las Vegas. UNITE HERE represents 300,000 workers in gaming, hotel, and food service industries in North America.
The Culinary Union, through the Culinary Health Fund, is one of the largest healthcare consumers in the state. The Culinary Health Fund is sponsored by the Culinary Union and Las Vegas-area employers. It provides health insurance coverage for over 145,000 Nevadans, the Culinary Union's members and their dependents.
The Culinary Union is Nevada's largest Latinx/Black/AAPI/immigrant organization with members who come from 178 countries and speak over 40 different languages. We are proud to have helped over 18,000 immigrants become American citizens and new voters since 2001 through our affiliate, The Citizenship Project.
The Culinary Union has a diverse membership which is 55% women and 45% immigrants. The demographics of Culinary Union members are approximately: 54% Latinx, 18% white, 15% Asian, 12% Black, and less than 1% Indigenous Peoples.
Culinary Union members work as: Guest room attendants, cocktail and food servers, porters, bellmen, cooks, bartenders, laundry and kitchen workers. The Culinary Union has been fighting and winning for working families in Nevada for 87 years.
CulinaryUnion226.org / @Culinary226
###