FOR IMMEDIATE RELEASE:
Thursday, September 22, 2022
MEDIA CONTACT:
Bethany Khan: bkhan@culinaryunion226.org ▪ (702) 387-7088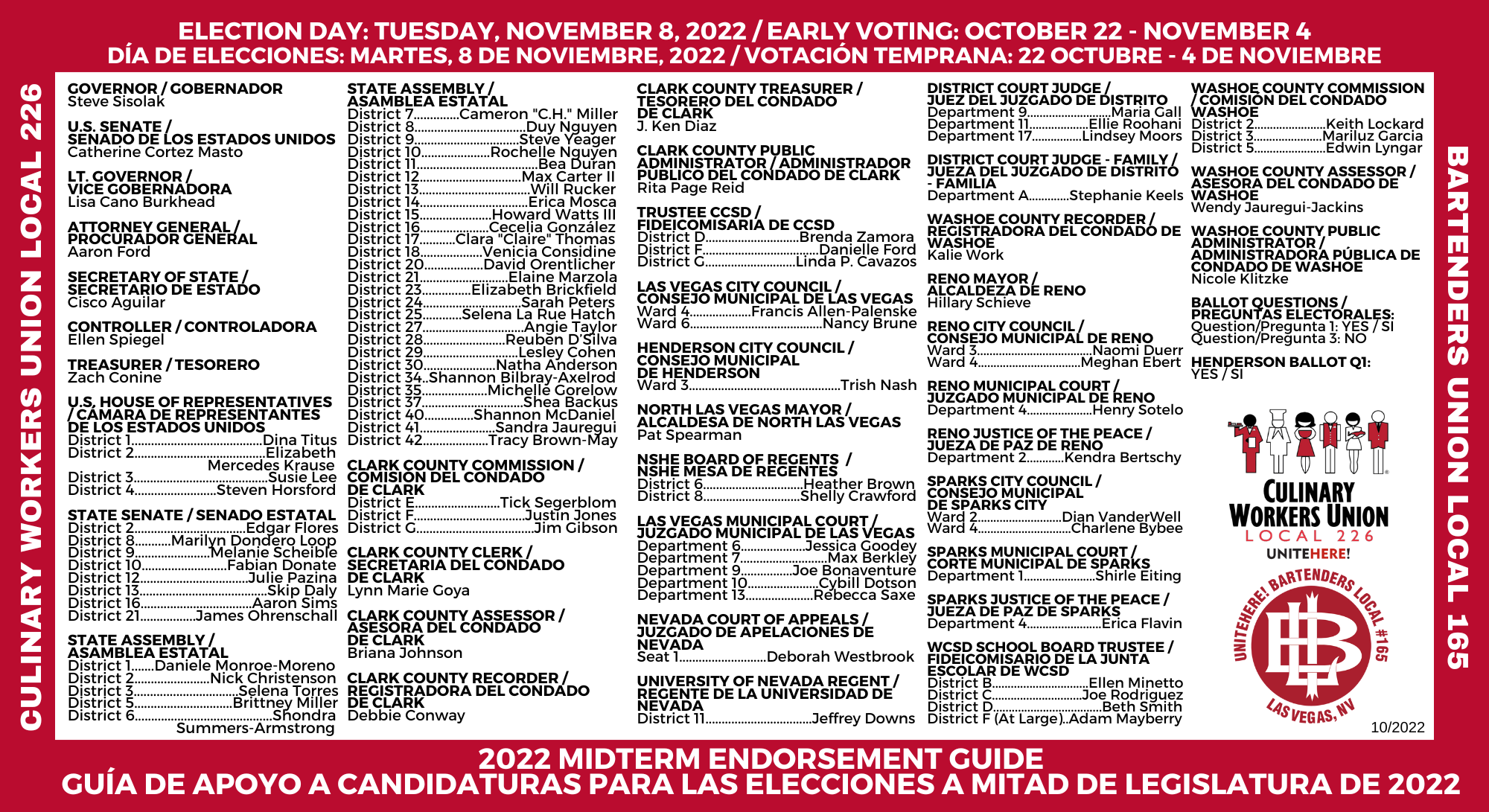 Culinary Union releases endorsements for the 2022 Midterms
Las Vegas, NV – UNITE HERE's Culinary Union released its 2022 Midterm Endorsement Guide today as it runs the largest political statewide program in Nevada for the 2022 Midterms.
Over 250 Culinary Union members are on a political leave-of-absence to canvass statewide and are on track to knock on over 1 million doors in Reno and Las Vegas, including more than half of the Black and Latinx voters and more than a third of the AAPI voters in Nevada. Political canvassers are in the neighborhoods to talk to voters about Governor Sisolak, Senator Catherine Cortez Masto, Congressional Representatives Dina Titus, Steven Horsford, and Susie Lee, Clark County Commissioner Tick Segerblom, and candidate for North Las Vegas Mayor Pat Spearman. Canvassers have knocked on over 340,000 doors statewide to date since July 1, 2022.
"We are proud to endorse elected representatives and candidates who will fight to protect working families," said Ted Pappageorge, Secretary-Treasurer for the Culinary Union. "During the last 31 months, there is no other organization in Nevada that has done more to support hospitality workers during the pandemic than the Culinary Union. Going forward we need to elect and re-elect leaders who will continue to champion issues important to workers. Next year, the Culinary Union will face the biggest contract fight we've ever had and we have a plan to win for workers, be unified, and continue to build worker power. Daily housekeeping, safer working conditions and workloads, a fair IRS TIP Allocation, reigning in inflation and high prices, and ensuring that working people can provide for their families and buy their first homes are all possible when we have candidates in office who will advocate for issues that important to working families."
Amid a 22% average increase in rent in Northern Nevada, approximately 80 workers are canvassing in Reno 6 days a week while braving 100+ degree heat and hazardous smoke and air from fires. Hospitality workers have traversed mountains and have been knocking on doors in every community from Sparks to Lake Tahoe.
In Las Vegas, 170 canvassers are hitting the streets, including on days where temperatures soar past 114 degrees, and are knocking on doors 6 days a week throughout the Las Vegas Valley from the Eastside, Westside, and in North Las Vegas, Monday-Sunday with Fridays off. Canvassers launch daily from the Culinary Union's John Wilhelm Big Hall between 11am-11:30am and stay out on the doors till 8pm.
"I decided to take a leave-of-absence and join the canvassing program with my union because voting is how we can make a difference and I want to show my children how we can make change. You can't have change without being part of making the changes we want to see," said Rawanda Rogers, a guest room attendant and Culinary Union member for 9 years. "I come across a lot of formally incarcerated folks who don't know that their right to vote were recently restored by elected leaders. We tell them that their vote counts and they get excited to hear that. It's very fulfilling to see them realize that they can vote and have a say in democracy again. We have a plan to win this November. We are not gonna stop. We are gonna reach more and more families. Our message is strong and true. I believe that we will win."
The Culinary Union, the largest affiliate of UNITE HERE, the strongest political force in the state, is mobilizing hundreds of thousands of hospitality workers and immigrant voters during the 2022 Midterms to elect political leaders who will continue to fight for Nevadans.
Political canvassers reflect the Culinary Union's diverse membership, which are majority women and people of color, and who are committed to organizing and winning economic and racial justice. The Culinary Union drives turnout in Nevada because the union has worked for nearly nine decades to build worker power and strength. Every political effort draws from the Culinary Union's 87 years of rich knowledge of effective and precise voter contact, which is rooted in the principle of working people talking to each other about the importance of building collective power through voting.
"We need to vote to keep our democracy and keep moving forward. I believe there will be more voters coming out to vote and participate more than ever, which will be good for our community. I knock on doors everyday in my community and help deliver the message that we need Neighborhood Stability and encourage everyone to go vote," said Maria Quesada, a casino porter at Caesars Palace and Culinary member for 16 years. "When I canvass, I proudly wear my Culinary Union t-shirt. When voters open the door and see my t-shirt I can tell that they are confident in speaking with me because they can see that I'm from the Culinary Union and they knew that they can trust me."
Nevada voters want elected leaders to stand with working people and for the right to dignified affordable housing, and against corporate landlords getting rich off of evictions. As the largest organization of workers in Nevada, Culinary Union is signing up tens of thousands of voters to support the passage of Neighborhood Stability at the county level.
NEIGHBORHOOD STABILITY:
*Prohibits rent increases for the first year of tenancy.
*Guarantees that rent increases are tied to CPI with a 5% yearly cap.
*Requires landlords to give 90-day notice on future rent increases.
*Includes commonsense exemptions for units built in the last 15 years and for mom/pop landlords who only own 1 unit or live in a multi-unit building.
Culinary Union is also calling on all candidates running for office this November to pledge to support Neighborhood Stability, as hospitality workers will be considering candidate stances regarding Neighborhood Stability as they cast their votes during the Midterms. For more information on Neighborhood Stability, go to: NeighborhoodStability.org.
The Culinary Union has consistently run the largest and strongest political program in Nevada and is running an even larger program in the 2022 political cycle. Each cycle, the Culinary Union has surpassed previous political efforts:
*2016: 300 canvassers knocked on 250,000 doors.
*2018: 350 canvassers knocked on 370,000 doors.
*2020: Culinary Union delivered Nevada for Biden/Harris and drove unprecedented turnout with the largest political team statewide. 500 canvassers knocked on 650,000 doors, including half of the Black and Latinx voters in Nevada.
*2022: The Culinary Union's political program for the 2022 Primary was the largest in the state. During the 2022 Primary, the Culinary Union's political team of 120 canvassers knocked on over 24,000 doors. The field team, currently composed of over 250 guest room attendants, bartenders, cocktail and food servers, porters, bellmen, cooks, and kitchen workers, spend up to 10 hours a day, 6 days a week (Monday-Sunday with Fridays off) canvassing. The program, which continues through Tuesday, November 8, 2022, will ramp up for the weeks and days prior to Election Day. The field team launches their canvass Monday-Thursday and on Sundays between 11am-11:30am and are out until 8:00pm. On Saturday, canvassers launch at 10am and are out on the doors until 3pm.
We Vote. We Win. For our families!
—
ABOUT CULINARY UNION:
Culinary Workers Union Local 226 and Bartenders Union Local 165, Nevada affiliates of UNITE HERE, represent 60,000 workers in Las Vegas and Reno, including at most of the casino resorts on the Las Vegas Strip and in Downtown Las Vegas. UNITE HERE represents 300,000 workers in gaming, hotel, and food service industries in North America.
The Culinary Union, through the Culinary Health Fund, is one of the largest healthcare consumers in the state. The Culinary Health Fund is sponsored by the Culinary Union and Las Vegas-area employers. It provides health insurance coverage for over 145,000 Nevadans, the Culinary Union's members and their dependents.
The Culinary Union is Nevada's largest Latinx/Black/AAPI/immigrant organization with members who come from 178 countries and speak over 40 different languages. We are proud to have helped over 18,000 immigrants become American citizens and new voters since 2001 through our affiliate, The Citizenship Project.
The Culinary Union has a diverse membership which is 55% women and 45% immigrants. The demographics of Culinary Union members are approximately: 54% Latinx, 18% white, 15% Asian, 12% Black, and less than 1% Indigenous Peoples.
Culinary Union members work as: Guest room attendants, cocktail and food servers, porters, bellmen, cooks, bartenders, laundry and kitchen workers. The Culinary Union has been fighting and winning for working families in Nevada for 87 years.
CulinaryUnion226.org / @Culinary226
###