FOR IMMEDIATE RELEASE:
Tuesday, May 10th, 2022
MEDIA CONTACT:
Bethany Khan: bkhan@culinaryunion226.org ▪ (702) 387-7088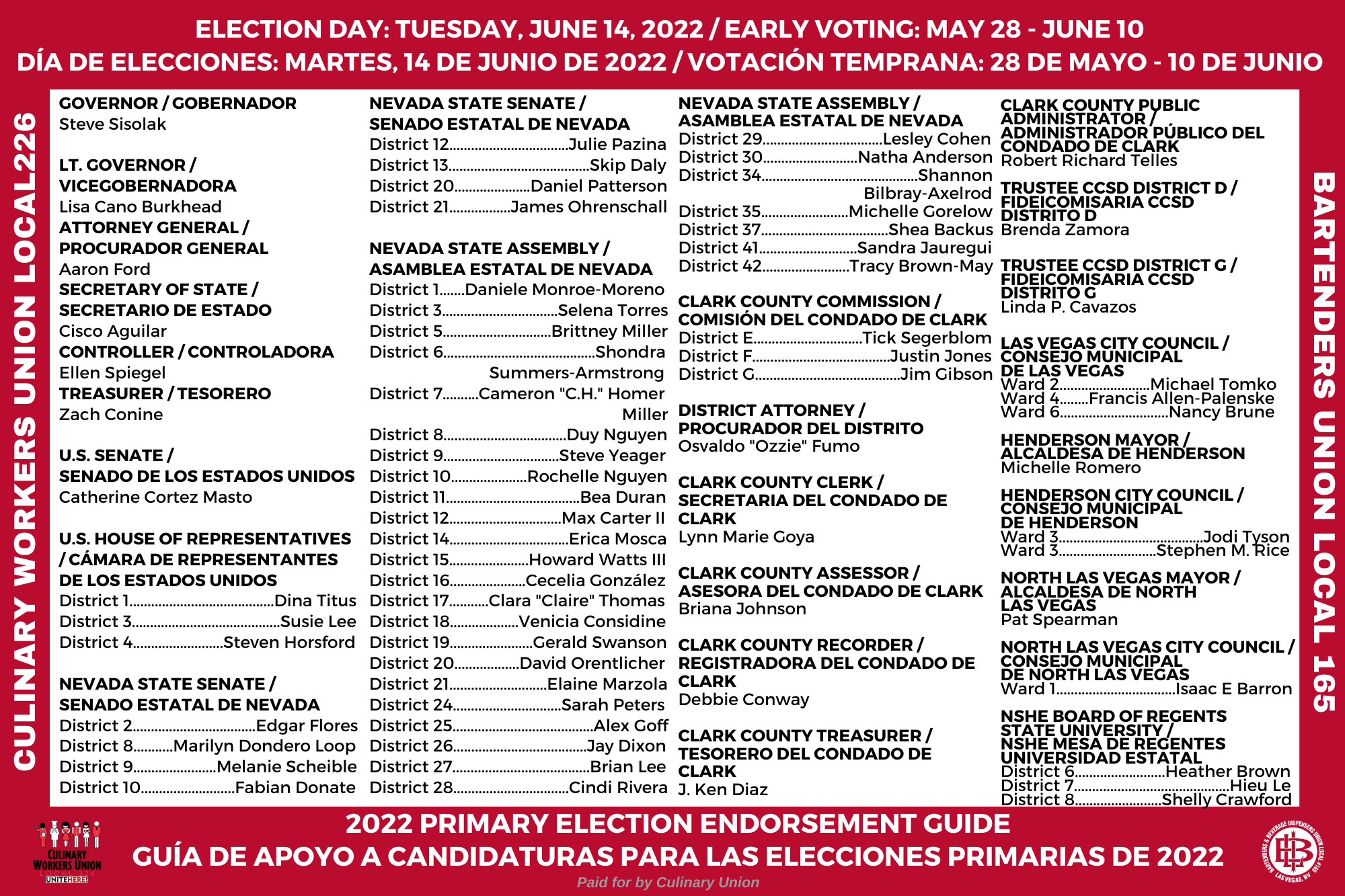 UNITE HERE's Culinary Union to drive turnout during the 2022 Nevada Primary, announces endorsements ahead of Early Vote
Las Vegas, NV – UNITE HERE's Culinary Union has released endorsements ahead of the 2022 Nevada Primary. The Culinary Union endorsement guide is here.
The Culinary Union 2022 Primary Endorsement Guide includes:
Steve Sisolak for Governor, Lisa Cano Burkhead for Lieutenant Governor, Catherine Cortez Masto for Senate, Dina Titus for Congress, Susie Lee for Congress, Steven Horsford for Congress, Fabian Donate for District 10, Lesley Cohen for District 29, Tick Segerblom for Clark County Commission District E, Ozzie Fumo for District Attorney, and Nancy Brune for Las Vegas City Council Ward 6.
"We are proud to endorse elected officials and candidates who will fight to protect working families," said Ted Pappageorge, Secretary-Treasurer for the Culinary Union. "During the last 26 months, there is no other organization in Nevada that has done more to support hospitality workers during the pandemic than the Culinary Union. Going forward we need to elect and re-elect candidates who will continue to champion issues important to workers."
"Next year, the Culinary Union will face the biggest contract fight we've ever had and we have a plan to win for workers, be unified, and continue to build worker power," continued Pappageorge. "Daily housekeeping, safer working conditions and workloads, a fair IRS TIP Allocation, reigning in inflation and high prices, and ensuring that working people can provide for their families and buy their first homes are all possible when we have candidates in office who will advocate for issues that important to working families."
The Culinary Union, the largest affiliate of UNITE HERE, the strongest political force in the state, will be mobilizing tens of thousands of hospitality workers and immigrant voters during the 2022 political cycle to elect representatives who will fight for Nevadans.
Political canvassers reflect the Culinary Union's diverse membership, which is majority women and people of color, who are committed to organizing and wining economic and racial justice. As the largest immigrant organization in Nevada, the Culinary Union is proud to have founded the Citizenship Project, which has helped over 18,000 Nevadans become U.S. citizens and new voters since 2001.
The Culinary Union drives turnout in Nevada because our union has worked for nearly nine decades to build worker power and strength. Every political effort draws from the Culinary Union's 87-years of rich knowledge of effective and precise voter contact, which is rooted in the principle of working people talking to each other about the importance of building collective power through voting.
The Culinary Union's political program for the 2022 Midterm Elections began in March 2022 and is the largest in the state. The field team, comprised of guest room attendants, bartenders, cocktail and food servers, porters, bellmen, cooks, and kitchen workers, spend up to 10 hours a day, 6 days a week (Monday-Saturday) canvassing and registering voters. The program will ramp up for the weeks and days prior to Primary and General Election Day. The field team launches their canvass every day between 9am-9:30am with last knock at 6:00pm.
The Culinary Union has consistently run the largest and strongest political program in state and will run an even larger program in the 2022 political cycle. Each cycle, the Culinary Union has surpassed previous political efforts:
*2016: 300 canvassers knocked on 250,000 doors.
*2018: 350 canvassers knocked on 370,000 doors.
*2020: Culinary Union delivered Nevada for Biden/Harris and drove unprecedented turnout with the largest political team statewide. 500 canvassers knocked on 650,000 doors, including half of the Black and Latinx voters in Nevada.
*2022: Since March 2022, the Culinary Union's political field team has had conversations with tens of thousands of voters, registered them to vote, and will continue voter registration efforts statewide.
The Culinary Union urges Nevadans to register to vote and check their voter registration.
Primary Election Day: Tuesday, June 14, 2022.
Early Vote: Saturday, May 28 - Friday, June 10, 2022.
2 ways to get ready to vote in the Nevada primary:
Text the word "VOTE" to 4-226-2.
We vote. We win. For our families!
—
ABOUT CULINARY UNION:
Culinary Workers Union Local 226 and Bartenders Union Local 165, Nevada affiliates of UNITE HERE, represent 60,000 workers in Las Vegas and Reno, including at most of the casino resorts on the Las Vegas Strip and in Downtown Las Vegas. UNITE HERE represents 300,000 workers in gaming, hotel, and food service industries in North America.
The Culinary Union, through the Culinary Health Fund, is one of the largest healthcare consumers in the state. The Culinary Health Fund is sponsored by the Culinary Union and Las Vegas-area employers. It provides health insurance coverage for over 145,000 Nevadans, the Culinary Union's members and their dependents.
The Culinary Union is Nevada's largest Latinx/Black/AAPI/immigrant organization with members who come from 178 countries and speak over 40 different languages. We are proud to have helped over 18,000 immigrants become American citizens and new voters since 2001 through our affiliate, The Citizenship Project.
The Culinary Union has a diverse membership which is 55% women and 45% immigrants. The demographics of Culinary Union members are approximately: 54% Latinx, 18% white, 15% Asian, 12% Black, and less than 1% Indigenous Peoples.
Culinary Union members work as: Guest room attendants, cocktail and food servers, porters, bellmen, cooks, bartenders, laundry and kitchen workers. The Culinary Union has been fighting and winning for working families in Nevada for 87 years.
CulinaryUnion226.org / @Culinary226
###