MEDIA ADVISORY FOR:
Monday, June 21, 2021 at 5am Pacific
MEDIA CONTACT:
Bethany Khan: bkhan@culinaryunion226.org ▪ (702) 387-7088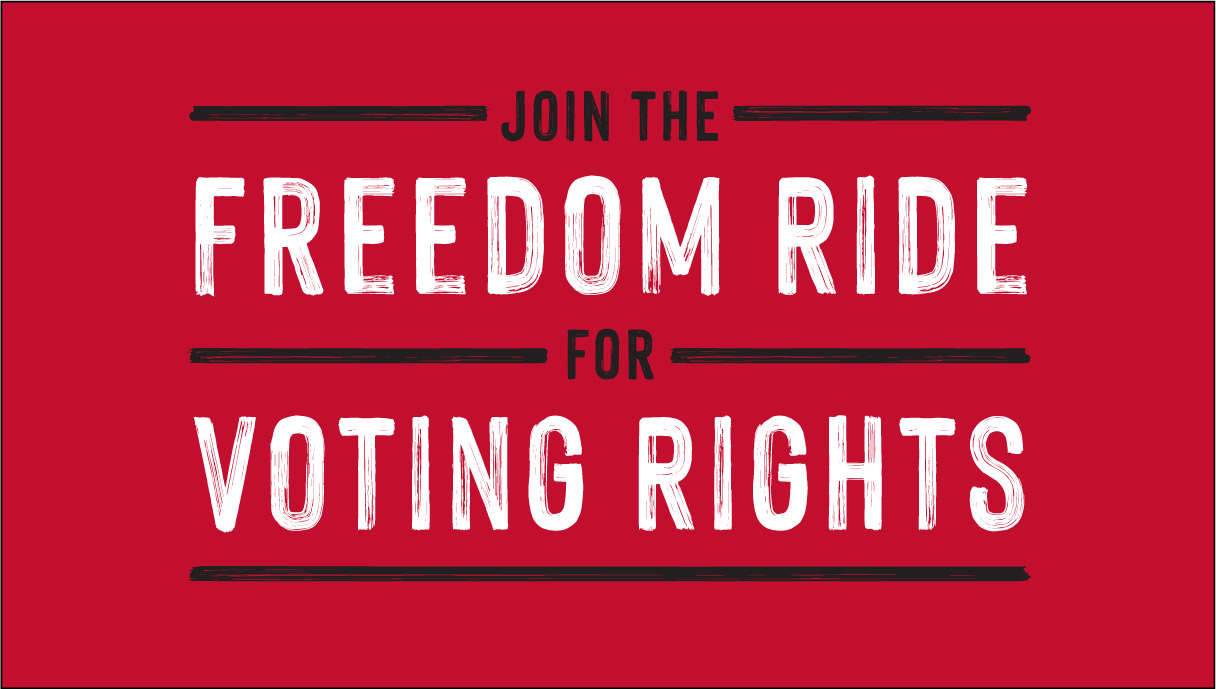 Culinary Union to join Black Voters Matter in a "Freedom Ride for Voting Rights"
Las Vegas, NV - Culinary Union to join Black Voters Matter in a "Freedom Ride for Voting Rights" from Las Vegas to Washington, DC. 2 buses of hospitality workers will depart from Nevada on Monday, June 21st and drive across the country stopping at different states where workers will participate in actions in Colorado, Missouri, West Virginia, and Washington, DC.
WHO:
*Culinary Union members
*Bartenders Union Local 165 union members
*Station Casinos workers
*Community allies
WHAT: Freedom Ride buses depart from Las Vegas
WHEN: Monday, June 21st, 2021 at 5am Pacific
WHERE: Culinary Union (1630 South Commerce Street Las Vegas, Nevada 89102)
WHY: On the sixtieth anniversary of the 1961 Freedom Rides from Washington D.C. through the South, the UNITE HERE's Culinary Union will join Black Voters Matter in the Freedom Ride for Voting Rights. As voter suppression laws targeting people of color sweep the nation, this multi-racial coalition will conduct a voter outreach campaign to protect the freedom to vote.
Hospitality workers and allies are joining together to demand that the Senate pass the For the People Act and the John Lewis Voting Rights Advancement Act immediately.
UNITE HERE housekeepers, cooks, servers, and dishwashers are by majority Black and Latinx workers who will be the most impacted by the anti-democratic legislation currently moving through state legislatures.
In 2020, despite facing over 98% layoff rates during the COVID-19 pandemic, UNITE HERE members knocked on 3 million doors in Nevada, Arizona, Pennsylvania, and Florida, mobilizing the votes of working people and people of color hit hardest by economic inequality and the pandemic. Then, laid-off hospitality workers joined the team that turned Georgia blue to help deliver come-from-behind wins and Take Back the Senate in the January 2021 Georgia Senate runoff.
—
ABOUT CULINARY UNION:
Culinary Workers Union Local 226 and Bartenders Union Local 165, Nevada affiliates of UNITE HERE, represent 60,000 workers in Las Vegas and Reno, including at most of the casino resorts on the Las Vegas Strip and in Downtown Las Vegas. UNITE HERE represents 300,000 workers in gaming, hotel, and food service industries in North America.
The Culinary Union, through the Culinary Health Fund, is one of the largest healthcare consumers in the state. The Culinary Health Fund is sponsored by the Culinary Union and Las Vegas-area employers. It provides health insurance coverage for over 145,000 Nevadans, the Culinary Union's members and their dependents.
The Culinary Union is Nevada's largest Latinx/Black/AAPI/immigrant organization with members who come from 178 countries and speak over 40 different languages. We are proud to have helped over 18,000 immigrants become American citizens and new voters since 2001 through our affiliate, The Citizenship Project.
The Culinary Union has a diverse membership which is 55% women and 45% immigrants. The demographics of Culinary Union members are approximately: 54% Latinx, 18% white, 15% Asian, 12% Black, and less than 1% Indigenous Peoples.
Culinary Union members work as: Guest room attendants, cocktail and food servers, porters, bellmen, cooks, bartenders, laundry and kitchen workers. The Culinary Union has been fighting for working families in Nevada for 86 years.
CulinaryUnion226.org / @Culinary226
###