FOR IMMEDIATE RELEASE:
Tuesday, May 19th, 2020
MEDIA CONTACTS:
Culinary Union: Bethany Khan, (702) 387-7088, bkhan@culinaryunion226.org
MGM Resorts: Brian Ahern, Director of Media Relations, media@mgmresorts.com
UMC: Scott Kerbs, Public Relations Manager, (702) 324-2961, scott.kerbs@umcsn.com
Boyd Gaming: David Strow, (702) 792-7386, davidstrow@boydgaming.com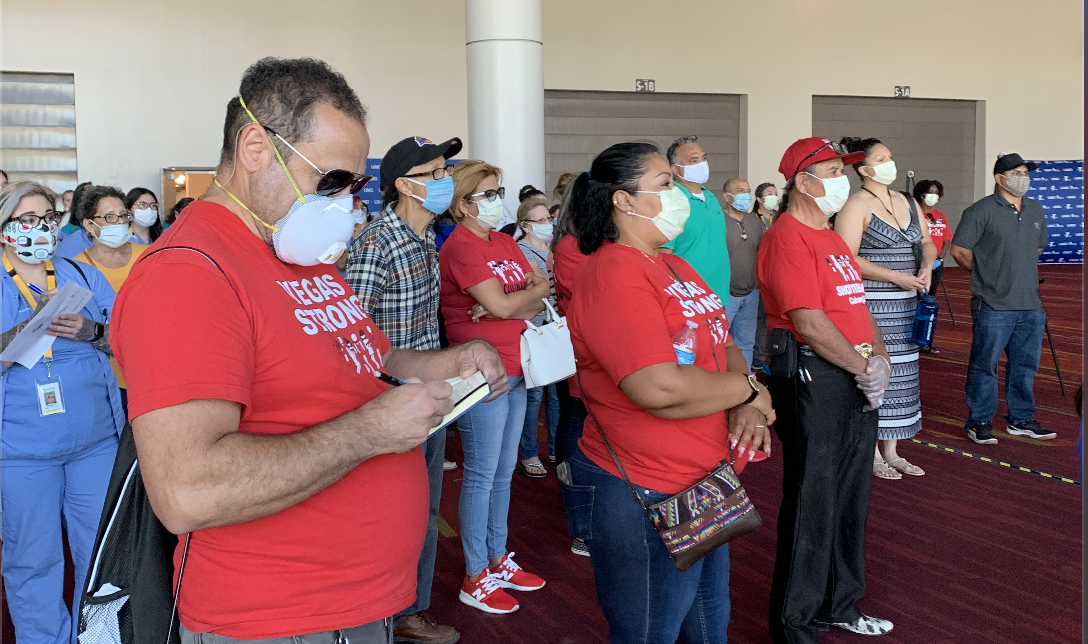 Culinary Union shop stewards volunteer at the testing site.
Las Vegas gaming industry to offer COVID-19 testing for employees prior to return to work
COVID-19 testing to be provided by University Medical Center, conducted at the Las Vegas Convention Center
Las Vegas, NV – In a broad collaborative plan created by business and community leaders, Las Vegas gaming and resort properties will partner with University Medical Center (UMC), the Culinary Health Fund, and the Las Vegas Convention Center to provide COVID-19 testing for gaming employees prior to their return to work. The testing will be conducted at the Las Vegas Convention Center as properties re-open following the direction of State officials.
"The ability to safely reopen our properties has been our singular focus over the past several weeks," said Bill Hornbuckle, Acting CEO and President of MGM Resorts International. "This testing partnership will allow us to provide our employees and guests peace of mind that we are taking the greatest possible precautions to keep them safe."
In addition to MGM properties, Caesars and Boyd properties will participate in the COVID-19 employee testing plan. UMC and the Culinary Health Fund will work together to collect up to 4,000 samples per day for testing. UMC CEO Mason VanHouweling noted his facility has significantly increased its testing capacity as a result of the efforts of the Governor's COVID-19 Response, Relief and Recovery Task Force, led by longtime gaming industry leader Jim Murren.
"COVID-19 testing ensures that Culinary Union members are safe when they return to work," said Geoconda Argüello-Kline, Secretary-Treasurer of the Culinary Union. "The health and safety of both workers and casino guests is our top priority."
"As we prepare to reopen our southern Nevada properties, the health and safety of our customers, our team members, and our communities is our utmost priority," said Keith Smith, President and Chief Executive Officer of Boyd Gaming. "Through this expansion of our partnership with UMC, we can do our part to help prevent the spread of COVID-19 in our community, and demonstrate our commitment to offering a safe and entertaining environment for everyone."
"Caesars appreciates the gaming industry and union partnership with UMC to test our employees for COVID-19," said Tony Rodio, CEO, Caesars Entertainment. "All Caesars employees would complete a pre-screenIng questionnaire and the results would determine the need for a COVID-19 test before returning to work," he added.
Testing is expected to begin May 21st, 2020 and will continue as employees are called back to work. Employees called back to work will schedule an appointment for their test, with results confirmed within 48-hours of testing. Positive results will be provided to the employee and forwarded to the Southern Nevada Health District for contact tracing.
"In response to this unprecedented public health crisis, we have seen an unparalleled level of collaboration between private industry, community leaders, and the health care community," said VanHouweling. "As a result of the hard work and dedication of our health care professionals on the front lines of this crisis, UMC now has the capacity to run 10,000 COVID-19 tests per day. With valuable support from our community partners, this increased testing capacity allows UMC to detect new cases of COVID-19 and safeguard the health of our friends, neighbors and family members across Southern Nevada."
Workers will receive information on testing and scheduling appointments from Culinary Union and their employers.
--
La industria del juego de Las Vegas ofrecerá pruebas de COVID-19 para los empleados antes de regresar al trabajo
Las pruebas de COVID-19 serán proporcionadas por University Medical Center, y realizadas en el Centro de Convenciones de Las Vegas
Las Vegas, NV – En un amplio plan colaborativo creado por líderes de la comunidad y empresariales, las propiedades de juego y turismo de Las Vegas se asociarán con University Medical Center (UMC), el Fondo de Salud de la Culinaria, y el Centro de Convenciones de Las Vegas para brindarles pruebas de COVID-19 a los empleados del juego antes de su regreso al trabajo. Las pruebas se realizarán en el Centro de Convenciones de Las Vegas mientras las propiedades vuelven a abrir siguiendo las directrices de los funcionarios estatales.
"La habilidad de reabrir sin peligro ha sido nuestro solo enfoque en las últimas semanas," expresó Bill Hornbuckle, CEO y Presidente Interino de MGM Resorts International. "Esta asociación para hacer las pruebas nos permitirá brindarles a nuestros empleados y clientes la tranquilidad de que estamos tomando las mayores precauciones posibles para mantenerlos saludables."
En adición a las propiedades de MGM, participarán las de Caesars y Boyd en el plan para hacerles pruebas de COVID-19 a sus empleados. UMC y el Fondo de Salud de la Culinaria trabajarán juntos para obtener hasta 4 mil muestras por día. El CEO de UMC Mason VanHouweling señaló que su centro ha incrementado significativamente su capacidad para hacer pruebas como resultado de los esfuerzos del Equipo Especializado en la Respuesta, Asistencia y Recuperación de COVID-19 formado por el gobernador, el cual es dirigido por el líder de la industria del juego de largo tiempo Jim Murren.
"Las pruebas de COVID-19 garantizan que los miembros de la Unión Culinaria estén seguros cuando regresen a trabajar," dijo Geoconda Argüello-Kline, Secretaria-Tesorera de la Unión Culinaria. "La salud y seguridad de nuestros miembros como la de los clientes de los casinos son nuestra más alta prioridad."
"Al prepararnos para volver a abrir nuestras propiedades en Nevada, la salud y seguridad de nuestros clientes, la de los miembros de nuestro equipo, y la de nuestras comunidades es nuestra máxima prioridad," indicó Keith Smith, Presidente y Director Principal de Finanzas de Boyd Gaming. "A través de esta expansión de nuestra asociación con UMC, podemos hacer la parte que nos corresponde para prevenir el contagio del COVID-19 en nuestra comunidad, y demostrar nuestro compromiso para brindar un ambiente seguro y entretenedor para todos."
"Caesars aprecia la asociación de la industria del juego y del sindicato con UMC para hacerles las pruebas de COVID-19 a los empleados," dijo Tony Rodio, CEO, Caesars Entertainment. "Todos los empleados de Caesars completarían un cuestionario de preevaluación y los resultados determinarían la necesidad de hacer una prueba de COVID-19 antes de regresar al trabajo," añadió.
Las pruebas comenzarán el 21 de mayo del 2020 y continuarán hasta que los empleados sean llamados para regresar al trabajo. Los empleados que sean llamados para regresar programarán una cita para hacerse la prueba, y los resultados se confirmarán dentro de las 48 horas después de la prueba. Los resultados positivos se le proveerán al empleado y se enviarán también a Southern Nevada Health District para hacer un rastreo de contactos.
"En respuesta a esta crisis de salud pública sin precedentes, hemos visto un nivel de colaboración incomparable entre el sector privado, líderes comunitarios, y la comunidad del cuidado de la salud," dijo VanHouweling. "A consecuencia del arduo trabajo y la dedicación de nuestros profesionales del cuidado médico en las primeras líneas de la crisis, UMC ahora tiene la capacidad de realizar 10 mil pruebas de COVID-19 por día. Con el valioso apoyo de nuestros socios comunitarios, este aumento en capacidad de pruebas le permite a UMC detectar nuevos casos de COVID-19 y resguardar la seguridad de nuestras amistades, vecinos y parientes en todo el sur de Nevada."
Los trabajadores recibirán información acerca de las pruebas y programación de citas de la Unión Culinaria y de sus empleadores.
ABOUT CULINARY UNION:
Culinary Workers Union Local 226 and Bartenders Union Local 165, Nevada affiliates of UNITE HERE, represent 60,000 workers in Las Vegas and Reno, including at most of the casino resorts on the Las Vegas Strip and in Downtown Las Vegas. UNITE HERE represents 300,000 workers in gaming, hotel, and food service industries in North America.
The Culinary Union, through the Culinary Health Fund, is one of the largest healthcare consumers in the state. The Culinary Health Fund is sponsored by the Culinary Union and Las Vegas-area employers. It provides health insurance coverage for over 130,000 Nevadans, the Culinary Union's members and their dependents.
The Culinary Union is Nevada's largest immigrant organization with members who come from 178 countries and speak over 40 different languages. We are proud to have helped over 18,000 immigrants become American citizens and new voters since 2001 through our affiliate, The Citizenship Project.
The Culinary Union has a diverse membership -- approximately 55% women, 54% Latinx, 19% White, 15% Asian, 10% Black, and less than 1% Indigenous Peoples — and consists of guest room attendants, cocktail and food servers, porters, bellmen, cooks, bartenders, laundry and kitchen workers. The Culinary Union has been fighting for fair wages, job security, and good health benefits for workers in Nevada for 85 years.
CulinaryUnion226.org / @Culinary226
###
https://investors.mgmresorts.com/investors/news-releases/press-release-details/2020/Las-Vegas-Gaming-Industry-to-Offer-Testing-for-Employees-Prior-to-Return-to-Work/default.aspx