MEDIA ADVISORY FOR:
Tuesday, November 26th, 2019
MEDIA CONTACT: BKhan@culinaryunion226.org ▪ (702) 387-7088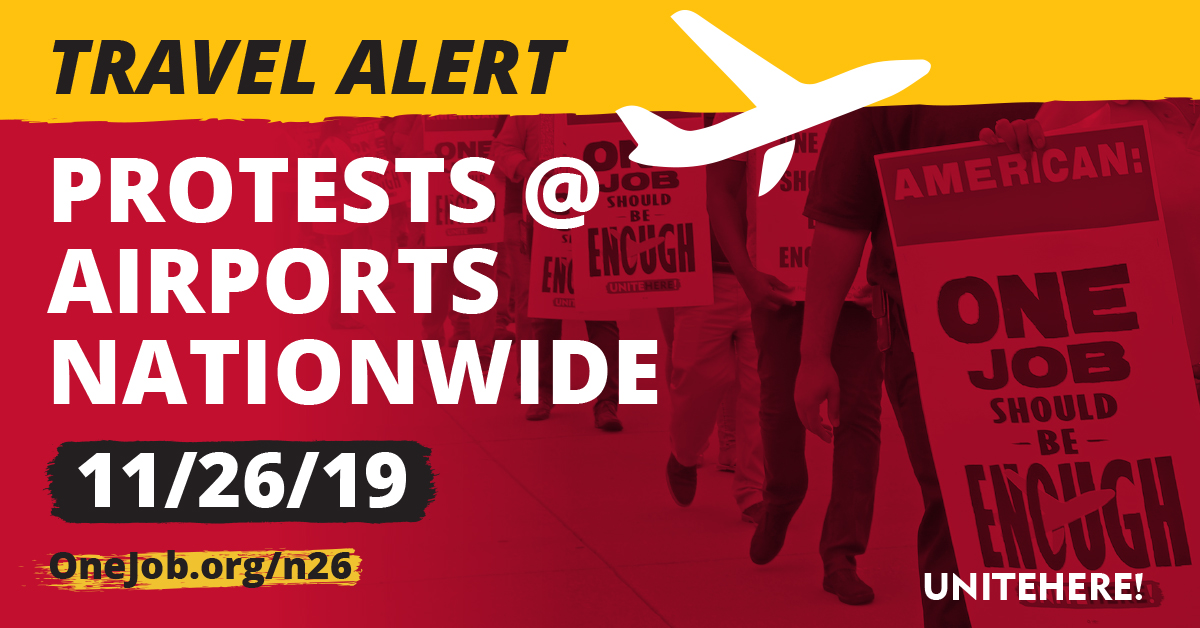 Culinary Union airline catering workers at LAS will join thousands protesting at 17 airports throughout the U.S. on historically busy travel day
Workers call on American Airlines to address poverty wages & expensive health care
Video and photos from Las Vegas action at LAS Airport here: https://unitehere.box.com/s/lnjkhqxx7zh9mqz19qbptmryxl5vxaof
WHO: McCarran International Airport (LAS) airline catering workers, Culinary Union members, and President of UNITE HERE D. Taylor.
WHAT: 50 airline catering workers and Culinary Union members to picket at McCarran International Airport (LAS) calling on American Airlines to take urgent and necessary steps to ensure that workers, who provide inflight food and beverage services for major U.S. airlines, including American Airlines, are able to escape poverty and access medical care. Workers will be picketing at LAS and handing out educational information to passengers at the American Airlines departures doors #27 and #28

WHERE: McCarran International Airport (LAS), Terminal 1, Departures

WHEN: Tuesday, November 26th, 2019 at 11am Pacific.

WHY: This protest is set to be the latest in a series of demonstrations by airline catering workers at U.S. airports. Airline catering workers prepare, pack, and deliver food and beverages served aboard flights for American Airlines and other major U.S. airlines. Though their work is essential to airline operations, the average wage of an LAS airline catering worker is $12.41 and less than 36% of workers have company health insurance in 2018. Meanwhile, American Airlines reported a 2018 annual profit of $1.9 billion. Workers hope that by bringing their message to the many passengers travelling before Thanksgiving, they will motivate American Airlines to resolve the labor dispute.
"Today is a very busy travel day, and we're protesting at LAS and at airports across the country because we want as many passengers as possible to know that airline catering workers are sick and tired of being the lowest-paid and worst-treated workers in the airline industry," said Ramon Aura, a flight coordinator who has worked at LSG Sky Chefs at LAS for 6 years. "One job should be enough for me and my coworkers, and we're ready to do whatever it takes to get what we deserve."
A survey of 581 out of approximately 4,100 Sky Chefs workers serving American Airlines at the carrier's hubs found that 30% of the workers were uninsured and 35% rely on government-subsidized healthcare for themselves or their kids.
In addition to the protest activity at McCarran International Airport (LAS), previous large-scale demonstrations calling attention to American Airlines have already taken place this year in Washington, D.C., Philadelphia, and Dallas-Ft. Worth—where over 50 were arrested in a civil disobedience near American Airlines' headquarters and largest hub airport.
This past summer, UNITE HERE airline catering workers at 33 airports voted overwhelmingly to strike when released by the National Mediation Board. Federal mediation of contract negotiations continues.
Thousands of airline catering workers to take action in 17 U.S. cities:
Charlotte Douglas International Airport (CLT)
Chicago-O'Hare International Airport (ORD)
Dallas-Ft. Worth International Airport (DFW)
Denver International Airport (DIA)
Detroit Wayne International Airport (DTW)
Daniel K. Inouye International Airport (HNL)
Houston Bush International Airport (IAH)
Las Vegas McCarran International Airport (LAS)
Los Angeles International Airport (LAX)
Miami International Airport (MIA)
Minneapolis International Airport (MSP)
John F. Kennedy International Airport (JFK, New York)
Philadelphia International Airport (PHL)
San Diego International Airport (SAN)
San Francisco International Airport (SFO)
Seattle-Tacoma International Airport (SEA-TAC)
Washington Reagan National Airport (DCA)
--
ABOUT THE CULINARY UNION:
Culinary Workers Union Local 226 and Bartenders Union Local 165, Nevada affiliates of UNITE HERE, represent 60,000 workers in Las Vegas and Reno, including at most of the casino resorts on the Las Vegas Strip and in Downtown Las Vegas. UNITE HERE represents 300,000 workers in gaming, hotel, and food service industries in North America.
The Culinary Union, through the Culinary Health Fund, is one of the largest healthcare consumers in the state. The Culinary Health Fund is sponsored by the Culinary Union and Las Vegas-area employers. It provides health insurance coverage for over 130,000 Nevadans, the Culinary Union's members and their dependents.
The Culinary Union is Nevada's largest immigrant organization with members who come from 178 countries and speak over 40 different languages. We are proud to have helped over 18,000 immigrants become American citizens and new voters since 2001 through our affiliate, The Citizenship Project.
The Culinary Union has a diverse membership -- approximately 55% women, 54% Latinx, 19% White, 15% Asian, 10% Black, and less than 1% Indigenous Peoples — and consists of guest room attendants, cocktail and food servers, porters, bellmen, cooks, bartenders, laundry and kitchen workers. The Culinary Union has been fighting for fair wages, job security, and good health benefits for workers in Nevada for 84 years.
###