FOR IMMEDIATE RELEASE:
Friday, October 6, 2023
MEDIA CONTACT:
Bethany Khan: bkhan@culinaryunion226.org ▪ (702) 387-7088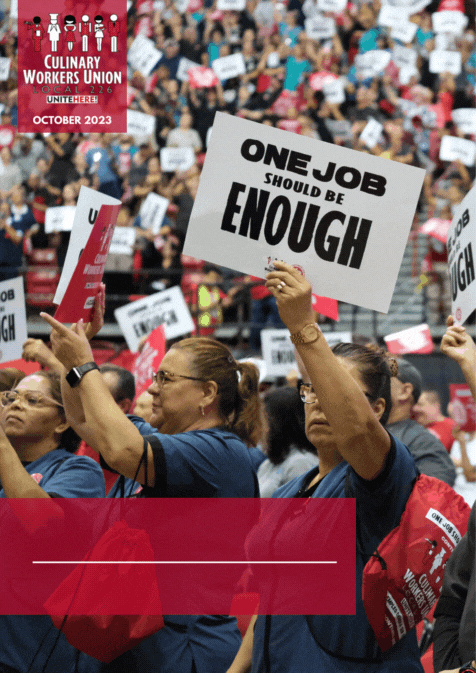 Culinary Union releases new report "The Human Cost of High Hotel Profits: A survey of Las Vegas guest room attendants"
Las Vegas, NV - The Culinary Union is releasing a new report today: "The Human Cost of High Hotel Profits: A Survey of Las Vegas guest room attendants." The report details results from an April 2023 - August 2023 survey of 1,846 guest room attendants who are employed at MGM Resorts International, Caesars Entertainment Corporation, and Wynn Resorts on the Las Vegas Strip.
REPORT: The Human Cost of High Hotel Profits: A Survey of Las Vegas guest room attendants:
*99% said check-out rooms take longer to clean.
*95% said their employer did not provide a reduction in their daily work quota due to excessive travel between floors and towers as they push heavy carts.
*88% reported having pain or discomfort while working.
*77% said they have been directly asked by a guest to clean their rooms, but had to decline because they have not been assigned by the company to do so.
*67% reported that management did not provide adequate cleaning supplies and equipment.
*57% have been seen by a doctor for work-related pain or injury.
*43% said they have missed family time or events due to mandatory overtime.
"During negotiations with MGM International, Caesars Entertainment, and Wynn Resorts, the Culinary Union has proposed reducing workload and lowering the steep housekeeping room quotas for guest room attendants because workers are being overworked, often experience pain while working, and have missed family time due to mandatory overtime," said Ted Pappageorge, Secretary-Treasurer for the Culinary Union. "We are also proposing language to mandate daily room cleaning and establish the right for guest room attendants to work securely in set areas. These items would provide a greater measurer of security for tens of thousands of working women - a majority of whom are women of color throughout the industry. Guest room attendants are the reason these massive gaming companies have record profits, but workers are also being left behind and we won't stand for it. These proposals that are on the table are strike issues and 95% of workers have already voted to authorize a strike. As the largest organization of women in Nevada, we will protect working women and we will do whatever it takes to win - including a strike against these companies if necessary."
In March 2023, the Culinary Union held meetings with shop stewards in housekeeping departments across Las Vegas Strip casino resorts, where expressed a wide range of concerns about their working conditions, including workload and general disorganization by management.
"When rooms are not cleaned daily, there is excessive work. There is soap scum built up in the bathroom, lots of trash in the room, and it takes a lot longer to clean and vacuum the rooms. It gives me a lot of stress when I get behind on my work," said Elena Newman, a guest room attendant at MGM Resort International's Mandalay Bay. "When we aren't able to complete our workload we can get disciplined. When you get stressed it feels like your body aches which can create sickness. Guest room attendants deserve a fair workload."
"After the pandemic, my job as a guest room attendant has changed a lot," said Maria Luisa Martinez, a guest room attendant at Caesars Entertainment Corporation's Paris Casino. "Now, the company rarely has me clean occupied rooms daily. Instead, they usually assign me clean checkout rooms, which require more deep cleaning since a guest is checking out after their stay. I am constantly being sent to different hotel room floors just so I have enough checkout rooms to clean every shift. All that moving from floor to floor is hard on my body and I'm so tired everyday. Housekeeping is very difficult job and only doing checkouts makes it even harder. Some ladies cry at the end of their shifts because of how much pain they are in."
The Culinary Union has been in back-to-back negotiating sessions this week with the three largest private employers in Las Vegas: MGM Resorts International, Caesars Entertainment Corporation, and Wynn/Encore Resorts this week. No agreement for a new 5-year contract has been reached.
This new report comes as the White House commented recently on the on-going negotiations after the Strike Vote: "President Biden believes all workers should have good jobs with fair pay and benefits that give them the opportunity to provide for themselves and their families. Las Vegas has a long union history and workers have been critical to the city's growth and success. As the Culinary and Bartenders Unions continues contract negotiations, we urge the discussions to move forward in good faith and hope both sides come to an agreement that preserves the city's high quality hospitality jobs and gives all workers the quality of life they deserve."
Members of the Culinary and Bartenders Unions voted by 95% to authorize a Citywide Strike after tens of thousands of hospitality workers packed the Thomas and Mack Center on campus at the University of Nevada - Las Vegas to cast their votes on September 26, 2023. BROLL from the Strike Vote here.
The Culinary Union, which is now authorized to call for a strike at any date or time, has not yet set a strike deadline and continues negotiating in good faith with all gaming companies.
Culinary Union represents 60,000 hospitality workers in Nevada. 53,000 are based in Las Vegas and are in active negotiations with casino/hotel employers for a new 5-year contract. As of September 15, 2023, 40,000 workers employed at 18 casino resorts among the three largest gaming employers in the state (MGM Resorts, Caesars Entertainment, and Wynn/Encore Resorts) are working under an expired contract and are at risk of a major labor dispute.
Earlier in September, the Culinary and Bartender Unions sent a formal letter to largest three gaming companies to initiate a 7-day notice to end the contract extensions that were in place. Union contracts are only expired with 8 MGM Resorts properties, each of the 10 Caesars Entertainment properties, and Wynn Resorts (including Encore) adding up to 18 casino resort properties on the Las Vegas Strip among those employers.
Terms and conditions of an expired collective bargaining agreement largely remain in effect, including wages, benefits, and job security protections, but the no-strike provisions are no longer in effect which allows workers to go on strike now that there has been a successful strike authorization, and if the Culinary and Bartender Unions and employers do not come to an agreement before a strike deadline.
Culinary and Bartenders Unions are negotiating a new 5-year contract with the following casino resorts on the Las Vegas Strip where contracts at 18 properties are expired:
*MGM Resorts International: Aria, Bellagio, Excalibur, Luxor, Mandalay Bay (including Delano), MGM Grand, New York-New York, and Park MGM (including NoMad).
*Caesars Entertainment Corporation: Caesars Forum, Caesars Palace (including Nobu), Flamingo, Harrah's, Horseshoe, Paris, Planet Hollywood, The Cromwell, and The Linq.
*Wynn Resorts (including Encore).
Culinary and Bartenders Unions are also negotiating a new 5-year contract with the following 24 casino-resort companies that are still under a contract extension:
*Las Vegas Strip: Circus Circus, Four Seasons, Hilton Grand Vacations, Mirage, Rio, Sahara Las Vegas, Strat, Treasure Island, Tropicana, Trump Hotel Las Vegas, Virgin Hotels, Waldorf Astoria, and Westgate.
*Downtown Las Vegas: Binion's, Circa, Downtown Grand, El Cortez, Four Queens, Fremont, Golden Gate, Golden Nugget, Main Street, The D Casino, and Plaza.
In the 2023 negotiations, the Culinary and Bartenders Unions have proposed new 5-year contract language to provide greater measure of security for workers including:
*Winning the largest wage increases ever negotiated in the history of the Culinary Union.
*Reducing workload and steep housekeeping room quotas, mandating daily room cleaning, and establishing the right for guest room attendants to securely work in set areas.
*Providing the best on-the-job safety protections for all classifications, including safety committees, expanding the use of safety buttons to more workers, penalties if safety buttons don't work, enforcing mandatory room checks for employee and public safety, and tracking sexual harassment, assault, and criminal behavior by customers.
*Strengthening existing technology protections to guarantee advanced notification when new technology is introduced which would impact jobs, require training for new jobs created by technology, health care and severance pay for workers who are laid off because of new technology, the right to privacy from tracking technology introduced by companies, consent in third-party data sharing workers have generated through their work, right to bargain over technology that tracks location of employees or messaging between workers, and putting the human back into HR.
*Extending recall rights so that workers have more job security and have the right to return to their jobs in the event of another pandemic or economic crisis.
*Making clear that the no-strike clause does not prevent the Culinary Union from taking action, including strikes, against non-union restaurants on the casino property, and gives casino workers the right to respect picket lines.
Citywide contract negotiations are led by Culinary Union Secretary-Treasurer and chief negotiator Ted Pappageorge and President Diana Valles, and also Bartenders Union Secretary-Treasurer Terry Greenwald and President Lana Loebig. There have been multiple rounds of negotiations with the top three employers on the Las Vegas Strip, but still no tentative agreement for a new 5-year contract has been reached.
The Culinary Workers Union Local 226 is the largest labor union in Nevada and alongside the Bartenders Union Local 165, represents 60,000 guest room attendants, cocktail and food servers, porters, bellmen, cooks, bartenders, laundry and kitchen workers statewide in the Battle Born State.
Culinary Union has a long and storied history of successfully striking and winning for workers in its 88 year history:
*1967: The Culinary Union initiated a strike against 12 Downtown Las Vegas casino hotels. The strike lasted for six days.
*1970: The Culinary and Bartenders Unions had a work stoppage March 12-15, 1970 against 16 casinos on the Las Vegas Strip for four days. Casinos went dark for the first time in Las Vegas history since they had opened. The impact of the strike was felt throughout the hospitality industry: Airlines reported only handfuls of passengers, taxi cabs were idle, and small hotels throughout the city were vacant. Nevada Governor Paul Laxalt brokered a 24-hour negotiation session between the unions and hotel owners. The Nevada Resort Association estimated a $600,000 in daily loss in profits for casino resorts at the time.
*1976: The Culinary Union joined Musicians Local 369 and Stagehands Local 720 in striking 15 Las Vegas casinos (including Caesars Palace, the Dunes, Circus Circus, and the MGM Grand Hotel) for 16 days, effectively shutting down most of the Strip. 11 casinos (Sands, Desert Inn, Frontier, Castaways, Silver Slipper, Landmark, Thunderbird, Sahara, Flamingo Hilton, Las Vegas Hilton, and Tropicana) closed temporarily during the strike. Workers were fighting for a pay increase, plus fortified health and pension benefits. Culinary Union strike kitchen fed about 17,000 picketing workers a day, going through 1,200 loaves of bread, 5,000 pounds of meat: Making 1,500 bologna or ham-and-cheese sandwiches a day. The Las Vegas Convention and Visitors Authority estimated overall losses at $131 million during the dispute.
*1984: More than 17,000 Culinary Union members from 32 Las Vegas Strip resorts went on strike alongside IATSE, Bartenders, Musicians Union. Culinary Union members win a contract victory after 53 days on strike, but workers stay out another 2 weeks in solidarity with Musicians and IATSE for a total of 67 days. In one of the largest strikes in Las Vegas history, workers picketed for 67 days, 900 strikers were arrested over the course of the citywide strike. Six casinos (Four Queens, Sam's Town, California, Holiday International, Holiday Inn South, and Marina Hotel and Casino) did not initially sign union contracts, three resorts become union again over the years. The Holiday International in Downtown Las Vegas closed after the 1984 Strike and eventually reopened as the current unionized Main Street Station. The Marina Hotel and Casino merged with MGM in 1989 as MGM-Marina and was union. Four Queens later becomes union again in 2003.
*1987: The Culinary Union, along other Nevada unions, went on strike with 600 workers walking off the job on September 15, 1987 at Nevada Test Site (Nevada National Security Site). The strike lasted for 10-weeks as the Culinary Union fought for stronger contract language to protect workers from being fired unfairly and without cause. The Culinary Union represented over 600 workers who provided food services at the two classified government facilities, the Test Site and Test Range. 3,000 workers from the different unions honored the action and did not cross picket lines.
*1990: A nine-month strike at the Horseshoe ended in victory for the Culinary Union.
*1991: 500 workers went on strike at the Frontier and stayed out for what was the longest and most successful strike in US history for 6 years, 4 months, and 10 days. Over 550 workers maintained a 24/7 picket line and not one striker ever crossed the line. At the end of the strike, all the strikers were able to return back to work. The Culinary Union was able to negotiate that original workers were brought back to their jobs and workers were provided back pay and benefits. During the course of the strike, 17 strikers passed away and 107 children were born.
Coming to Las Vegas? Ahead of upcoming conventions, HLTH (October 8-11), TwitchCon (October 20-22), SEMA (October 31-November 3), Formula 1 Las Vegas Grand Prix (November 16-18), AWS (November 27-December 1), the Rodeo (December 7-16), Consumer Electronics Show (January 9-12), World of Concrete (January 23-25), the International Surface Expo (January 24-26), SHOT Show 2024 (January 23-26), NAHB IBS 2024 (February 27-29), Superbowl LVIII (February 11), and the holiday season, the Culinary Union is asking Nevada locals, elected officials, political candidates, and tourists to support hospitality workers by not patronizing hotels and casinos if there is a labor dispute, if and where there is one. In an event of a strike, support workers and do not cross picket or strike lines. Protect your travel plans by checking www.VegasTravelAlert.org, a website intended as a service for meeting/convention planners and all other travelers who need to know whether labor disputes could impact travel plans in Las Vegas. The website will be updated regularly with information as to which casino resorts are facing an active labor dispute as negotiations continue for new collective bargaining agreements covering 53,000 hospitality workers.
—
ABOUT CULINARY UNION:
Culinary Workers Union Local 226 and Bartenders Union Local 165, Nevada affiliates of UNITE HERE, represent 60,000 workers in Las Vegas and Reno, including at most of the casino resorts on the Las Vegas Strip and in Downtown Las Vegas. UNITE HERE represents 300,000 workers in gaming, hotel, and food service industries in North America.
The Culinary Union, through the Culinary Health Fund, is one of the largest healthcare consumers in the state. The Culinary Health Fund is sponsored by the Culinary Union and Las Vegas-area employers. It provides health insurance coverage for over 145,000 Nevadans, the Culinary Union's members and their dependents.
The Culinary Union is Nevada's largest Latinx/Black/AAPI/immigrant organization with members who come from 178 countries and speak over 40 different languages. We are proud to have helped over 18,000 immigrants become American citizens and new voters since 2001 through our affiliate, The Citizenship Project.
The Culinary Union has a diverse membership which is 55% women and 45% immigrants. The demographics of Culinary Union members are approximately: 54% Latinx, 18% white, 15% Asian, 12% Black, and less than 1% Indigenous Peoples.
Culinary Union members work as: Guest room attendants, cocktail and food servers, porters, bellmen, cooks, bartenders, laundry and kitchen workers. The Culinary Union has been fighting and winning for working families in Nevada for 88 years.
CulinaryUnion226.org / @Culinary226
###