FOR IMMEDIATE RELEASE:
Friday, July 17, 2020
MEDIA CONTACT:
Bethany Khan: bkhan@culinaryunion226.org ▪ (702) 387-7088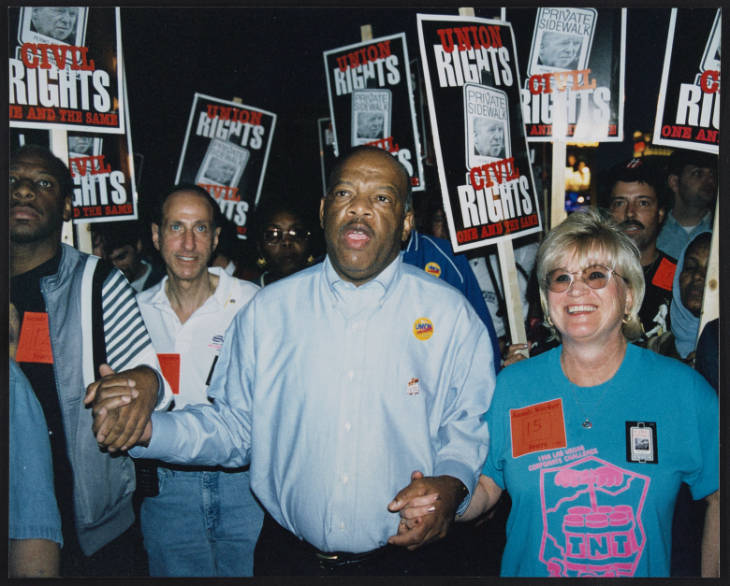 STATEMENT by Geoconda Argüello-Kline regarding Congressman John Lewis:
The Culinary Union is proud to have fought alongside our dear friend, Congressman John Lewis, for decades. He was an incredible hero who always stood with and fought for working people in the struggle for equality and justice.
We are grateful for his leadership, fearless courage, years of sacrifice for justice, and support throughout the 6 years, 4 months, and 10 days Frontier Strike through the present-day organizing drive at Stations Casinos.
We treasure the memory of when Congressman Lewis participated in a 1999 picket at the Venetian Casino regarding the Culinary Union's campaign to ensure that Las Vegas sidewalks are public, and not private spaces (as the company argued).
"I'm not afraid to be arrested," said Congressman John Lewis. "I don't like the idea of being arrested, and I don't like the idea of going to jail. But if that's the price one must pay to help dramatize the issue and help them organize, then I'm prepared to pay the price. People have a right to stand in front of a public establishment and engage in an orderly, peaceful protest. Working people must get a fair deal whether they're from the private sector or the public sector. People work very hard, and they deserve to be treated with dignity." (Las Vegas Sun, March 1, 1999)
As we celebrate Congressman Lewis' legacy, the Culinary Union will strive to carry on the work every day to make Nevada a place where working families can organize and win for our collective liberation.
Rest in power, brother.
—
ABOUT CULINARY UNION:
Culinary Workers Union Local 226 and Bartenders Union Local 165, Nevada affiliates of UNITE HERE, represent 60,000 workers in Las Vegas and Reno, including at most of the casino resorts on the Las Vegas Strip and in Downtown Las Vegas. UNITE HERE represents 300,000 workers in gaming, hotel, and food service industries in North America.
The Culinary Union, through the Culinary Health Fund, is one of the largest healthcare consumers in the state. The Culinary Health Fund is sponsored by the Culinary Union and Las Vegas-area employers. It provides health insurance coverage for over 145,000 Nevadans, the Culinary Union's members and their dependents.
The Culinary Union is Nevada's largest immigrant organization with members who come from 178 countries and speak over 40 different languages. We are proud to have helped over 18,000 immigrants become American citizens and new voters since 2001 through our affiliate, The Citizenship Project.
The Culinary Union has a diverse membership -- approximately 55% women, 54% Latinx, 19% White, 15% Asian, 10% Black, and less than 1% Indigenous Peoples — and consists of guest room attendants, cocktail and food servers, porters, bellmen, cooks, bartenders, laundry and kitchen workers. The Culinary Union has been fighting for fair wages, job security, and good health benefits for workers in Nevada for 85 years.
CulinaryUnion226.org / @Culinary226
###