FOR IMMEDIATE RELEASE:
Wednesday, August 5th, 2020
MEDIA CONTACT:
Bethany Khan: bkhan@culinaryunion226.org ▪ (702) 387-7088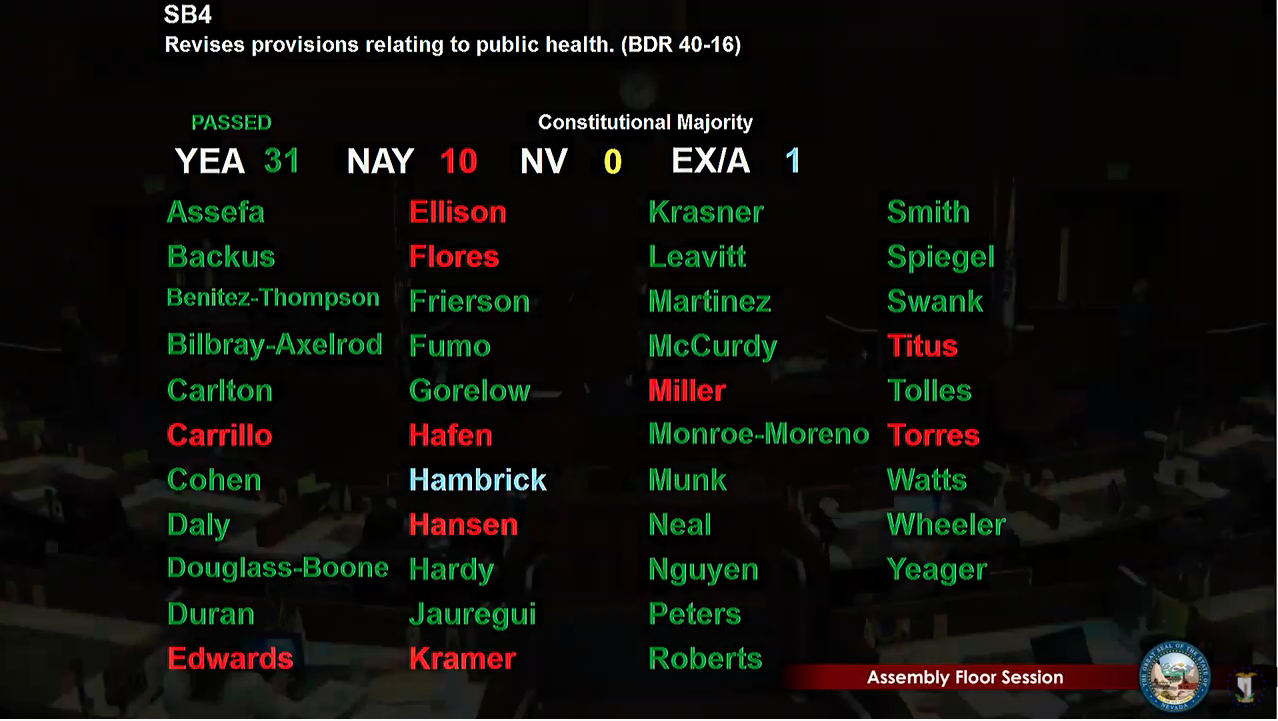 STATEMENT by Geoconda Argüello-Kline regarding the passage of Senate Bill 4 "Adolfo Fernandez Bill":
The Culinary Union applauds Governor Sisolak, Majority Leader Nicole Cannizzaro, Speaker Jason Frierson, and the Nevada Legislature on the passage of Senate Bill 4 "Adolfo Fernandez Bill" which will protect over 280,000 hospitality workers in Clark County and Washoe.
The worker provisions in the Senate Bill 4 are the result of five months of the Culinary Union having thousands of one-on-one conversations with workers, two different car caravans on the Las Vegas Strip with over 10,000 Nevadans participating, dozens of public comment before the Nevada Gaming Control Board and Gaming Commission, and drafting, researching, and consulting with experts on the health and safety language in the Bill.
Senate Bill 4 is a first-in-the-nation legislation that will protect all workers in the hospitality industry in Las Vegas and Reno - wall-to-wall, front-of-the house and back-of-the house, union and non-union, worker and manager - from the Bellagio to Motel 6. A majority of workers covered by this law are not unionized.
Behind every worker in this state there is a family and the Culinary Union is proud to have won the best safety standards for all workers in the state's largest industry. We urge elected leaders to continue working towards extending similar protections to all workers in Nevada. When workers are protected, our entire community - from the hospitality industry to customers and locals are protected.
The Culinary Union also thanks the Southern Nevada Health District (SNHD) for their leadership during this pandemic. We look forward to working with Dr. Fermin Leguen and the SNHD team to ensure resort workers are protected.
Adolfo Fernandez, contracted COVID-19 after being employed as a utility porter on the Las Vegas Strip, and passed away in late June.
"I feel happy and relieved that the bill has passed honoring my dad's last wishes to have stronger safety guidelines for hospitality workers," said Irma Fernandez, daughter of Adolfo Fernandez. "I wish he was here in person to witness this. If my dad was here he would be so happy and grateful of all the work that has been done to protect workers and their loved ones."
Senate Bill 4 "Adolfo Fernandez Bill" mandates and enforces the following requirements regarding casinos and hotels in Las Vegas and Reno:
*Enhanced cleaning procedures such as daily room cleaning.
*Social distancing.
*Free testing for all workers before going back to work or those that have been exposed to COVID-19.
*Paid time off while workers are in quarantine and/or while waiting for COVD-19 test results. Any worker who tests positive for COVID-19 will be allowed a minimum of 14 days off, including 10 paid days.
*Temperature-checks for workers at the workplace.
*Detailed plans of action for when a worker contracts COVID-19 or is exposed to someone with the virus.
*Safety training for all employees.
*Local and state health officials must regularly inspect resort hotels every two months for compliance with health standards, and for hotels with more than 200 rooms, inspections will take place every three months.
UPDATE ON CULINARY UNION MEMBERS:
32 Culinary and Bartenders Union members and/or their immediate family members have died from COVID-19, with more than 300 hospitalized due to COVID-19 since March 1.
Since June 4, when casinos were allowed to reopen, the number of COVID-19-related hospitalizations among Culinary and Bartenders Union members and/or their immediate family members has increased 1,380%, from 5 patients (hospitalized because of COVID-19 on June 4) to 69 (hospitalized COVID-19 patients on July 29).
A majority of Culinary Union members live in the 20 Clark County ZIP codes with the highest COVID-19 infection rates.
—
ABOUT CULINARY UNION:
Culinary Workers Union Local 226 and Bartenders Union Local 165, Nevada affiliates of UNITE HERE, represent 60,000 workers in Las Vegas and Reno, including at most of the casino resorts on the Las Vegas Strip and in Downtown Las Vegas. UNITE HERE represents 300,000 workers in gaming, hotel, and food service industries in North America.
The Culinary Union, through the Culinary Health Fund, is one of the largest healthcare consumers in the state. The Culinary Health Fund is sponsored by the Culinary Union and Las Vegas-area employers. It provides health insurance coverage for over 145,000 Nevadans, the Culinary Union's members and their dependents.
The Culinary Union is Nevada's largest Black/AAPI/immigrant organization with members who come from 178 countries and speak over 40 different languages. We are proud to have helped over 18,000 immigrants become American citizens and new voters since 2001 through our affiliate, The Citizenship Project.
The Culinary Union has a diverse membership -- approximately 55% women, 54% Latinx, 19% White, 15% Asian, 10% Black, and less than 1% Indigenous Peoples — and consists of guest room attendants, cocktail and food servers, porters, bellmen, cooks, bartenders, laundry and kitchen workers. The Culinary Union has been fighting for fair wages, job security, and good health benefits for workers in Nevada for 85 years.
CulinaryUnion226.org / @Culinary226
###