FOR IMMEDIATE RELEASE:
Monday, May 31, 2021
MEDIA CONTACT:
Bethany Khan: bkhan@culinaryunion226.org ▪ (702) 387-7088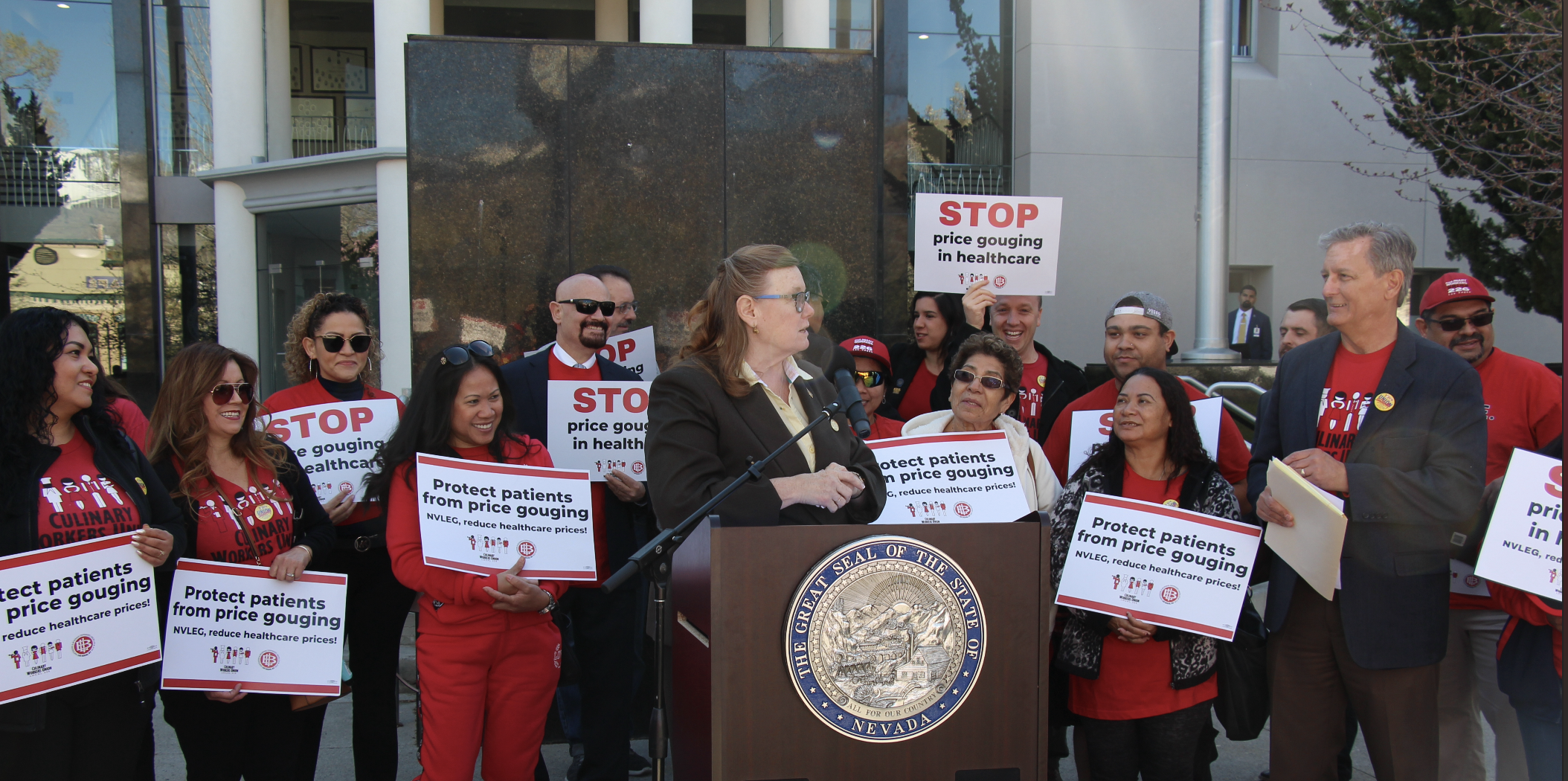 STATEMENT by Geoconda Argüello-Kline: Thank you, Assemblywoman Maggie Carlton
We are so proud of Assemblywoman Maggie Carlton.
It's been an honor to see Maggie's fierce leadership as a Culinary Union member when she was a waitress at a Las Vegas Strip coffee shop, then as a shop steward, a State Senator, an Assemblywoman, a Chairwoman, and as the longest serving female lawmaker in Carson City.
We have many memories of Maggie from being elected in 1998, to being tough on the picket line, to running ULAN to help union members in need, to chairing Ways and Means.
Thank you, Maggie for being a great leader in the Nevada Legislature and for everything you have done over the decades to support working families. Maggie has led efforts to protect patients and the Culinary Union is especially proud of Maggie's hard work over two decades to end surprise bills.
Without question, Maggie's impact over the past 24 years to protect Nevadans is indisputable and we sincerely thank Assemblywoman Maggie Carlton for representing hospitality workers and union members.
—
ABOUT CULINARY UNION:
Culinary Workers Union Local 226 and Bartenders Union Local 165, Nevada affiliates of UNITE HERE, represent 60,000 workers in Las Vegas and Reno, including at most of the casino resorts on the Las Vegas Strip and in Downtown Las Vegas. UNITE HERE represents 300,000 workers in gaming, hotel, and food service industries in North America.
The Culinary Union, through the Culinary Health Fund, is one of the largest healthcare consumers in the state. The Culinary Health Fund is sponsored by the Culinary Union and Las Vegas-area employers. It provides health insurance coverage for over 145,000 Nevadans, the Culinary Union's members and their dependents.
The Culinary Union is Nevada's largest Latinx/Black/AAPI/immigrant organization with members who come from 178 countries and speak over 40 different languages. We are proud to have helped over 18,000 immigrants become American citizens and new voters since 2001 through our affiliate, The Citizenship Project.
The Culinary Union has a diverse membership which is 55% women and 45% immigrants. The demographics of Culinary Union members are approximately: 54% Latinx, 18% white, 15% Asian, 12% Black, and less than 1% Indigenous Peoples.
Culinary Union members work as: Guest room attendants, cocktail and food servers, porters, bellmen, cooks, bartenders, laundry and kitchen workers. The Culinary Union has been fighting for working families in Nevada for 86 years.
CulinaryUnion226.org / @Culinary226
###