MEDIA ADVISORY FOR:
Thursday, May 26, 2022 at 6pm
MEDIA CONTACT:
Bethany Khan: bkhan@culinaryunion226.org ▪ (702) 387-7088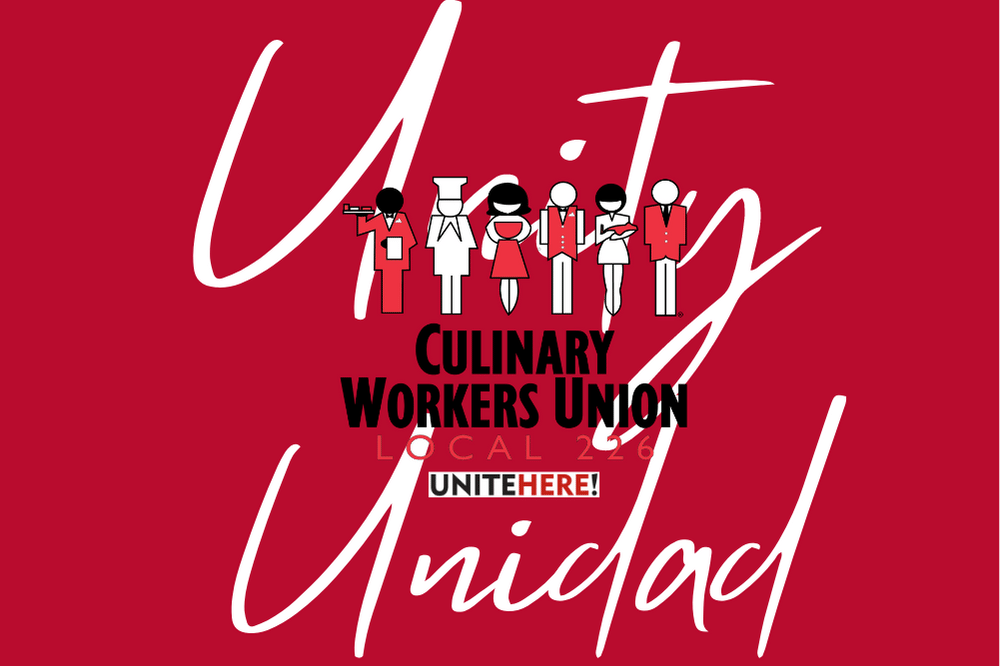 Hundreds of Culinary Union members to participate in a unity rally ahead of the Nevada primary
Las Vegas, NV - UNITE HERE's Culinary Union has released endorsements ahead of the 2022 Nevada Primary. The Culinary Union endorsement guide is here.
"We are proud to endorse elected officials and candidates who will fight to protect working families," said Ted Pappageorge, Secretary-Treasurer for the Culinary Union. "During the last 26 months, there is no other organization in Nevada that has done more to support hospitality workers during the pandemic than the Culinary Union. Going forward we need to elect and re-elect candidates who will continue to champion issues important to workers."
"Next year, the Culinary Union will face the biggest contract fight we've ever had and we have a plan to win for workers, be unified, and continue to build worker power," continued Pappageorge. "Daily housekeeping, safer working conditions and workloads, a fair IRS TIP Allocation, reigning in inflation and high prices, and ensuring that working people can provide for their families and buy their first homes are all possible when we have candidates in office who will advocate for issues that important to working families."
WHO:
*Ted Pappageorge, Secretary-Treasurer for Culinary Union
*Diana Valles, President of the Culinary Union
*Hundreds of Culinary Union members, Bartenders Union members, and Station Casino workers
WHAT: Hundreds of hospitality workers to participate in a unity rally
WHEN: Thursday, May 26, 2022 at 6pm
WHERE: Culinary Union (1630 South Commerce Street Las Vegas, Nevada 89102 - outside in the parking lot)
WHY:
The Culinary Union saw what happened during the Great Recession: All the banks on Wall Street were bailed out, corporate CEOs got millions in bonuses and stock options (instead of going to jail for wrecking the economy), and workers were left with nothing and lost their homes while trying dig out of a hole over the next decade.
Now, the big corporations and super-rich, who fleeced workers during the Great Recession, are back at it again. They are falsely saying because working families got money for health care and rent (to keep us safe in our homes during a global pandemic) that is the reason for the high inflation now.
But working class people know the real reason for inflation: The super-rich decided early on during the pandemic that they needed to make more and more money. They jacked up the prices on our gas, food, and rent then decided to blame inflation on workers and that isn't right.
Workers have fought so hard over the past two years to protect everything that we've built and we are not going backwards. We are going to move forward and fight back.
Culinary Union contracts across the entire city covering 50,000 workers expires in one year on June 1, 2023 and there is going to have a big contract fight that workers are getting ready for this year.
Culinary Union has a plan to win Neighborhood Stability, elect political representatives and candidates who will fight to protect working families, and build power for 2023.
Building power also includes registering to vote and voting in the June 14, 2022 primary, so the Culinary Union urges Nevadans to register to vote and check their voter registration.
Primary Election Day: Tuesday, June 14, 2022.
Early Vote: Saturday, May 28 - Friday, June 10, 2022.
2 ways to get ready to vote in the Nevada primary:
Text the word "VOTE" to 4-226-2.
We vote. We win. For our families!
—
ABOUT CULINARY UNION:
Culinary Workers Union Local 226 and Bartenders Union Local 165, Nevada affiliates of UNITE HERE, represent 60,000 workers in Las Vegas and Reno, including at most of the casino resorts on the Las Vegas Strip and in Downtown Las Vegas. UNITE HERE represents 300,000 workers in gaming, hotel, and food service industries in North America.
The Culinary Union, through the Culinary Health Fund, is one of the largest healthcare consumers in the state. The Culinary Health Fund is sponsored by the Culinary Union and Las Vegas-area employers. It provides health insurance coverage for over 145,000 Nevadans, the Culinary Union's members and their dependents.
The Culinary Union is Nevada's largest Latinx/Black/AAPI/immigrant organization with members who come from 178 countries and speak over 40 different languages. We are proud to have helped over 18,000 immigrants become American citizens and new voters since 2001 through our affiliate, The Citizenship Project.
The Culinary Union has a diverse membership which is 55% women and 45% immigrants. The demographics of Culinary Union members are approximately: 54% Latinx, 18% white, 15% Asian, 12% Black, and less than 1% Indigenous Peoples.
Culinary Union members work as: Guest room attendants, cocktail and food servers, porters, bellmen, cooks, bartenders, laundry and kitchen workers. The Culinary Union has been fighting and winning for working families in Nevada for 87 years.
CulinaryUnion226.org / @Culinary226
###